Seven of Bermuda's promising young entrepreneurs impressed the judges at the first ever Youth Pitch hosted on Thursday, November 9th by the Bermuda Economic Development Corporation.
Minister of Economic Development & Tourism Jamahl Simmons opened the evening by saying, "We are here tonight to hear from Bermuda's future entrepreneurs and thought leaders as they pitch their ideas for solutions to local and worldly problems.
"The young people in this room are proof that Bermudians have what it takes to ensure that Bermuda remains a viable player on the world stage.
"All those who will be pitching their ideas tonight, whether they will be advancing to the Rocket Pitch Finals or not, are to be congratulated for their outstanding achievements."
Mr. Raymond Lambert, Business Development Officer at BEDC then began the competition introducing the presentations of seven excellent business pitches for ideas ranging from food service, t-shirts, canoe rentals to a youth empowerment organization from Logan Henschke [The Berkeley Institute], Jaaziah Richardon-Webb [CedarBridge Academy], Rickai Lightbourne Jr. [Bermuda Institute], Tessa Dill [Bermuda High School], Chaella Bradshaw -Douglas [CedarBridge Academy], and Adriana Burchall, Ashley Pacheco, Tamia Place [CedarBridge Academy].
The top two were chosen by the judges, J'Von Furbert, BEDC Board Member, Ray Jones, BEDC Finance Director, and Ondreyah Rochester, BEDC Trainee Business Development Officer.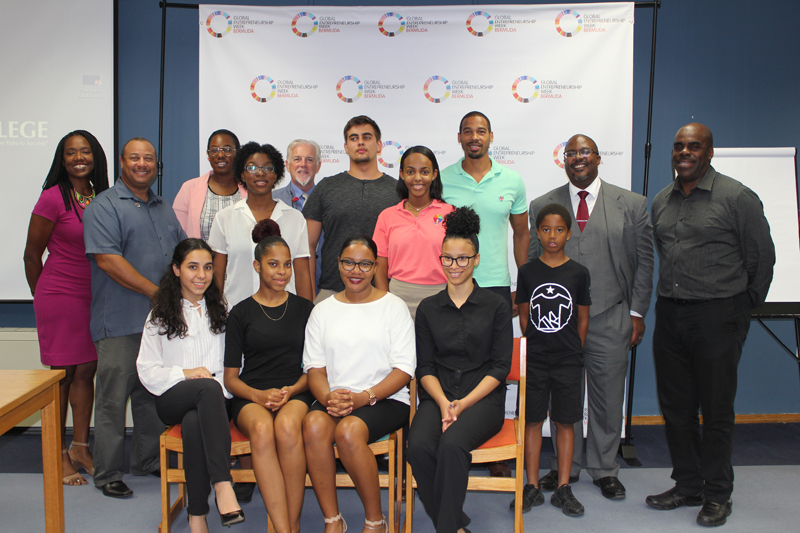 Both businesses chosen were food service ideas, one was Off the Chain by Tessa Dill who proposed to open a one stop hot dog shop at Dockyard featuring a variety of reasonably priced lunches for locals and tourists on the go.
The other aspiring young entrepreneur going through to the finals this Thursday, November 16th, was Chaella Bradshaw-Douglas whose idea, Good Chew is a healthy choice vending business she plans to provide in and around Bermuda's schools.
This new category, Youth Pitch is being sponsored by GEW Host Committee member, the Youth Entrepreneurship Initiative of Bermuda [YEI].
Joe Mahoney, Executive Director of YEI stated, "working with and coaching the students allowed be to see these students develop their plans over the course of the past few weeks and was extremely fulfilling, yet to hear them deliver them here this evening with such passion was indeed impressive."
Mr. Mahoney continued, The YEI is indeed happy to provide $4,000 in start-up funding which the two proceeding on the Rocket Pitch Finals will share along with business services provided by a variety of other sponsors including Deep Blue Communications, Mediaville, Cox Hallett Wilkinson, Quantifi, Performance Solutions, Media Maven and Total Pro.
The public is invited to attend the Rocket Pitch Finals beginning at 5:30 pm, on Thursday, November 16th at Chubb Bermuda's Conference Area in the O'Hara Building on Bermudiana Road.
These two Youth finalists will pitch along with the two finalists from the four other categories Pitch Pink [tourism], Pitch Tech [ICT], Pitch Green [agriculture or environmental] and Pitch Town [local market]. The start up funding in the Pitch Pink and Pitch Tech categories are sponsored by the Bermuda Tourism Authority and the Department of ICT Policy & Innovation, respectively.
Read More About