Twelve young people pitched their business ideas in front of a panel of judges at last week's Youth Pitch preliminaries put on in partnership with the Bermuda Economic Development Corporation [BEDC] and Youth Entrepreneurship Initiative of Bermuda [YEI] held at the Bermuda College.
Students ranging in age from 12 – 17 from schools across the island — including Berkeley, Chatmore, BHS, Somersfield, CedarBridge, Bermuda Institute and Warwick Academy –  pitched their business ideas in the hopes of moving on to the Rocket Pitch finals, which will take place this Thursday [Nov 15] at AXA XL.
Three judges, including BEDC board member Jache Adams, Cire Bean, last year's Youth Pitch finalist, and Margot Shane of the Mirrors Programme had the tough decision of putting through just two of the pitches, who will be in the running to win a share of $25k in cash and services to help them start their businesses.
The framework of the Rocket Pitch presentation is simple: the presenter has five minutes to tell a story on their business idea to a panel of judges and then respond to questions.
Madison Thompson and Natalie Calderon present "The Meal Deal" at the Youth Pitch preliminaries
The first of two pitches to go on to the finals were Bermuda High School IB students Madison Thompson and Natalie Calderon's "Meal Deal" – an app that will help people identify and track items in their fridge and let them know when they are running low and what nearby stores carry the items, as well as note the lifecycle of foods and when they go bad.
The second pitch to make it through to the finals was Andreaz Glasgow, an S2 student from Berkeley. His business, 'Guess What' will provide participants with a tongue twisting experience that turns bitter and sour sweet using a unique tablet that dissolves on the tongue and lasts for about 30 minutes. Andreaz said that the tablets are a fun, unique experience that can be provided at events to trick the senses. It can also be used for diabetics to take with food that has little to no sugar to enhance the flavour.
Andreaz Glasgow presents his business idea "Guess What?" at the Youth Pitch preliminaries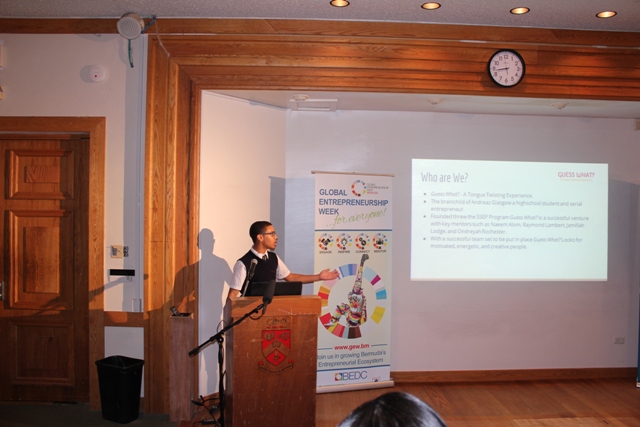 Mr. Raymond Lambert, Business Development Officer at BEDC, said, "This was only the second year that the Youth Pitch has been part of the Rocket Pitch and this year we received very polished pitches. Every presentation was very well researched, and it was one of the toughest for the judges.
"It was a fantastic venue at the Bermuda College Lecture Hall, and it was great to see that the audience wasn't just full of parents and well-wishers but also teachers looking to get to know more about the event. We're very hopeful that the level continues to rise, and we could have advanced quite a few pitches, but the judges had to make a decision and only two could move forward."
Joe Mahoney, Executive Director of YEI, added, "The Youth Pitch is only in its second year and has really come into its own. We saw more schools get involved and the quality of pitches being presented were fantastic."
Those that pitched also had great feedback for the event and noted that it gave them extra confidence and motivation to continue to develop their ideas.
The finalists for the Youth Pitch with the judges and representatives from the Bermuda Economic Development Corporation and the Youth Entrepreneurship Initiative of Bermuda.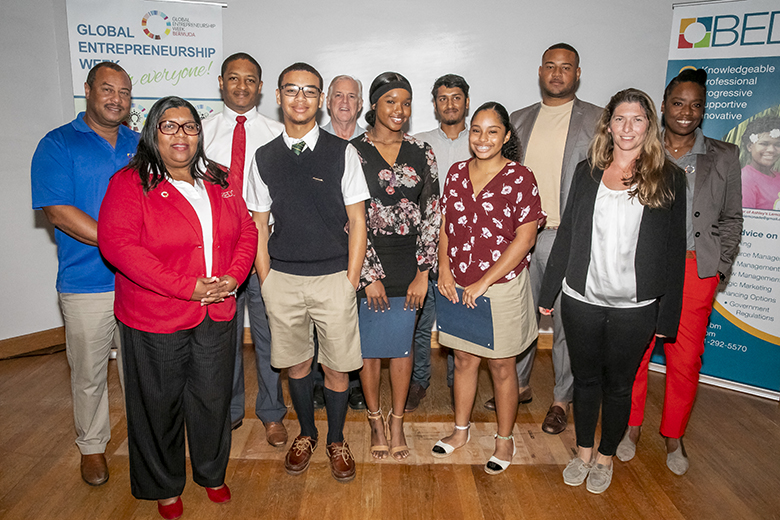 Last year's Youth Rocket Pitch winner was Chaella Bradshaw-Douglas whose idea, 'Good Chew' was a healthy choice vending business she plans to provide in and around Bermuda's schools.
About winning the Youth Pitch last year, she said, "Winning the Youth Rocket Pitch was much more than just an achievement; the win provided me with opportunities, experiences and knowledge that I would not have if I hadn't been courageous and entered the competition. I thank BEDC for their continued support after the competition and for any student thinking about entering, I urge you to follow your dreams and give it a try!"
The 11th Annual Rocket Pitch Finals will take place on Thursday, November 15 at AXA XL from 5.30 p.m. to 9.00 p.m. Along with the two Youth Pitch finalists, entrepreneurs will pitch ideas in the following categories: Pitch Pink, Pitch Tech, Pitch Town and Pitch Green.
For more information about the Rocket Pitch finals, visit www.gew.bm.
Read More About