Do you have a great business idea in the Green industries and need startup help to get it going? You are in luck, as the Bermuda Economic Development Corporation has added a fourth category to its annual Rocket Pitch Competition.
The Competition, sponsored by the Department of E-Commerce, the Bermuda Tourism Authority and Digicel Business, is being run for the ninth year as part of the upcoming Global Entrepreneurship Week [Nov 14th – 21st] and is open to all entrepreneurs.
Participants will have 5-7 minutes to present a "Rocket Pitch" about their new business idea or a business idea that has been launched within a year. This years, marks the addition of a PitchGREEN category that will focus on all business ideas in the Green industry.
This new category joins the other three categories: PitchPINK – tourism/hospitality product or service; PitchTECH – innovative technology or eBusiness idea; or PitchTOWN – new business with a focused on local customers.
The competition will run from Monday, October 17th – Friday, November 4th. Following preliminary presentations our committee will invite the top entrepreneurs in each category to pitch publicly during Global Entrepreneurship Week [GEW] on Monday and Tuesday, November 14th and 15th.
Last year's Rocket Pitch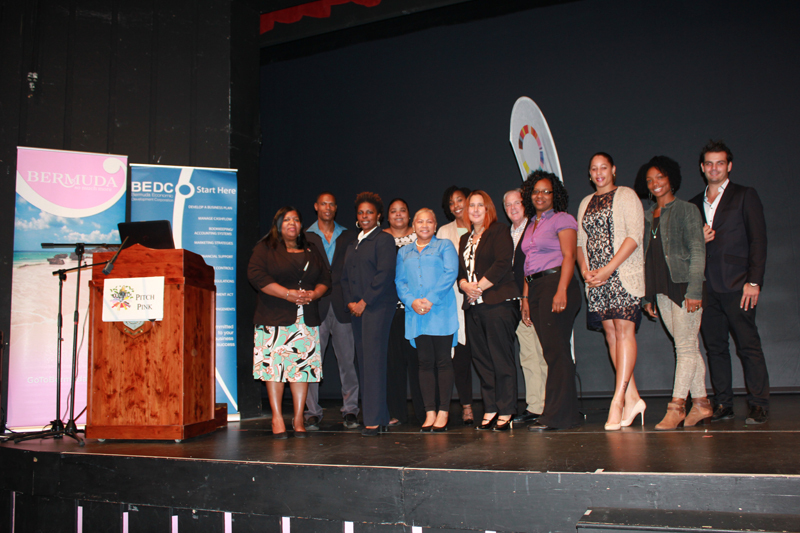 Dr. Marisa Stones, Director of E-Commerce, stated: "Pitch Tech continues to be an exciting component of Global Entrepreneurship Week and we are proud to continue to support Rocket Pitch.
"Pitch Tech provides platform to propose technology-based ideas and we have seen several businesses start and grow as a result of having had the opportunity to use Rocket Pitch as a launching pad.
"Increasingly, businesses must innovate to set themselves apart from others in the marketplace. GEW continues to be a great way for the exploration of business development steps from opportunity recognition, through business planning, to final presentation."
Pat Philip Fairn, Chief Product & Experience Development Officer, said: "The BTA has sponsored the Pitch Pink category of the Rocket Pitch Competition since 2013.
"We think it is important to support what could be the future of tourism in Bermuda by encouraging inspiring entrepreneurs to bring their ideas forward. Pitch Pink is the first step to making their ideas a reality."
"This year we are launching the inclusion of a Pitch Green category which will appeal to those burgeoning entrepreneurs that are passionate about the environment" stated Erica Smith, BEDC Executive Director. "
"With over 16 businesses having been formed as a result of the Rocket Pitch, we are confident that the addition of this new category will help to propel local innovation in the Green Industry. As an added bonus, participants who enter into this category will automatically be entered into the Global Future Agro Challenge."
Digicel Business was delighted to partner with BEDC to launch GEW this year, and Robin Seale, CEO for Digicel Bermuda & BTC stated, "We are constantly reinventing to remain at the forefront of global innovative technologies and we strongly believe in supporting entrepreneurship in the local community."
The entrepreneur chosen number one in each category by our panel of judges will receive a combination of start-up funds and Business Start-up Services valued at up to $5,000 on Thursday, November 17th at the Celebration of Entrepreneurship and Innovation.
Dr. Grant Gibbons, Minister of Economic Development stated, "The Rocket Pitch Competition serves as a catalyst for existing and potential entrepreneurs to bring forward new and innovative business ideas.
"For the past nine years the BEDC has utilized this competition to help develop 16 new local entrepreneurs. As the Minister of Economic Development, I understand the importance of developing local entrepreneurs and I am encouraged by statistics like these that show new business development which contributes to the local economy."
Submissions are due by 5:00pm on Friday, November 4th, 2016 and may be emailed directly jlodge@bedc.bm. To provide further support to participants, the BEDC has uploaded a tutorial to its website www.bedc.bm on how to put together a Rocket Pitch.
"The BEDC is pleased to have been a part of GEW since its global inception in 2008. Every year competitions like the Rocket Pitch help to encourage entrepreneurs to pursue their small business goals", said BEDC Chairman, Nick Kempe.
"I encourage anyone who has a business idea to participate in the Rocket Pitch competition. In addition to receiving start- up funds, the startup services and additional coaching provide new entrepreneurs with a great way to get valuable feedback to further develop their ideas."
For information about Rocket Pitch, the public can email Jamillah Lodge at the BEDC at jlodge@bedc.bm, call 292-5570 or v the BEDC website, www.bedc.bm.
Read More About
Category: All, Business, Environment, News