Students at East End Primary School now have access to more books thanks to Bermuda Skyport's donation of thousands of dollars worth of books.
East End is the first school to benefit from Bermuda Skyport's new community investment plan, as Skyport has donated new books to the school's classroom libraries as part of its continuing investment in Bermuda's young people and education.
Julie Foggo, Principal East End, Aaron Adderley, President Bermuda Skyport, Terry Cox, Assistant Director of Educational Standards and Accountability, Ministry of Education, Makeba Stowe, Deputy Principal, East End, Renee Ming, St. George's North MP, Head Girl Keniyah Brown, Head Boy Joaquin O'Connor, Deputy Head Boy Yari Mello and Deputy Head Girl Savannah Walker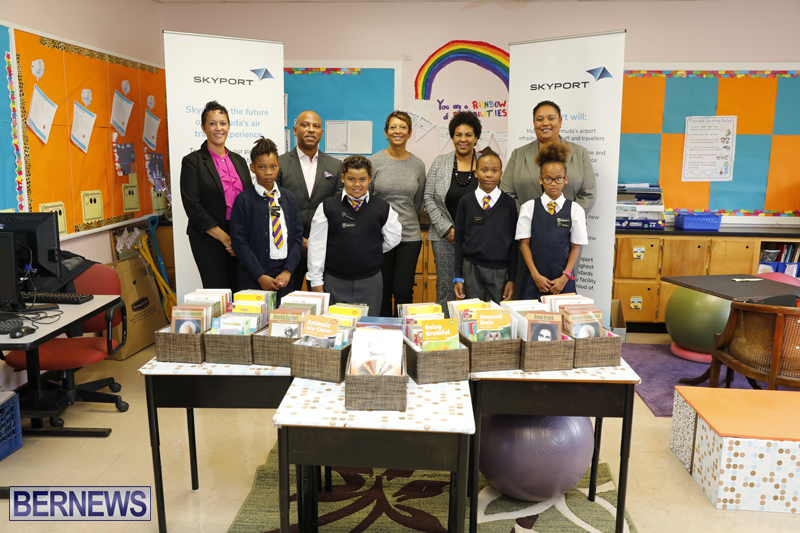 The books were purchased for classroom libraries for years P3 through P6. This particular project was chosen as Skyport's inaugural investment as the need to outfit the Primary School's libraries was critical, according to Principal Julie Foggo. When Skyport met with Principal Foggo to ascertain the needs of the school, this was at the top of her list.
Aaron Adderley, President, Bermuda Skyport, says: "It was important for Skyport to launch our social investment programme with a meaningful donation. Reading is not only fundamental, but key to opening the mind to new possibilities. We want the students at East End Primary to take these books, read them cover to cover and enjoy the new worlds they discover along the way."
"We plan to invest in our young people and in other schools in the months and years ahead. Starting here in the east end, with our area neighbours is an ideal way to roll out our community investment initiatives."
The donation includes hundreds of fiction and non-fiction books for the students to read. There are four copies of each book per classroom to ensure every student has equal opportunity and access.
Ms. Foggo says, "On behalf of the teachers and staff at East End Primary School, I would like to thank Bermuda Skyport for their generous donation. Thanks to Skyport, our students are now able to select from a variety of new books and are anxious to start reading them.
"The selections in the classroom libraries were limited and worn down in many cases. The goal of the school is to have a variety of books that address the varying levels in each class as well as provide for various interests. The addition of these books to the classroom libraries ensures students from P3 to P6 will have a large and varied selection to choose from."
Photo courtesy of Robert Daniels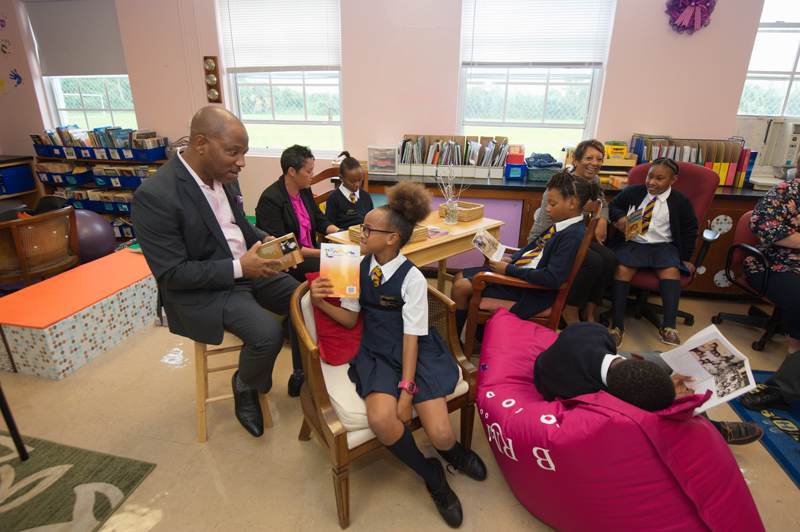 Renee Ming, MP for St. George's North where East End Primary is located, says: "When we think about our kids, they are our future, they are the investment that we make. We are happy to see that Skyport has taken on that initiative and investing in our kids.
"What we also see here is a relationship with Skyport and the public school system. On behalf of constituency number one, I'd like to thank you. We appreciate this."
Skyport will unveil its full community investment plan next year. For more information, email info@skyport.bm.

Read More About