WindReach has donated inclusive books to the island's pre-primary and primary schools in recognition of Giving Tuesday, with the books presented yesterday [Nov 29] to Minister of Education Diallo Rabain.
A spokesperson said, "WindReach's mission is to help enrich the quality of life of persons living with special needs and we do this by providing Educational and Therapeutic programmes that serve a cross section of our community.
"WindReach also has an advocacy role and endeavours, as an organisation, to bring awareness to our community of issues facing the special needs community. Many of our participants are students from both public and private schools and have often had to navigate the awkwardness of being misrepresented or misunderstood due to their use of accessible devices or when you learn differently from most of your peers.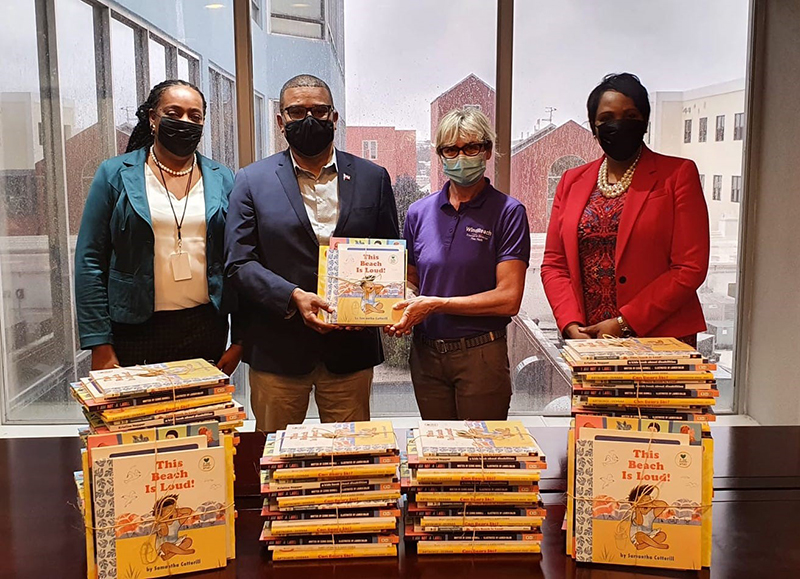 "Alyssa Frick, WindReach's Life Skills Occupational Therapist, is a mother of a two year old. In their personal reading time at home, she noted that it was time to expand their catalogue and include children's books around the topic of disabilities. The quest to find such books on island proved fruitless and she began to look online.
"Much to her surprise there were limited children's books written from a lived experience perspective. After much digging, she was able to find books written by persons living with a disability and felt compelled to share her findings with WindReach. This was the start of what is now, WindReach's Inclusive Literature Campaign, that will see 200 books given to schools across the island on Giving Tuesday, which is a global day of giving celebrated each year."
Ms. Frick said, "When looking for books to read to children, characters with disabilities are few and far between. If they are there, it is usually in the background, or being explained by their sibling or friend to the audience, or as an inspiration for doing something normal. WindReach is striving to make sure every child in Bermuda has the opportunity to gain perspectives of the unique worlds of people with disabilities.
"These books are written by authors who also have the disabilities the book portrays, making sure the story is centered around their own voices and experiences. Each of these books offers something new for the reader to understand and perhaps move forward a little kinder, and a little more inclusive of their peers."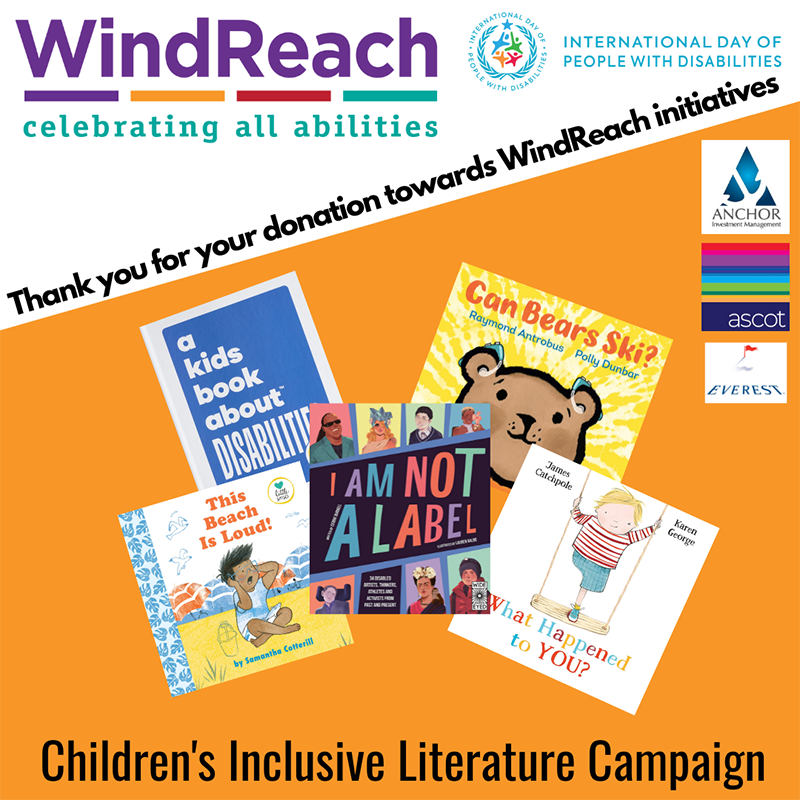 Executive Director Tina Nash said, "When we are challenged to support, encourage and advocate on behalf of those we serve, we have a duty to rise to that challenge. I am very proud of the effort of our WindReach Team to make this initiative happen for our community.
"With each pre-school and primary school receiving a package of five inclusive books, our hope is that adults and children will read them and gain a more empathic understanding of people living with diverse needs and to work together to build a more inclusive community where all abilities are celebrated."
Minister of Education Diallo Rabain said, "On behalf of the Ministry and Department of Education, I want to thank WindReach for this intentional and generous donation. Our Bermuda Public Schools welcome and celebrate those with diverse needs and look forward to the positive impact that these books will have on all of our students.
"We also want to praise WindReach for their advocacy for inclusion, as each and every child deserves to be embraced and supported."
The spokesperson said, "The books were generously sponsored by Anchor Investment Management, Ascot Group and Everest Reinsurance."

Read More About