From December 18, the seasonal influenza [flu] vaccine will be available to the public from the Department of Health, at a cost of $10.00 per shot, and free of charge for persons over the age of 65 years.
A spokesperson said, "Starting 18 December, the seasonal influenza [flu] vaccine will be available to the public from the Department of Health, at a cost of $10.00 per shot [for both adults and children]. Persons over the age of 65 years will receive the seasonal flu vaccine free of charge.
"This Monday and Tuesday, a free shuttle for seniors from City Hall's front drive to the National Sports Centre will help you get your flu shot via Flu Express. The shuttle leaves City Hall every 30 minutes on the quarter hour, starting at 10:15 am. The last shuttle is at 3:15 pm.
"Flu vaccine can keep you from getting flu, make flu less severe if you do get it, and keep you from spreading flu to your family and other people, especially newborns and young infants, children, seniors, and persons at risk of complications from the flu. It can help reduce absenteeism from work or school due to influenza
By protecting yourself against influenza, you are also protecting your family, your household, your workplace and ultimately your community.
The flu vaccine will be available:
1] through "Flu Express" on Monday, 18 December and Tuesday, 19 December
2] at the Health Centres,
3] at the offices of most private physicians.
"Flu Express" Schedule
"Drive through and get your flu shot in minutes at the Pavilion at the National Sports Centre, 65 Roberts Avenue. The Department of Health will also be offering a free shuttle service leaving from the front drive of City Hall. The "Flu Express" will enable people to and receive the flu vaccine while waiting in their car, without having to get out, weather permitting. This will make it easier for some people to access the vaccine. Only those 10 and over can receive the vaccine through "Flu Express". Flu injections will only be offered at the "Flu Express" on the specified dates, to individuals in good health without active infections.
"Please dress comfortably to allow the nurse easy access to the injection site in the upper arm and have the correct amount of cash ready during your attendance at the "Flu Express." [Credit/Debit card facilities will not be available at the "Flu Express" sites].

Health Centre Schedule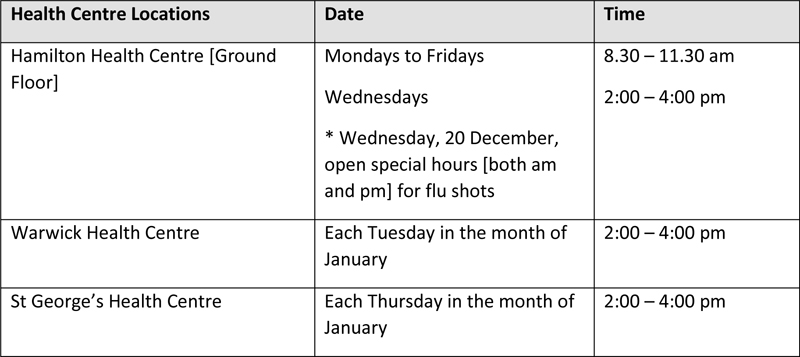 Who should receive the flu shot?
Persons aged 65 years and older
Healthy adults who are in close contact with the elderly, infants and children, and any persons with chronic medical conditions
Children aged 10 years and older
Healthcare workers, caregivers and essential service workers
Persons that have received the flu shot each year
Persons who are clinically obese with a BMI greater than 40
Persons with chronic health problems that are at risk of complications from the flu, e.g. diabetics, asthmatics and those with heart disease. You should inform your doctor when you have been vaccinated.
You will not be given the shot if:
You have allergies to eggs, chicken products, or any component of the vaccine
You have had a reaction to the flu shot before
You have a fever
"Individuals under a physician's care for chronic medical conditions and children under the age of three years are asked to obtain a prescription for flu immunization from their private physician.
"For more information on influenza here under Disease Fact Sheets."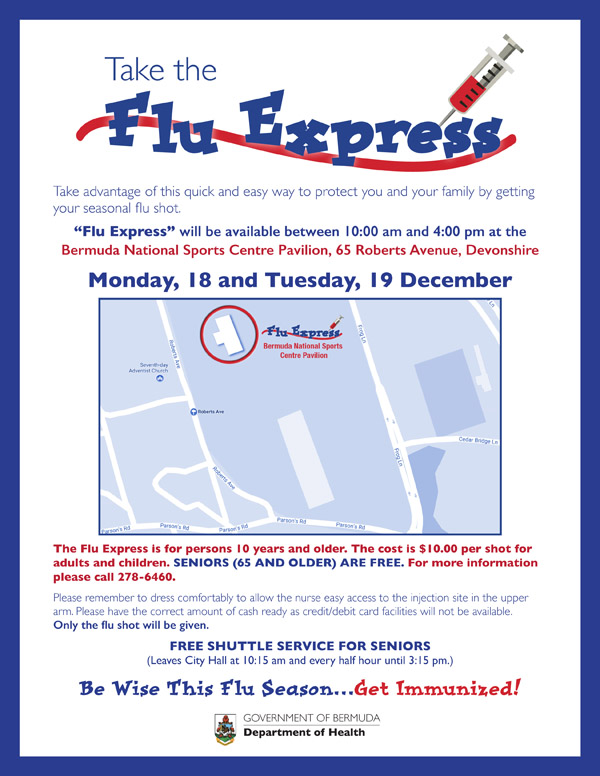 Read More About
Category: All