The Bermuda Olympic Association [BOA] announced that five elite Bermudian athletes — Flora Duffy, Cecilia Wollmann, Tyrone Smith, Tre Houston and Jah-Nhai Perinchief — have received Olympic Scholarships through the International Olympic Committee's Olympic Solidarity programme in support of their bids to compete at the 2020 Olympics.
"Flora Duffy [Triathlon], Cecilia Wollmann [Sailing], Tyrone Smith [Athletics], Tre Houston [Athletics] and Jah-Nhai Perinchief [Athletics] will each receive funding to support them as they train for the Games at approved training facilities, as well as up to an additional $5,000 in funding to cover their transportation costs for participation in Olympic qualification competitions," the BOA said.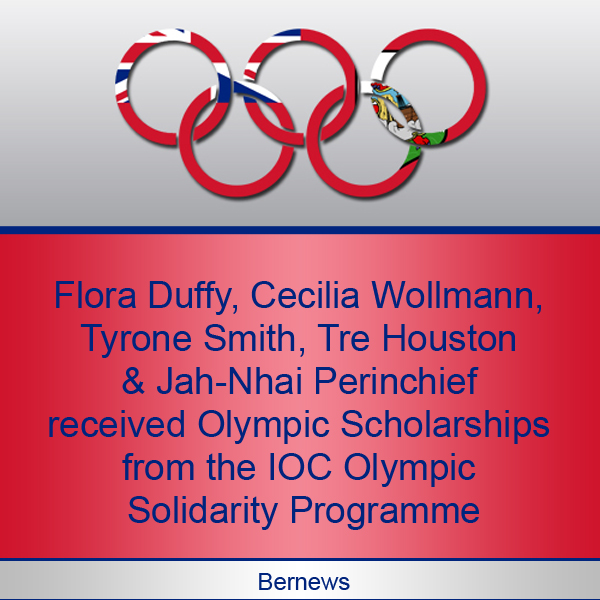 "Olympic Solidarity is the IOC commission responsible for administering and managing the National Olympic Committees' [NOC] share of the broadcast rights from the Olympic Games. It redistributes these funds through programmes according to the needs and priorities of the NOCs and their Continental Associations.
"Programmes are divided into four areas: Athletes; Coaches; NOC Management; and Promotion of the Olympic Values. Athletes' programmes are structured to enable the NOCs to provide technical and financial assistance to athletes at all levels who are preparing for international competitions.
"Scholarship awards are prioritised to assist athletes from countries that have traditionally sent smaller delegations to Olympic Games. Scholarships are tenable until such time as an athlete fails to qualify for the Tokyo Games, at which point funding would be discontinued."
BOA President, Judy Simons, said, "To perform at the elite level requires an athlete to commit himself or herself to almost full-time training, which requires a substantial financial commitment.
"The BOA is pleased to be able to assist Flora, Ceci, Tyrone, Tre and Jah-Nhai as they train and compete to earn the right to represent Bermuda on the world stage at the Tokyo Games."
The Games of the XXXII Olympiad are to be held from 24 July to 9 August 2020 in Tokyo, Japan.

Read More About