Designer Balloons Studio, a business specializing in balloon décor and other party supplies, has launched an interactive new website, giving customers the chance to bring a creative vision for their next event to life.
The site, www.designerballoonstudio.com, which officially launched last week, allows people to purchase an array of balloons and creative balloon displays including bouquets, centerpieces, arches and table arrangements – at the click of a button. Customers can also choose their own colours, theme or design based on their preferences.
Barbara Spence, Owner of Designer Balloons, called the site "a one-stop-shop" for not only balloons, but also plates, cups, napkins and other party supplies.
"Building the site was an important step for us in updating the business and making it easy and accessible for customers to place their orders," she said.
"It's exciting and something I feel will really help to grow the business seeing that everyone is on the web now. People like to be in the comfort of their own homes or at their office and feel reassured knowing they can get exactly what they need in a timely manner."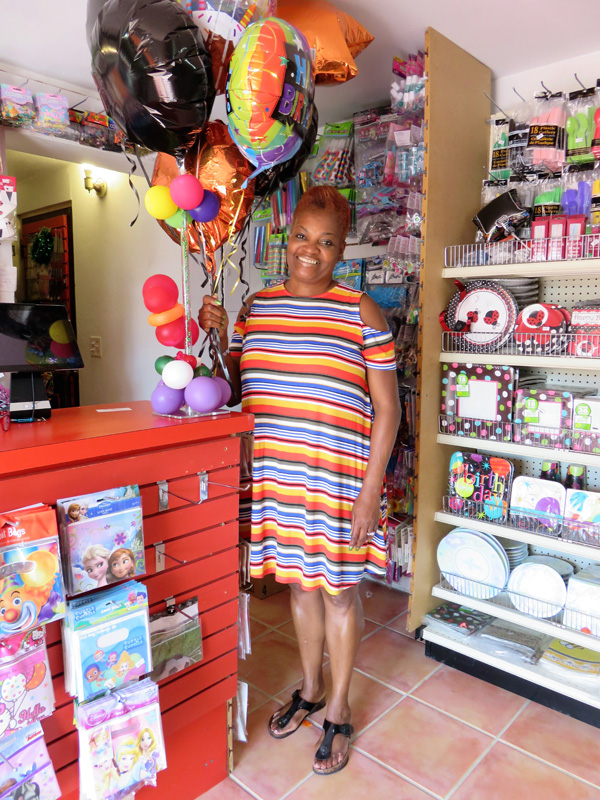 For Designer Balloons Studio the site was especially important after leaving their trademark location on Lover's Lane in Paget 16 months ago. They are now located further away from Hamilton, in their shop at Tribe Road in Warwick.
"A lot of people who know me from Lover's Lane and know the quality product I offer have stayed loyal to us, but we've had to think outside the box when it comes to introducing new people to Designer Balloons," Ms. Spence said. "Some people don't realise where we are located now or the full scope of what we offer here in Warwick."
Immediately after placing an order on www.designerballoonstudio.com, an email confirmation will be sent out to customers. Ms. Spence said the goal was to make the site as simple and user-friendly as possible.
"Since moving in September 2016 my core customers have found me at our new space – and that says a lot about the quality of our work. They enjoy working with me and most people don't mind coming to Warwick to pick up their orders, but we also offer deliveries in the mornings and afternoons to make it as convenient as possible for everyone else to get their supplies."
Ms. Spence has been running Designer Balloons for nearly 12 years now.
She originally worked in the travel industry, but after seeing a trend towards people booking trips online, decided to make the switch by starting a part-time business in party decorating.
"I travelled overseas and took a course in balloon décor and decorating and when I returned to Bermuda I was so inspired to get to work in this area part time," Ms. Spence said. "Shortly after that, I was made redundant in 2005 – that's when I decided to pursue this passion full time.
"I love the creativity it involves and the process of seeing something beautiful online or in a book and then getting my fingers busy to try it myself. I like playing and experimenting with new techniques. And it's always nice when customers trust you, give you free reign and say 'I know you will do something amazing so just go ahead and do it'. It's nice to see their faces when they receive their balloons, and get a first glimpse of the décor in general. They're amazed at how simple pieces can drastically transform a space."
For more information, visit www.designerballoonstudio.com; Facebook: Designer Balloons Party Store or Instagram: @DesignerBalloons. To place an order, e-mail lindaspence41@yahoo.com or call 236-5103.

Read More About
Category: All, Business, technology