[Updated] Bermuda born figure skater Vanessa James and her partner Morgan Ciprès, who skate for France, have made an impressive start at the 2018 European Figure Skating Championships in Moscow, Russia, winning the pairs short programme with 77.52 points.
The pair, who won bronze at the 2017 Championships, produced an impressive display that took them straight to the top of the leaderboard on the first day of competition at Moscow's Megasport Sport Palace.
James, 30, and Cipres, 26, who have competed together since 2010, racked up 75.52 points, Eurosport reported, to rank above Russian pairs Natalia Zabiiako and Alexander Enbert [72.95] and Ksenia Stolbova and Fedor Klimov [72.05].
James/Cipres' performance to "Make It Rain" by Foy Vance featured a triple twist, side by side triple Salchow and a throw triple flip, according to the official ISU website.
The French team picked up a level four for their death spiral, step sequence, lift and pair combination spin to post a new season's best of 75.52 points, just below their personal best score.
Ms James said, "We are very happy with the skate. We were a little bit nervous. We've been doing great practices and great programs, but last year was our first medal [at Europeans].
"We have the Olympics in three weeks and those things have us a little stressed out. The program was a little hesitant, not the most liberated, but it was a clean program and we're very proud of it. It was the best possible start for the Europeans."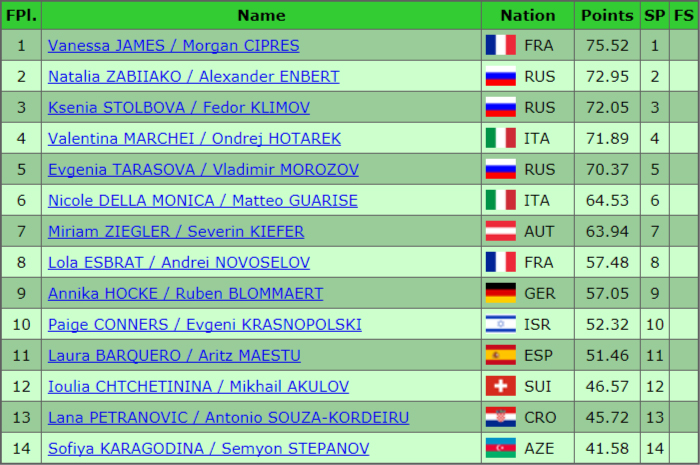 Update 6.28pm: Following today's free skate competition, Vanessa James and Morgan Cipres were edged out of the podium by just 0.01 points and placed fourth, with 210.17 points.
Evgenia Tarasova and Vladimir Morozov bounced back from a disappointing Short Program to defend their European title.
"We're disappointed," James said. "We knew we had a shot at the podium, but we weren't there today."

Read More About