Bermuda's newest soldiers got their first taste of military life as the RBR's annual recruit camp started on Sunday, with a total of 45 all-volunteer soldiers.
The recruits saw a demonstration of the firepower in the Regiment's arsenal, as well as training aids like thunderflashes and flares at the start of two weeks of intense work.
Akilah Acka, from Sandys, said: "I did Junior Leaders a few years ago so I wanted to see what it was like as an adult.
Bermuda's newest soldiers on parade at Warwick Camp.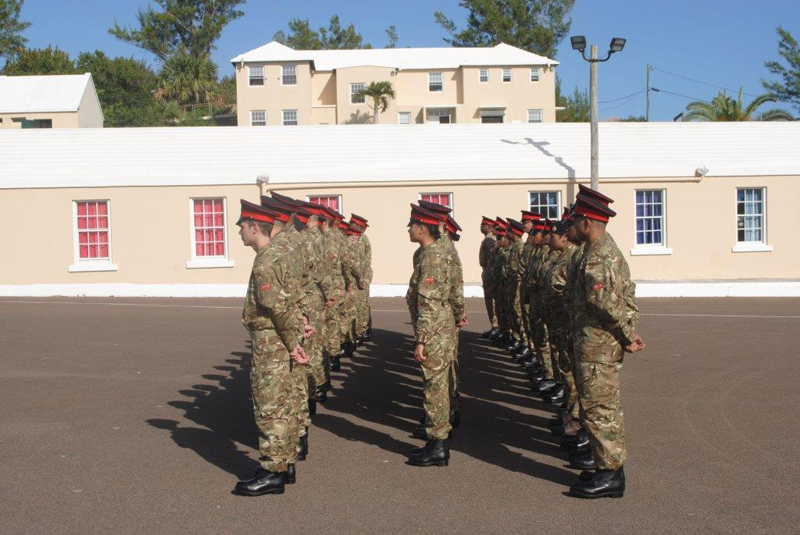 "I wanted to test my physical limits and see if I could withstand the demands – it's productive as well because I'm gaining life skills."
The 18-year-old, who has an associates' degree in arts, admitted: "In some ways I'm nervous – but if you go in confident, you will be confident so when the hard stuff comes it won't be so much of a challenge."
Recruits enter Warwick Camp as the Royal Bermuda Regiment welcomes its newest soldiers.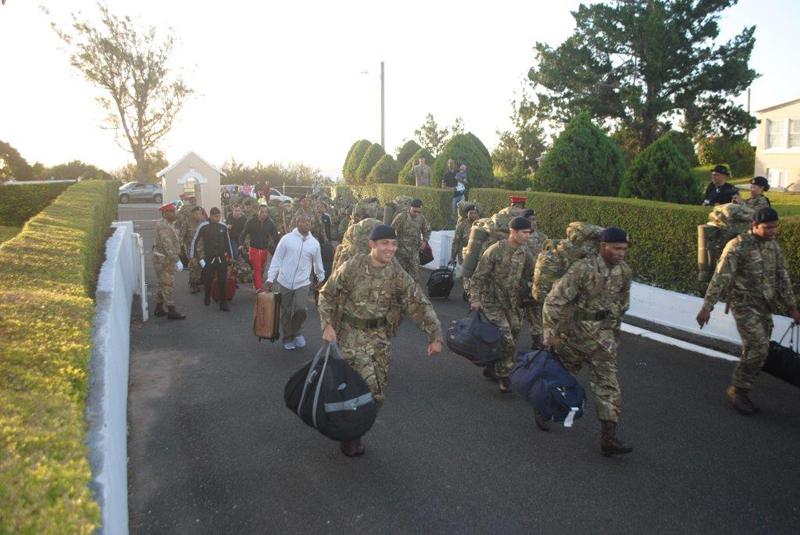 Matthew Ratteray, 38, from Smith's, said he took some time take the plunge and join the island's only armed service.
He added: "I've always wanted to do it and now I feel I'm ready. There's monetary value to it as well – it's some extra coin in the pocket."
Private Ratteray, an airport security officer and the son of former Anglican Bishop Ewen Ratteray, said: "I'm going in with a positive attitude and I'm definitely looking forward to the next two weeks. I'm looking forward most to the fitness, the obstacle course and rifle training."
 New Privates Miles Dill and Akilah Acka settle into life in the RBR.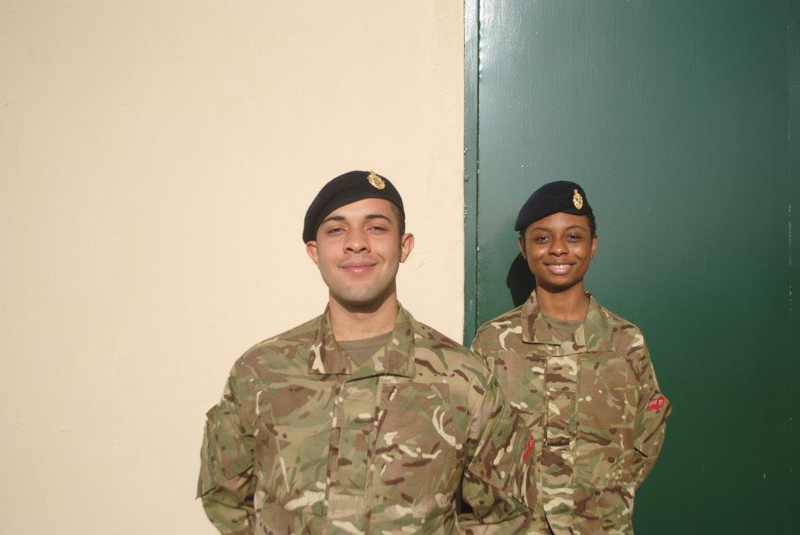 The two were speaking as a total of 45 new all-volunteer soldiers joined up for a mix of training that will take them from classroom work to hands-on experience of using the RBRs SA-80 rifles and fieldcraft.
Pte Miles Dill, 23, from Southampton, a fibre optics salesman for Digicel, said he wanted to make a difference in the world – and gather some material for his writing.
Instructors demonstrate the firepower available from the RBR's arsenal of weapons on the first day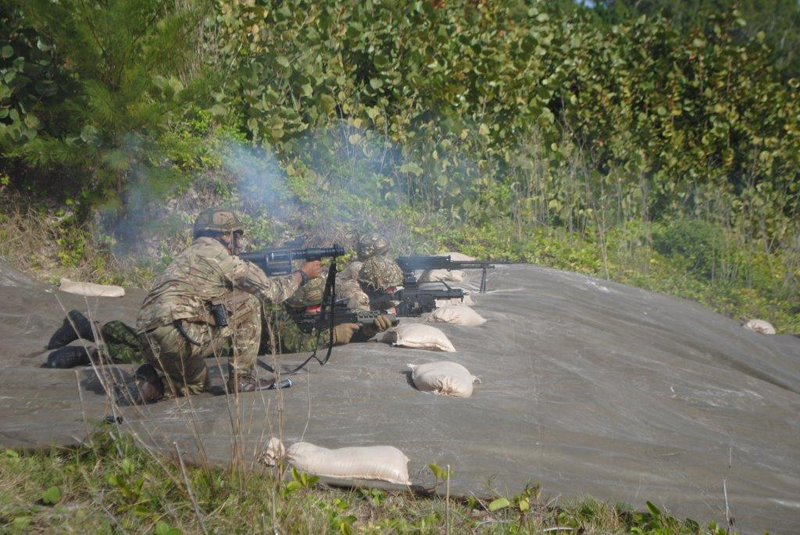 He added: "Bermudians are a very tiny percentage of the world – if there's any hardship or unrest, normally there's nothing you can do about it.
"I thought if I was in the Regiment, you're one of the pillars of the country. If there was no pay, I'd still have done it, but we are paid, which is nice. Bermuda has been so kind to me growing up, it's about time I returned the favour."
Earlier, Major Duncan Simons, RBR Adjutant, outlined the values and principles of service to the new soldiers.
New soldiers run back to Warwick Camp after a firepower demonstration on South Shore.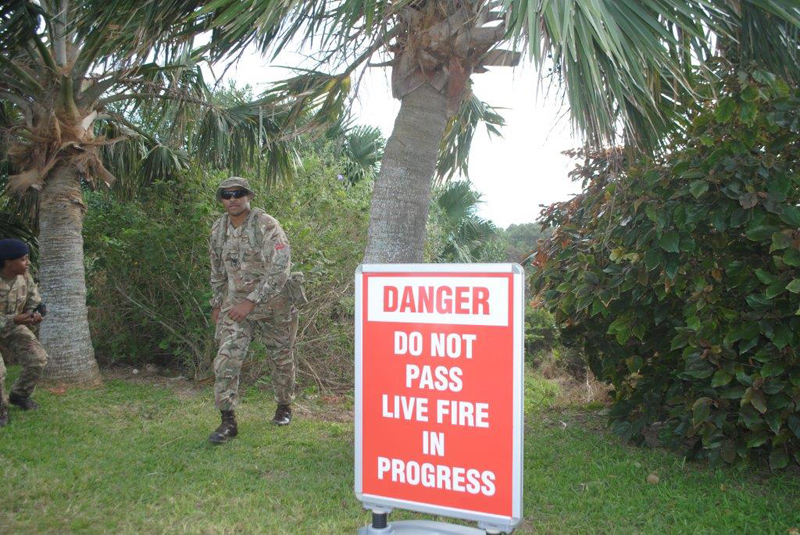 He stressed that the Regiment was open, inclusive and had zero tolerance for bullying, harassment and discrimination.
Major Simons said: "Essentially, we're all green – we all wear the same uniform and adhere to the same values and standards."
And he warned: "Any form of abuse of authority intended to intimidate is not acceptable."
New recruits enjoy their first meal at Warwick Camp.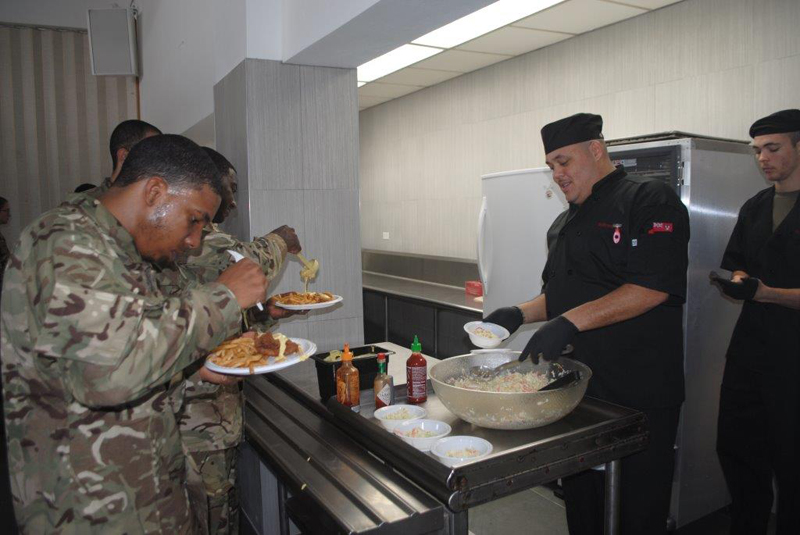 Platoon leader Lieutenant Alex Gibbs, 26, said he was looking forward to helping the recruits achieve their full potential.
Lt Gibbs, a bar and restaurant manager from Smith's, added: "I'm optimistic – it's another good volunteer Recruit Camp. As a commander, it's a lot more fun to have volunteers who want to be here. Judging from last year, I expect the commitment and work ethic to be very high."

Read More About