Raleigh Bermuda is recruiting for their 2018 programme, and will be holding a Final Information Session this evening [Jan 10].
A spokesperson said, "Raleigh Bermuda is recruiting for our 2018 programme and will be holding our Final Information Session on Wednesday, January 10th 6pm – 7pm at our office at 2 Midsea Lane.
"Raleigh Bermuda [Registered Charity #710] is a youth development organisation that delivers a transformational life programme. Our programme specifically targets young Bermudians who are 'at a crossroads', including those who are at risk of not reaching their full potential.
"Our structure and philosophy are that of our decades-old affiliate Raleigh U.K., and are designed to help Young People develop skills and self-confidence in a fun and challenging environment beyond the classroom and workplace. We believe that pushing a young person outside of their comfort zone allows them to explore a different side of themselves and accomplish more than they ever thought possible.
"If you're a Bermudian between 17-24 and looking for a challenge, a change and a way to transform your life, come and chat with us.
"In life, anything can happen or you can make it happen."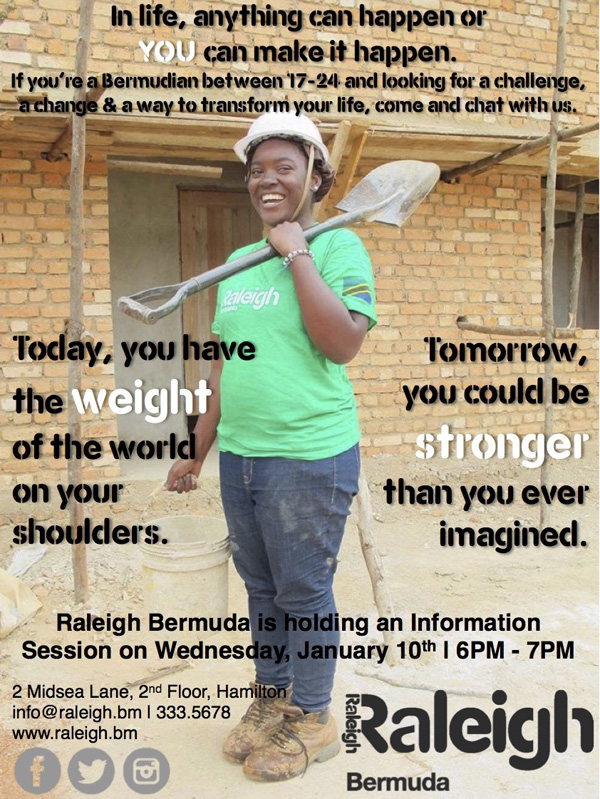 Read More About
Category: All