Raleigh Bermuda is inviting all families on island to come together, get active and help fundraise for the charity.
A spokesperson said, "Raleigh Family Trek Race: Climb that Hill" is a fundraiser that will encourage families to sign up for a "virtual trek race" by selecting all the "Bermuda Hills" of their choice to trek. Families will get to work on their endurance and strength by taking on the Hills of Bermuda!
"The virtual event is set to run from April 22 – 24, a whole weekend where families will be signing up for various levels: beginners, intermediate and advanced. Families can also pick the day and time that works best for them then set out for their Family Trek and enjoy the challenge! All ages and those with strollers and wheelchairs will be able to participate in the race.
"Families can choose their level and complete one or more hills in that level. We ask of families to trek the full length of the road
Beginner Level Hills: Trimmingham Hill, Stowe Hill, Berry Hill, Blue Hole Hill, Scott's Hill,
Intermediate Level Hills: Gibbs Hill, Cedar Hill, Bostock Hill, Knapton Hill, Government Hill Road, McGalls Hill, Kilimanjaro Hill Horseshoe Bay
Advance Level Hills: Bill Goat Hill, Burnt House Hill, Cobbs Hill, Town Hill, Pembroke Park Lane Hill
"The cost to sign up per family is $50. If you do not want to race but want to support? Pledge a Raleigh Family or a 2022 Venturer!
"Our Raleigh Family Teams are: Team Torrell's Trekkers, Team FURever Wild, Team Berny Warriors and Team Meet the Fockes!
"Our 2022 Venturers are: A'Jahni Roberts-Smith, Christianna Warren, Torrell Stuart and Antahsukha Akshayasukha.
"Participants will be accepting pledges and donations from the community for this fundraiser.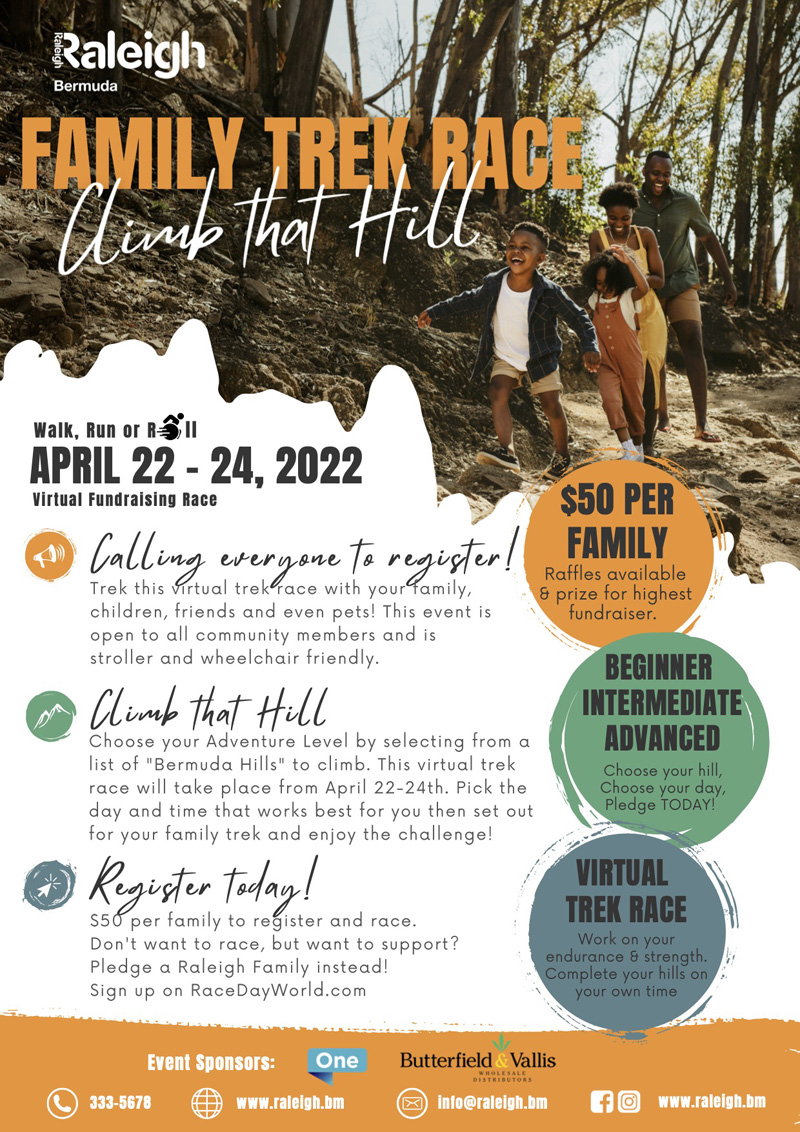 "To sign up for the race, go to Race Day World Website at: https://runsignup.com/Race/BM/HillsofBermuda/RaleighBermudaFamilyTrekRace
"To pledge and donate online, go to Ptix here.
"Or online banking at
Raleigh International Bermuda
HSBC Limited
Account #: 010120756001
Reference [Name of Team or Venturer]
"First 30 racers will receive a goodie package. Pick up bags April 21, 2022 at Raleigh headquarters 12pm – 5pm. The event is being sponsored by One Communications and Butterfield & Vallis.
"Raleigh Bermuda is known for its adventurous and survival local and overseas training camps. Always with a mission to challenge our young people to reach their full potential. Proceeds from this fundraiser will help Raleigh Bermuda with their youth and alumni programmes. To learn more about Raleigh Bermuda [Charity #710], please contact info@raleigh.bm or call 333.5678. Visit www.Raleigh.bm."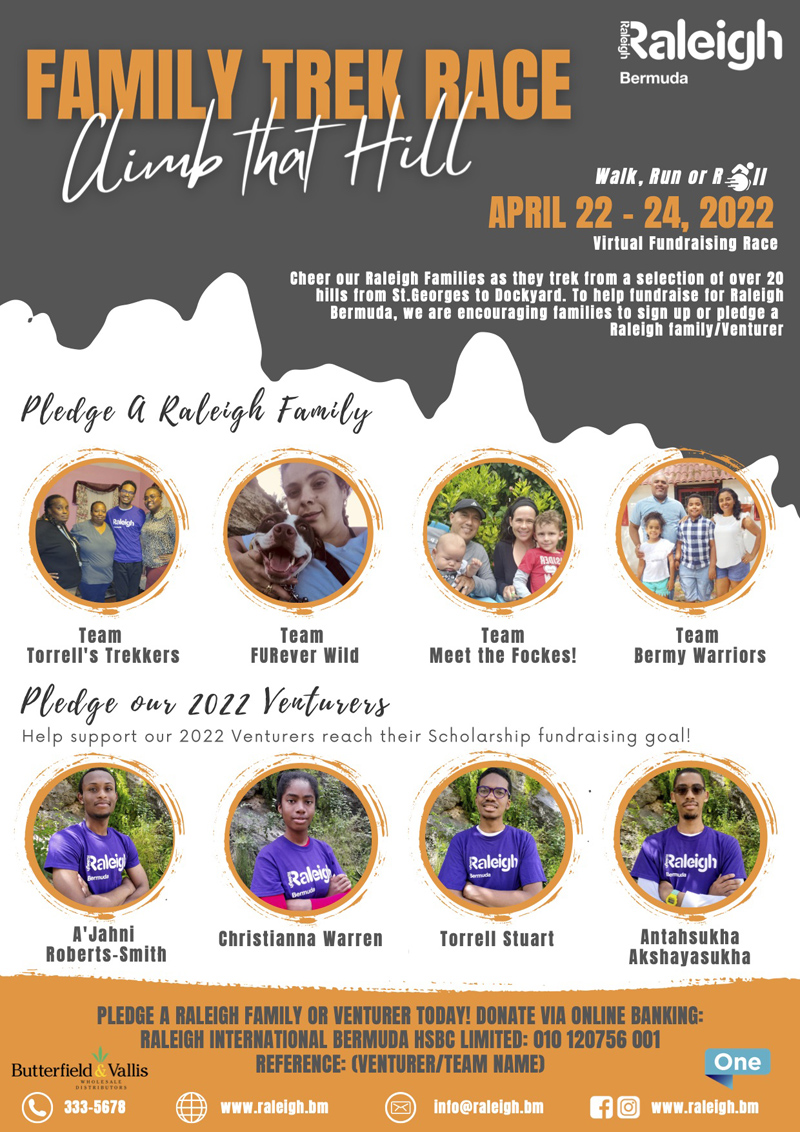 Read More About
Category: All