[Updated] The Bermuda Tourism Authority [BTA], National Sports Centre [NSC] & Bermuda National Athletics Association [BNAA] held a press conference this morning [Jan 4] to welcome two visiting sports teams to the island for training camps: University of Western Ontario track & field team and the Georgetown University swim & dive team.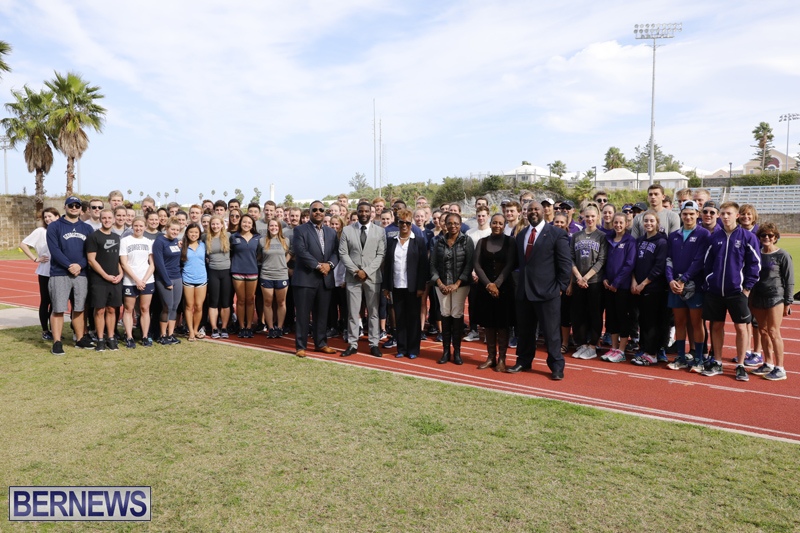 The press conference has just concluded and we will have additional information later on, and in the meantime the 19-minute live video replay is below.
Update 1.35pm: BTA Assistant Product Development Manager Daniel Johnson's remarks:
Good Morning.

My name is Daniel Johnson, Assistant Product Manager for Sports.

Thank you for joining us for this press event to welcome teams from the University of Western Ontario and Georgetown University.

As you can see, I'm grinning from ear-to-ear because I have been working with both teams for the last six to nine months and was able to convince them to come to Bermuda for their training camps and to actually see the teams standing in front of me, is very gratifying! Even more so, because this is the first time I've had 2 teams here at the same time and same place.

We're grateful to Coach Vickie Croley and Coach Jack Leavitt [point them out] for bringing their track and swim teams here to train for their respective seasons back home.

Minister Jamahl Simmons is here to help us officially welcome the athletes. You'll hear from him in a few minutes.

Also this morning, Donna Raynor, representing our local partners from the Bermuda National Athletics Association, will help us preview a unique track meet this weekend. It will feature athletes from Western versus some of our own track and field stars.

And my colleague Pat Phillip-Fairn will explain the partnership between the Bermuda Tourism Authority and the National Sports Centre. Sean Tucker is here representing the Sports Centre and he'll get us started today.

But before he does, a quick story about how these sports groups positively impact our economy far and wide. They are staying in our hotels, eating in our restaurants and hiring local transport companies at a time of year when local businesses especially need an extra boost.

It was a lot of fun watching 70 athletes from Georgetown descend all at one on the grocery store earlier this week. They loaded up dozens of shopping carts with food and single-handed turned a normal day at that grocery store into a bumper day. Trust me, I have the pictures to prove it. So while it is a lot of fun to have these teams out here in Bermuda, there's an important business story to tell as well.
BTA Chief Product & Experiences Development Officer Pat Phillip-Fairn's remarks:
Allow me, on behalf of the Bermuda Tourism Authority, to also extend a warm welcome to our visiting athletes from Ontario and Washington, DC.

Warm is the operative word, of course, because a brief peek at the weather forecast showed me that it's snowing this morning on the campuses of University of Western Ontario and Georgetown University. In fact, in DC, where they don't get a lot of snow, they're bracing for something called a "snow hurricane". It sounds awful. So, although our weather hasn't been perfect this week, we think it's been good enough to make your classmates back home jealous that you're out here with us in Bermuda while they're dealing with snow storms.

Not surprisingly, weather has been one of the main selling points of this sports tourism partnership between the Bermuda Tourism Authority and the National Sports Centre…. now entering its third year. Teams in the northeast of North America, like the two teams with us here today, are the target of our sales recruitment effort. We're especially proud to see Coach Croley and her Mustangs because they're the first track and field team to take advantage of our sports training camp since we started this effort back in 2015.

All of the teams we talk to are looking for opportunities to train outdoors in the wintertime when it's not conducive to do so back home. And fortunately for us, the world-class facilities here at the National Sports Centre are at their most available between November and April. The same is true for our hotel partners – Newstead and Willowbank have inventory to fill at this time of year and they're pleased to extend that world-famous Bermuda hospitality to these sports training groups in January. Likewise for our transport partners…. And for our local grocery stores, based on the story Daniel just told.

We're in a two-week period, where three visiting team will have an estimated economic impact of $295,000 for Bermuda. We know that matters for jobs, for small business owners and for local hotels. We're really excited about what this sports tourism partnership has meant over the past few years and the growing potential over the next few years.

At the Bermuda Tourism Authority, our plan is to continue on this successful path. We are looking for new opportunities and working hard to bring back some of the teams you've seen here over the past few years.

The visit from Western includes track meet this weekend versus some of our Bermuda athletes. It's rewarding to have Donna and our local partners at the Athletics Association use this opportunity to prepare and promote home grown athletes for the upcoming season.

We'll be here this weekend for the track meet…. maybe a little torn about who to cheer for… but one thing we know for sure: welcoming these sports teams into Bermuda over the past three years has been a true win-win-win… for tourism, for our local athletes and for the visiting teams.

It's my pleasure now to turn things over to Minister Jamahl Simmons, the Minister of Economic Development and Tourism.
Ministry of Economic Development & Tourism Minister Jamahl Simmons remarks:
Good Morning.

I have the distinct pleasure of welcoming these athletes to Bermuda with a small commemorative token of the country's appreciation.

Before I do so, allow me to just make a few comments about sports tourism and the growing popularity of these sports training camps and their impact on the island.

As the Minister for Economic Development and Tourism, I'm always delighted to hear about occasions when tourism provides a clearly identifiable economic stimulus for the country – especially during this time of year when the tourism season tends to slow and work hours trail off.

All of these athletes staying in our hotels, using our taxis and transportation companies, dining in our restaurants and visiting our attractions is so important to the year-round tourism economy we are trying to build. These sports groups help keep the tourism engine going and it keeps our tourism workers working. It's critically important.

So my congratulations to the Bermuda Tourism Authority and the National Sports Centre on their three-year sports tourism partnership which is really paying dividends for the country.

Invite Coach Vickie Croley from the University of Western Ontario and Coach Jack Leavitt from Georgetown University for presentation

Read More About