Munaluchi Bride Magazine, the number one multicultural wedding publication in the United States, is bringing its annual retreat to the island in what is described as a "profile-raising opportunity for Bermuda".
The Coterie Retreat will be a three-day conference of more than 100 wedding and event professionals, hosted at the Hamilton Princess Hotel & Beach Club from December 3-6, 2018.
"People are excited. They're ready to pack their bags and get here," said Munaluchi Bride Magazine Sales and Marketing Director Nicole McKenzie. "I can tell you the buzz is extremely high.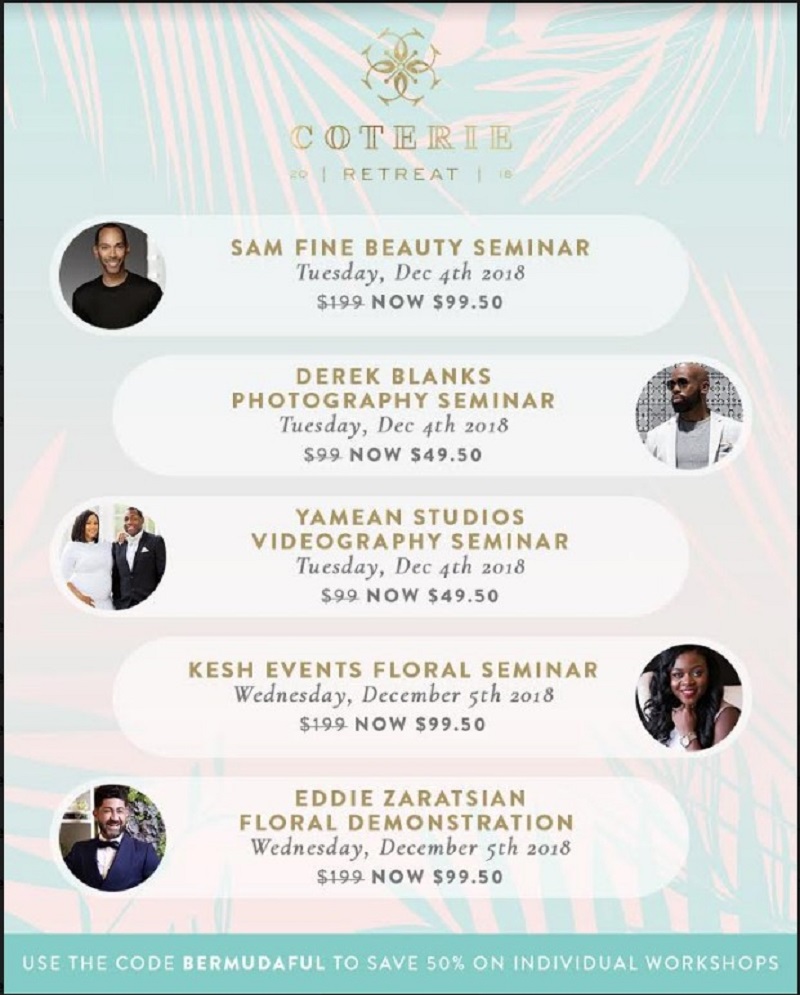 "At the end our retreat in December 2017, that was in South Africa everyone was trying to figure out where we would be going next. How will we top South Africa? We made the announcement we were coming to Bermuda and we have received positive responses from day one."
"We have a dedicated strategy for growing the destination weddings space and attracting groups like the Coterie Retreat is one part of the sales and marketing efforts underway this year," said Victoria Isley, Bermuda Tourism Authority chief sales and marketing officer.
"The Munaluchi community is influential so the quality of its Coterie Retreat in Bermuda will be critical toward attracting future wedding and honeymoon business. Alongside our local tourism partners, we will be working hard to show off all that Bermuda has to offer in the area of romance travel."
Munaluchi Bride Magazine CEO/Editor-in-Chief Jacqueline Nwobu said: "The purpose of the conference is not only to educate, but to expose Bermuda to the destination wedding industry. We really want our planners to connect with the locals here in Bermuda. We want to be able to put Bermuda on the map in terms of romance travel."
Mrs Nwobu and Mrs McKenzie visited the island last year to jump start the planning process for next week. They visited with local Bermuda brands and retailers, event venues and hotels to secure the best that Bermuda has to offer the Event and Wedding Industry.
"We are delighted that Hamilton Princess & Beach Club has been chosen as the host hotel," said Hamilton Princess General Manager Tim Morrison.
"This is an exciting networking event for the wedding and event professionals from around the globe and is an important profile-raising opportunity for Bermuda. We are confident that the planners will fall in love with the island once they are here."
"We have secured partnerships with some of the island leading partners in the Wedding and Event industry such as Bermuda Tourism Authority, Hamilton Princess & Beach Club, The Loren, Coral Beach Club, Rose of Sharon Wedding & Event Consultants DEMCO Florist & Destination Wedding Bermuda, Class Act Designs, Ambiance Design Studios, DJ Chubb, Alexandra Mosher, The Travelling Bride, and The Planning Factory," the organisers said.
"We have some amazing workshops and seminars lined up. These sessions are open and available Monday, Tuesday and Wednesday for all local Bermudians that can attend and you will receive 50%. Use this link to register. Select individuals seminars and workshops. Discount code: bermudaful."
Read More About