Minister of Economic Development and Tourism Jamahl Simmons announced the appointment of Mr. William Spriggs as Bermuda's new Director of Economic and Cooperative Development.
Saying it was "in alignment with the Government's agenda to expand entrepreneurship, create greater and fairer access to funding for entrepreneurs, remove red tape and road blocks to business creation, and promote and expand cooperative economics," Minister Simmons announced that William Spriggs will be the new Director of Economic and Cooperative Development with the Bermuda Economic Development Cooperation [BEDC].
Minister Simmons said, "Mr. Spriggs is no stranger to the BEDC and to the business and entrepreneurship landscape in Bermuda, having served in various leadership roles within the BEDC.
"Most recently he was the Director of Micro, Small, and Medium-Sized Enterprise for the BEDC, responsible for the provision of business development advice, guidance, and financial support to Bermuda's micro-enterprises, vendors, small and medium-sized business, as well as, EEZ entities.
BEDC Executive Director, Erica Smith; Director of Economic and Cooperative Development, William Spriggs and Minister Jamahl Simmons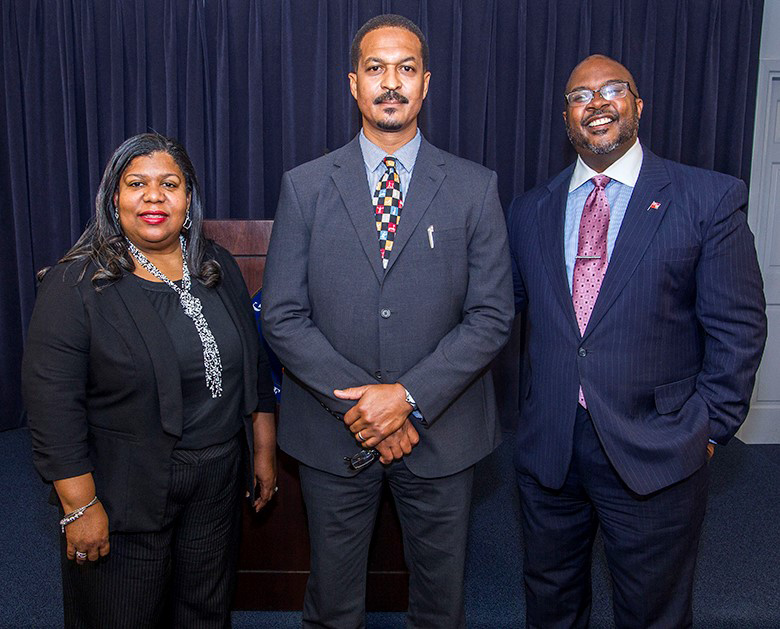 "As a Certified Management Accountant and Certified Professional Accountant with broad experience in all 3 sectors of Bermuda's economy – the private sector, the government sector, and the non-profit sector – Mr. Spriggs' well roundedness will serve us well in this new role as he leverages existing and new partnerships and collaborations for the success of our Island's local businesses.
"Having been an entrepreneur within his own right, he knows what it takes to start and successfully grow businesses in Bermuda. Along with leadership experience both locally and internationally, Mr. Spriggs is poised for success in this new role.
"When BEDC undertook the process of delivering on the Government's goal to establish cooperative economics in Bermuda, it looked far and wide at many jurisdictions. What immediately became obvious was that in many jurisdictions worldwide, co-operatives represent a large and viable segment of the economy.
"It also became clear that cooperatives could be found in both the private sector and the non-profit sector and in a variety of industries from utilities to housing to retail to name a few. It also became evident that co-operatives were economic development tools aimed at empowering people, building wealth, fostering community regeneration, and advancing economic growth.
"In this regard, BEDC concluded that there was a synergy between co-operative economics and the work it was already doing in its economic empowerment zones, with an opportunity to merge remits.
"As such, you will note that this new post is called the Director of Economic and Cooperative Development combining the economic development remit of the former EEZ Director post with the cooperative economics remit of this new agenda. Mr. Spriggs will oversee a new section within the BEDC called the Economic and Cooperative Development Unit [ECDU].
"In this new role, he will be tasked with the development and use of innovative economic development tools to foster local economic development growth in Bermuda such as, but not limited to:
Cooperative Economic Development Agreements;
Community Reinvestment and Redevelopment;
Community Development Block Grants;
Business Retention and Expansion;
Business Development Financing;
Targeted Sector Funding Schemes;
Industry-Focused Incubators and Accelerators;
Economic Empowerment Zones; and
Other economic development tools as needed
"Many of the above tools have never been used in Bermuda before and so the role of the Director and his Unit will be to explore and implement what is appropriate and useful in Bermuda's context, all aimed at the goal of expanding entrepreneurship.
"Now, to bring the focus back to one of those new economic development tools that the BEDC will be implementing first: Co-operatives. Co-operatives are autonomous associations of persons united voluntarily to meet their common economic, social, and cultural needs and aspirations through a jointly owned and democratically-controlled enterprise.
"They are businesses owned and run by and for their members. Whether the members are the customers, employees or residents they have an equal say in what the business does and a share in the profits.
"Co-operatives are based on the values of self-help, self-responsibility, democracy, equality, equity, and solidarity. In the tradition of their founders, co-operative members believe in the ethical values of honesty, openness, social responsibility and caring for others. These are the values we want to foster in our country and in our people.
"In light of the many and diverse problems facing our community, it is time for Bermudians to begin to seriously think about and work towards economic development and economic self-determination.
"A key and necessary part of economic development and self-determination for Bermudians can be found in cooperative economics. And while not everyone seeks or desires to become an entrepreneur, this Government is committed to providing support where we knock down roadblocks where we can and cultivate an environment where businesses of all sizes have the opportunity to succeed.
"Cooperative economics harnesses the power and energy of a Community to create economic and financial advantages for their participants. The costs of entry are lower than a traditional business start-up because the costs are shared amongst the members of the cooperative.
"As mentioned earlier, there are various co-ops around the world ranging from multi-million-dollar entities such as Barcelona Football Club in Spain to John Lewis Partnership that operates grocery, retail, and banking services in England.
"In Bermuda, we have a history of embracing cooperatives with several examples ranging from the Friendly Societies formed in Bermuda after Emancipation in 1834; to the Ireland Island Co-operative Society which existed during the 1920s to the 1950s in Dockyard; and lastly the Bermuda Workers Cooperative Society formed under the auspices of the Bermuda Industrial Union in 1969.
"In progressing the development and implementation of the cooperatives framework in Bermuda, BEDC has already become a member of National Cooperative Business Association, CLUSA International [NCBA CLUSA], which is the oldest not-for-profit cooperative development and trade association in the United States, fostering cooperative and international economic and social development in the United States and abroad.
"BEDC is also actively working on its application for becoming Bermuda's representative to the International Co-operative Alliance [ICA], the apex organisation for co-operatives worldwide, representing 305 co-operative federations and organisations across 105 countries. The members of the Alliance are national level co-operative federations, individual co-operative organisations and government offices concerned with co-operatives.
"In closing, forms of cooperative economics have existed and worked in Bermuda. Yet for 21st Century cooperative economics to succeed in Bermuda and for Bermudians, we must set in place the framework for re-engagement with this innovative economic development tool.
"But we must also begin a change of mindset and change of approach. We are proud to announce Mr. William Spriggs as the person who will be leading this effort."
Read More About