The event line up for the Bermuda World Triathlon Festival Weekend — which will take place from Thursday April 26th to Sunday April 29th — has been announced with a Kids Race, Hangover Swim, and Carnival-style street party set to take place along with the amateur and elite races.
A spokesperson said, "Social events and free public parties have been announced for the Bermuda World Triathlon Festival Weekend [Thursday April 26th to Sunday April 29th], offering something for all ages and fitness levels.
"From Thursday April 26th to Saturday April 28th, car parks on Hamilton's Front Street will be the venue for the MS Amlin World Triathlon Festival, featuring a World Triathlon Expo and entertainment and activities highlighting the event sponsors.
"The elite athletes' transition zone is at the centre of all the activity; this is where the world's top athletes will transition after their swim, to their bike, and also start their run. The transition area is the focus of the free public viewing decks and VIP area. The blue carpet transition zone and Front Street will be in the global spotlight of international television, broadcasting to millions on global networks.
The reigning world champion, Bermuda's own Flora Duffy, will be competing: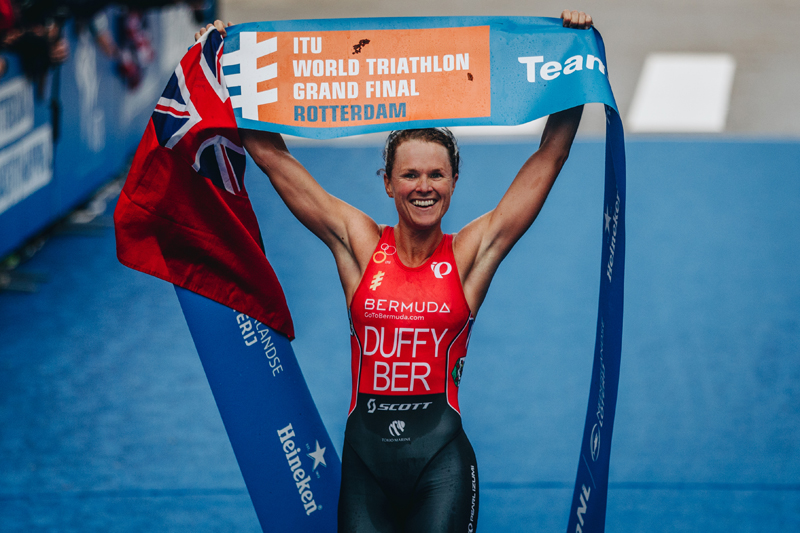 Official Opening
"The weekend of festivities begins on the evening of Thursday April 26th at 7.00pm with the Official Opening of the MS Amlin World Triathlon Bermuda, featuring a special triathlon themed Harbour Nights Pasta Party that will take place in the heart of the event venue on Front Street.
"This will be the public's first look at the event venue and the World Triathlon Expo, with the street alive with music, visiting athletes enjoying local cuisine and each vendor offering a 'carb' meal option, a tradition for athletes before a big event.
Tokio Millennium Re Kids Race
"Friday April 27th will again see Front Street filled with crowds to cheer on local and visiting young athletes in the Tokio Millennium Re [TMR] Kids Race at 7.00pm.
"This will be a duathlon, open to children aged 7 to 15 to run and bike along Front Street, using part of the very same race course that the world's top triathletes will race on the following day, including the famous blue carpet finish. Organisers expect children from across Bermuda to participate in this amazing opportunity, including those who don't currently compete. Registration details will be released shortly.
Digicel Feather Mile & Carnival Style Street Party
"Bermuda Heroes Weekend fans and partygoers are invited to strut their stuff in a Carnival-style Street Party on Front Street after the Kids Race. It kicks off at 9.00pm with the Digicel Feather Mile, a joyful untimed run or walk to music, followed by a party until midnight. This free public event is a prelude to Bermuda Heroes Weekend and all Carnival bands are encouraged to participate.
Race Day – Amateur Age Group and Elite Racing
"Race day is Saturday April 28th with a 7.00am start for the amateur Age Group race, with staggered starts of waves diving into Hamilton Harbour. Spectators can watch athletes cycle along Front Street and up Corkscrew Hill.
"The amateur run is also along Front Street. Local runners, cyclists and all sports enthusiasts are encouraged to participate in the individual or Team Relay events and entry is available online at www.tribermuda.com. These races are open to everyone and no previous experience of triathlon is necessary.
"At noon on Saturday April 28th, more crowds will gather in Hamilton for the Elite Race, where locals will see the world's top triathletes race, potentially Commonwealth Games Medalists. The men's elite start is at 1.00pm and the women's elite start, featuring Bermudian World Champion Flora Duffy, is at 4.00pm. Race course maps are available at www.tribermuda.com
Hangover Swim
"Locals will have a chance to mix and mingle with visiting athletes on Sunday April 29th at a public beach to be announced closer to the time, for a Hangover Swim. This casual gathering will be a Bermuda-themed relaxation for athletes from their hard work the day before and an opportunity for autographs and photos on our picturesque shores."

Read More About
Category: All, Entertainment, News, Sports