People are being encouraged to register to volunteer for the upcoming World Triathlon Sprint and Relay Championship in Bermuda [WTSBDA].
A spokesperson said, "Local fans of Flora Duffy are encouraged to show their love for the international superstar by registering to volunteer at her first triathlon on home soil since winning the sport's Olympic gold medal in Tokyo and the world champion title last weekend in Edmonton.
"When Duffy headlines the World Triathlon Sprint and Relay Championship in Bermuda [WTSBDA], October 15 to 17, 2021, it may be her final local race as a professional.
"Event organisers need to fill 1,200 volunteer positions for this momentous race event weekend. The registration drive officially launches online today."
Alec Shepherd, Vice President, Bermuda Triathlon Association; Arthur Wightman, PwC Bermuda Leader; Charles H. Jeffers II, CEO, Bermuda Tourism Authority; Sharon Hammond, President, Bermuda Triathlon Association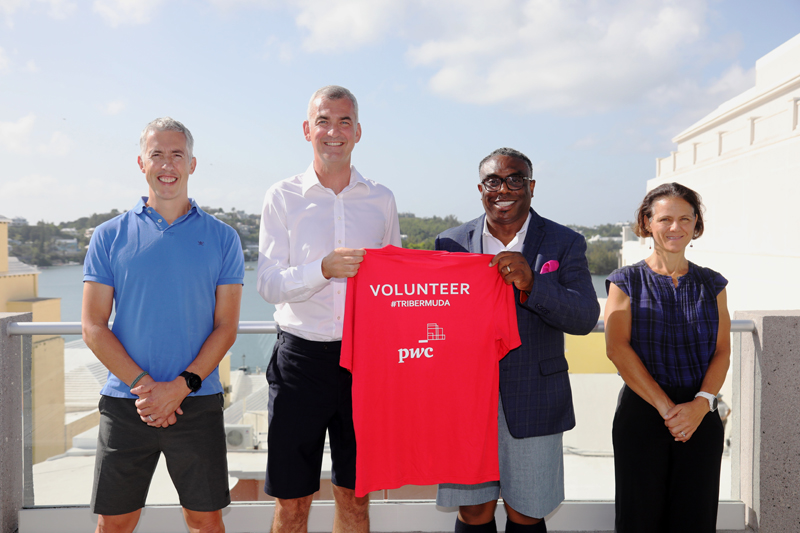 "We all felt the enormously positive energy and togetherness across the island when Flora won Bermuda's first Olympic gold medal, our committee hopes to harness that momentum into a massive volunteer effort this fall," said Hazel Clark, host committee chairwoman for WTSBDA.
"This time around volunteers not only contribute to the success of a global sporting event, but also participate in what I expect to be a much-deserved coronation for Bermuda's champion."
The spokesperson said, "Volunteers are needed to welcome athletes at the airport, as marshals along the racecourse, managing race times, manning the registration area and a myriad of additional roles.
"All the roles are explained online at the registration portal. Due to the massive scale of the three-day event, each interested volunteer is asked to take on three volunteer shifts—an equation that would require 400 volunteers.
"The first 100 to sign up as volunteers for the race will be entered into a raffle to win Apple products, gift certificates and other prizes supplied by PwC."
"We're calling the volunteer drive 'Trifecta for Flora'," said Zoe Kempe-Gibson, volunteer manager for WTSBDA.
"We strongly encourage everyone to take on three shifts over three days, while simultaneously cheering Flora to her third big win in a row following Olympic gold and a World Championship. As volunteers sign up, we'll challenge them to motivate three of their friends to register as well."
The spokesperson said, "Volunteers are permitted to sign-up for fewer than three shifts and can even sign up for more than three, but volunteers doing multiple shifts is a necessity to meet the high demand. Some roles will begin before the start of race weekend on October 15. Those who register early stand the greatest chance to get their desired volunteer assignment and time slot."
Arthur Wightman, PwC Bermuda leader, said, "We are thrilled to directly support the volunteer programme for World Triathlon Sprint and Relay Championships – occurring in the heels of Flora Duffy's brilliant and historic achievement at the Tokyo Games. The programme is expected to include more than 400 community volunteers along with many of our own employees.
"This is an excellent opportunity for our firm to contribute to the success of an event that aligns with PwC's purpose and values and places Bermuda in an international spotlight. Along with the rest of the community, we look forward to welcoming World and Olympic Champion Flora Duffy home in October and coming out to support her and all the athletes taking part in the World Championships in Bermuda."
The spokesperson said, "The City of Hamilton will host the World Triathlon Sprint and Relay Championship in mid-October with a series of individual and relay sprint-distance races for elite athletes, juniors, and age groupers. The weekend of racing will also include a first-of-its-kind Citizen's Open Sprint Race on October 17—an event open to everyone. This is the first time a World Triathlon championship race will have this kind of open race component.
"Although a slightly different race weekend format, the Bermuda Tourism Authority has hosted the world's triathletes at similar Hamilton-based events in the spring of 2018 and 2019. The 2020 edition was cancelled due to the coronavirus pandemic. The 2021 version is Bermuda's sole remaining commitment to the sport at an elite level, coinciding perfectly with Flora's regained dominance.
"HSBC, Hamilton Princess, Clarien, Carey Olsen, City of Hamilton, BF&M, PwC, Butterfield & Vallis, Renaissance Re, Winners Edge, Bacardi and One Communications are among the collection of sponsors helping to drive the Bermuda Tourism Authority sponsored event's success."

Read More About