ConnecTech, Hamilton Insurance Group and the Ministry of Education have celebrated dozens of primary school students who completed a ten-week pilot programme in basic coding.
Students at nine public primary schools attended lunchtime sessions from January this year until mid-March, completing a curriculum created by the tech incubator that included an animation gaming project.
Swon Tun-Webb, Jalia Ebbin, Imani Douglas, Seri Fisher, Marsalis Gooden – Young, Jeda Grant, J'yah Williams. Middle Row Left to Right: Gavin Fortuna, Sarah Abdur -Rashid, Jack Berry, Shaquan Fubler, Elliot Procter. Back Row Left to Right: Isaiah Hayward, Zyon Peets, Eliyah Seon, Evan Robinson. Adults are Hamilton Insurance Group Community Giving Committee member Nelia Cabral, Minister Diallo Rabain and ConnecTech founder Coral Wells.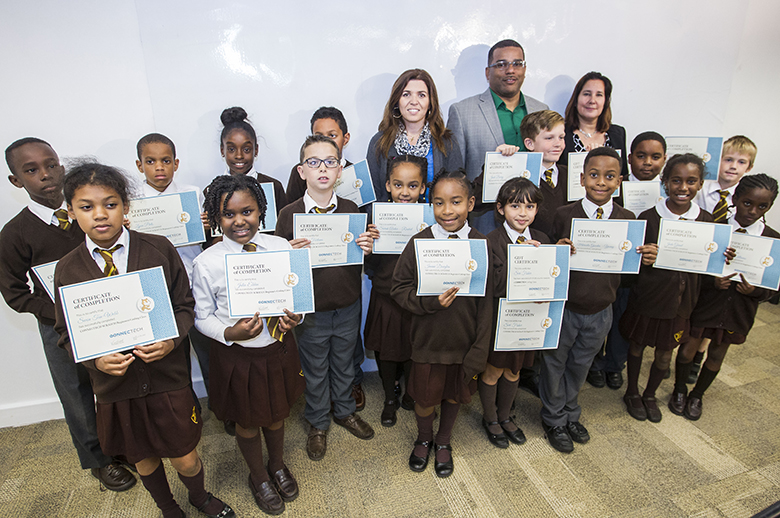 Funded by insurers Hamilton, with wifi/internet provided by One Communications, the programme adopted a multidisciplinary approach combining creative thinking and problem solving through technology to introduce coding to children as young as 8 years old.
ConnecTech designed and implemented the programme – sending its instructors and computers to the schools – in classes of 20.
Ten modules were offered in each school, outside normal class hours attracting a total of 201 students. A total of 59 students completed at least eight of the modules – meeting ConnecTech's exacting standards for earning a basic coding completion certificate.
Layla Rabain, Jaden-Alex Walrond, Andrew Lewis, Schuler Williams. Adults are [l-r] Hamilton Insurance Group Community Giving Committee member Nelia Cabral, Minister Diallo Rabain and ConnecTech founder Coral Wells.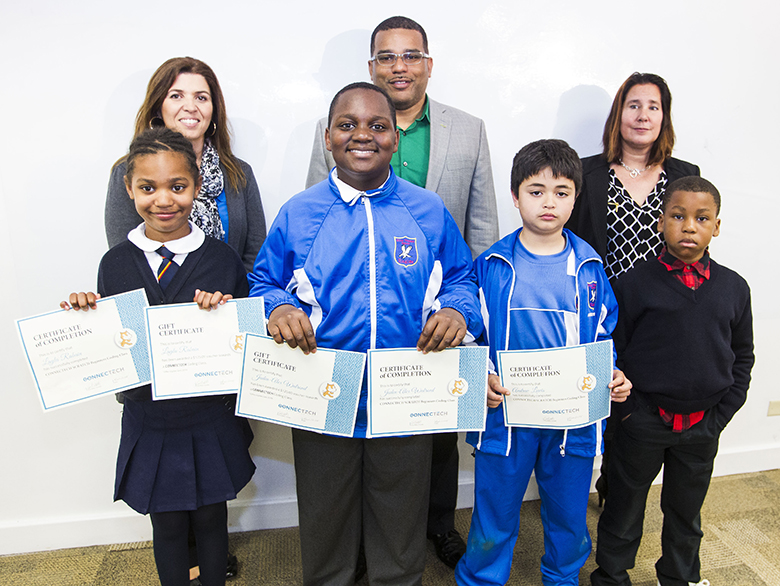 The schools' average test score was 78 %.
Accompanied by parents and teachers, the students were recognized on Monday at a special ceremony at ConnecTech attended by Minister of Education and Workforce Development Diallo Rabain, Permanent Secretary Valerie Robinson-James, and Nelia Cabral member of Hamilton's Community Giving committee.
Thirteen students who went above and beyond the course requirements received ConnecTech gift certificates– in addition to their completion certificates – to continue their learning.
Sioma Rudo, Samori Stevens, Sivaja Perinchief, Isis Tucker, Ajia Marshall, Mateo Marsh, Zy-un Burgess, Sweden Bashir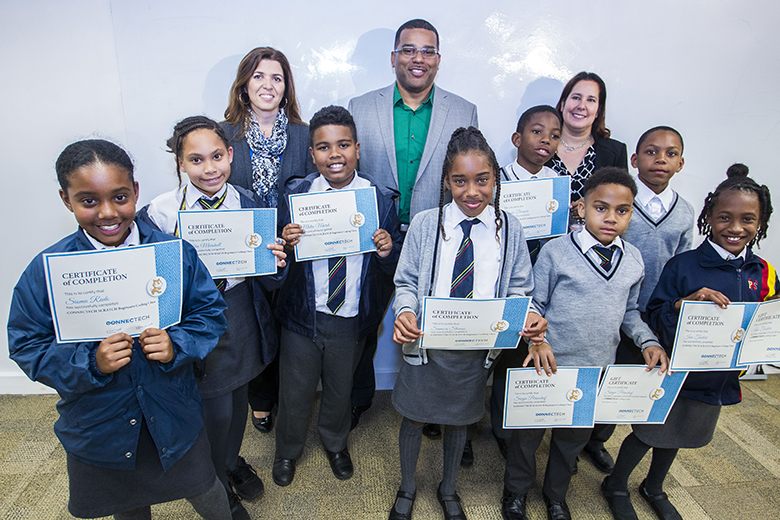 Coral Wells said: "We're delighted that we've been able to introduce technology skills to so many children.
"Thanks to the continuing support of Hamilton Insurance Group and One Communication, we're looking forward to bringing the programme to the rest of the island's primary schools next month.
"Professional software developers will tell you that it takes a lot of motivation, focus and discipline to develop coding skills. As they had to sacrifice their playtime to learn how to code, I'm especially pleased that so many children actually completed the course."
Minister Rabain with students Schuler Williams and Layla Rabain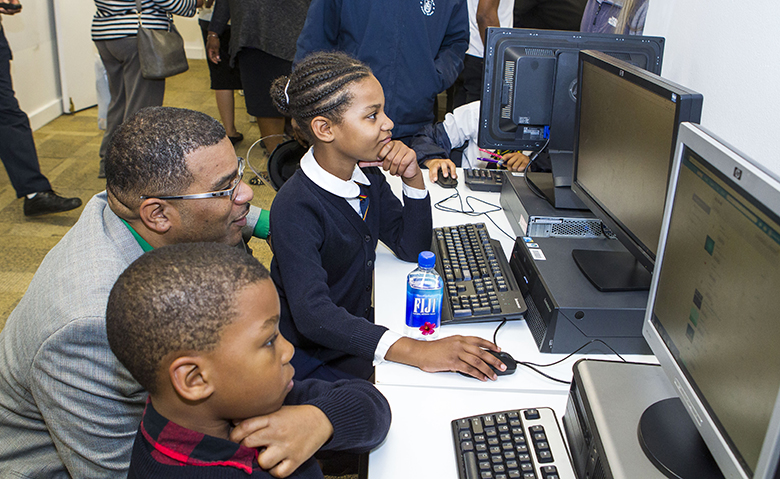 Minister Rabain said: "This pilot coding programme in our primary schools is one of the initiatives we've supported to ensure our students are exposed to the methodology and processes used in these emerging technologies.
"By using programmes such as Scratch to simplify complex programming into easy to understand "blocks" we are preparing our students to grasp more complex programming. I wish to thank Coral Wells and the team at ConnecTech for launching this programme and Hamilton Insurance Group for their generous support."
Hamilton is supporting ConnecTech's digital literacy initiatives as part of a strategic approach to philanthropy aligned with the Company's mission and the needs of the Bermuda community.
The 30-minute live video replay of students receive Coding Certificates:
Hamilton Re CEO Kathleen Reardon said: "This initiative is an effective way of introducing Bermuda's young people to the skills they'll need to succeed in today's digital world. We congratulate the first graduates of the ConnecTech programme and look forward to following their progress."
Participating schools were: St. George's Primary, East End Primary, Somerset Primary, West End Primary, Northlands Primary, West Pembroke Primary, Purvis Primary, Elliott Primary, and Victor Scott.
A second initiative – the Django Girls coding programme, also funded by Hamilton – is to be offered during school breaks to public school girls ages 10-15.

Read More About
Category: All, News, technology