A team of local students is preparing to represent Bermuda at the third annual First Global robotics competition.
A spokesperson said, "Five students will battle it out Olympics-style against 186 other teams from around the world in Dubai next week October 24th – 27th.
"This comes as "Dubai continues to cement its position as a global hub for young talent and creative minds, with its determination to employ technology across various sectors as part of its Fourth Industrial Revolution drive", according to Crown Prince of Dubai His Highness Sheikh Hamdan bin Mohammed bin Rashid Al Maktoum.
"HH Sheikh Hamdan also said that "the importance of the event stems from its focus on engaging young people in finding solutions for future challenges."
From Left to Right: Jake Roberts, Malachi Butterfield, Ethan Sousa, Zär'a Cardell, Ethan Fox, Azari Easton, Lucien Penacho and Tamara Dean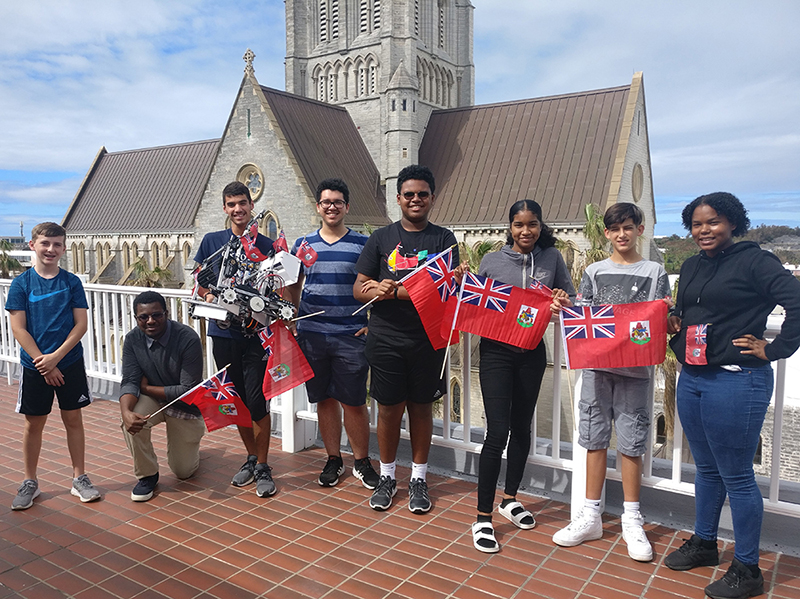 "A total of eight students from six senior schools have spent hundreds of hours after school and on weekends over the past two months designing, programming and building a robot from a standard kit made up of hundreds of individual parts that was sent to all competing teams.
"While the parts are all the same, it is up to each team to design their own robot from those parts, complete with their own special functions.
"The design team, made of students from Berkeley Institute, CedarBridge Academy, Mount Saint Agnes, Saltus, Warwick Academy and Whitney Institute have been hosted and mentored by Coral Wells, Zär'a Cardell and Chloe Baron from Connectech Coding.
"They have also enlisted the help of Eric Totten, Malachi Butterfield, Zorico Gilbert, Harry Matthie, Damion Wilson and past participant Kameron Young.
"The five-person team traveling to Dubai is made up of Ethan Sousa [Captain], Lucien Penacho [Spokesperson], Zari Easton [Media], Jake Roberts and Ethan Fox. Other design team members are Tamara Dean, Kieran Rush and Priel Minors."
Captain Ethan Sousa shared that "This has been a lot of work but we are really happy with our robot, which we have named 'Why is it so heavy?' and are now focused on ensuring each team member is confident in their role for the competition. The next few days will be spent practicing and fine-tuning our robot's capabilities."
Front Row, Left to Right: Zär'a Cardell, Lucien Penacho, Jake Roberts, Tamara Dean, Malachi Butterfield; Back Row, Left to Right: Ethan Sousa, Ethan Fox, Azari Easton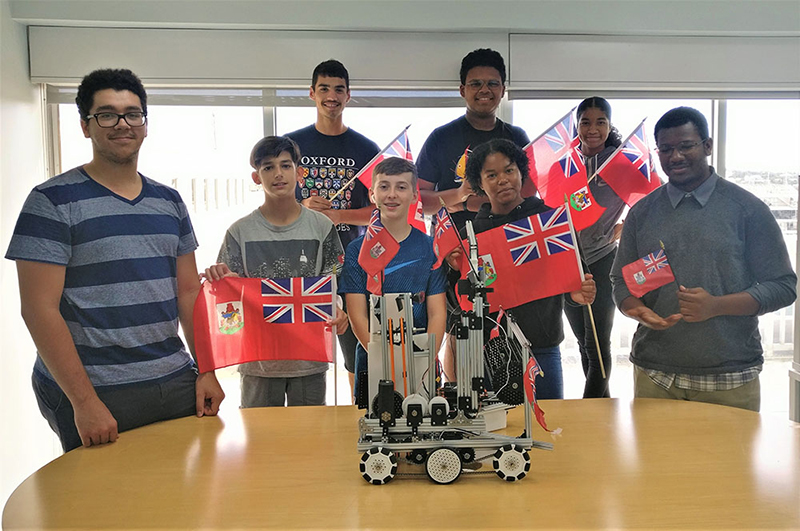 Team Bermuda Spokesperson Lucien Penacho added "We are really excited for the opportunity to travel to and explore Dubai and to meet with students from all over the world. We want to thank our mentors and sponsors for making this happen."
The spokesperson said, "The common goal of the First Global Challenge is aimed at students between 14 and 18 years of age and still in High School, to increase their knowledge of science, technology, engineering and mathematics which is fast becoming part and parcel of the forward-looking school curriculum.
"The Challenge aims to address the world's most critical environmental issues such as wastage of water and energy, sustainability and pollution through a global robotics competition.
"Every year millions of tons of pollutants, generated by human activity, make their way into the world's oceans, negatively affecting marine life and global populations.
"The 2019 FIRST Global Challenge brings attention to this critical issue in order to educate ourselves and take action to preserve our oceans and wildlife. This year teams will learn about real-world challenges related to cleaning up the world's oceans.
"In Ocean Opportunities, two competing alliances, each comprised of three teams from different nations, work to clear the ocean of pollutants. Cleanup Crews have two [2] minutes and thirty [30] seconds to collect pollutants, deliver them to processing areas, and finally remove their robots, also known as collectors, from the ocean.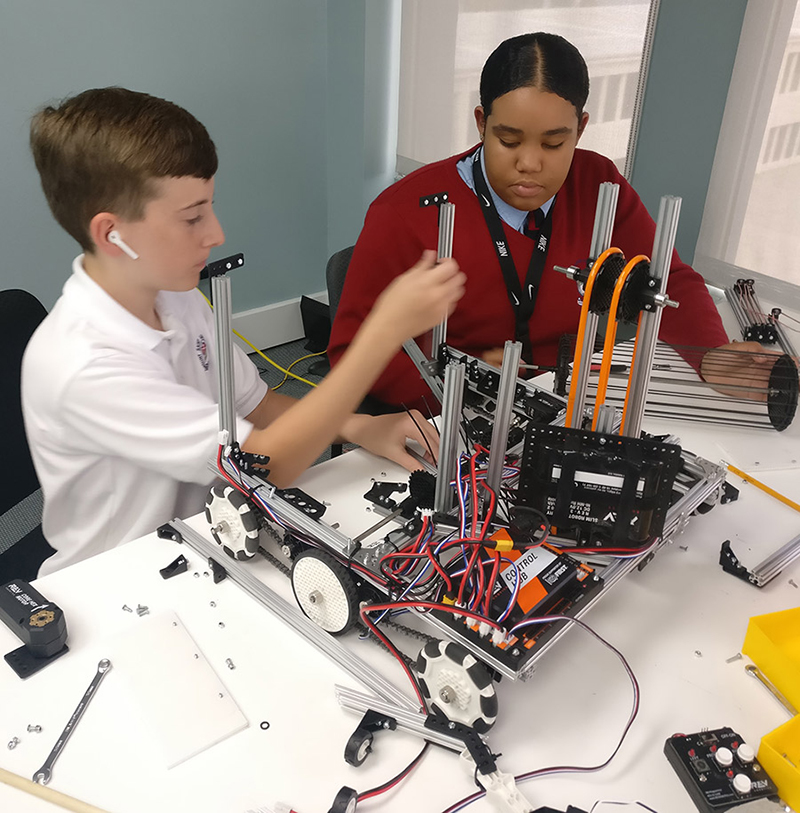 "There are multiple ways to collect and process the pollutants, in this case different sized plastic balls, each earning the team different point totals. Teams must work with other countries on each challenge with the team earning the most points winning the competition.
"Sponsors for Team Bermuda include the Government of Dubai, Emirates Airline, Butterfield Bank, Fireminds, One Comm, Redlaser, Connectech and Validus. Additionally, Connectech has donated space, countless hours of technical and logistics support and will be sending the two chaperones, Coral Wells and Zär'a Cardell, with the team."
Mrs. Wells noted that, "It has been a grueling but exciting few months watching this group of young people from all over the island come together as a team and create a robot capable of completing the FIRST Global Challenge.
"Connectech Coding is pleased to organize and lead this year's efforts as it is completely in line with our goal of being a catalyst for all kids to develop logic, analytical thinking, and creative reasoning in a fun and interactive environment.
"We look forward to growing the robotics activities at Connectech Coding to prepare more students for next year's opportunity"
"Follow our progress via our social media channels – Instagram @TEAMBDA_FGC and Facebook @FIRSTGlobalBDA", the spokesperson said.

Read More About
Category: All, News, technology