[Written by Nathan Carr]
Bermuda have been drawn against Aruba, Sint Maarten, El Salvador and the Dominican Republic in qualifying for the CONCACAF Nations League, a newly formed tournament designed specifically for the region's men's national teams.
The draw was held in Miami earlier today as 34 nations were given four games each spread across four separate match dates – all hoping to earn a place at the first full edition of the Nations League.
The Gombey Warriors will play two fixtures at home [Sint Maarten on match date one and El Salvador on match date three] and two fixtures away [Aruba on match date one and the Dominican Republic on match date four].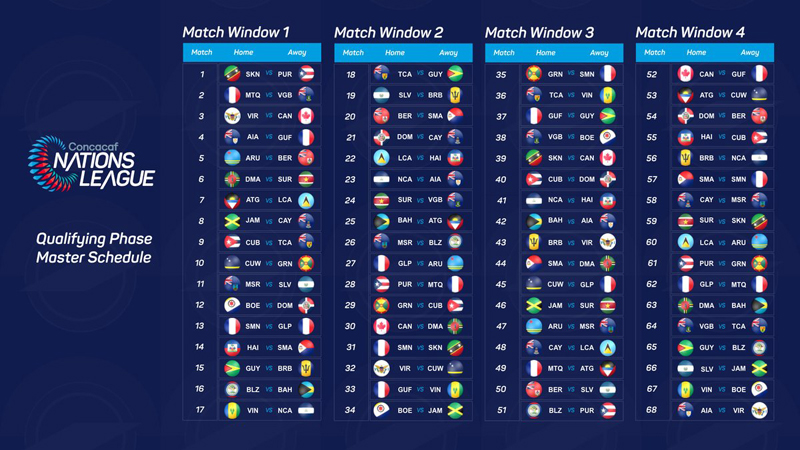 This one-off qualifying phase will kick off in September, concluding in March 2019.
According to CONCACAF, results of qualifying will be compiled into an aggregate table, ranking the participating teams 1-34 based on points earned, goal difference and a series of additional tie breakers.
The table will be used to divide teams into Leagues A, B and C for the first full edition of the Nations League, starting in September 2019.
The top six teams from the aggregate table will join the six countries who played in the 2018 World Cup qualifying Hexagonal round – Mexico, Costa Rica, Panama, Honduras, USA and Trinidad and Tobago – in League A.
The next 16 teams will feature in League B, while the remaining sides will qualify for League C.
The Nations League will now serve as the region's Gold Cup qualifying system, with the top ten finishers in Nations League qualifying joining the six World Cup qualifying Hexagonal round nations at next year's Gold Cup, which has now been expanded to a total of 16 countries.
President of CONCACAF, Victor Montagliani, said: "The launch of the CONCACAF Nations League, conceived over the last two years and guided by the ONE CONCACAF principles of unity and access for our region's football, is the defining moment marking the completion of our transition into a new era for our 41-member CONCACAF family
He continued: "The Nations League assures that all our members will have the opportunity to play more and compete more, which in turn will propel greater development of the sport at every level."
- Sports journalist Nathan Carr previously ran the Home of Caribbean Football, and reports on football throughout the region, and also serves as a guest contributor to Bernews. You can read his past reports on Bermudian football here.

Read More About