The 2018 Bermuda Fashion Festival is set to be held from July 8 to July 14, with local designers Chineza Augustus, Christine Jones, Desiree Riley, Charda Simons, Nicola Lucas, Shantia Seymour, and Taijhaun Hollis to be featured.
A spokesperson said, "Each year the Festival showcases collections of local designers, many of whom have never seen their collections on a runway. Hopeful designers submit a proposal of their collection for consideration by the Festival committee.
"The successful designers are then paired with an international fashion expert who will help to shape their collection and lend advice through a 4-month mentor program. This ultimately prepares them to debut their collection at the Bermuda Fashion Festival to a public audience."
Festival Executive Producer Danilee Trott said of the program, "The mentor program for our local designers is invaluable and really gives the designers an up close and personal experience with an industry professional. It acts as a directive and tutorial, especially for new designers who may have no idea how to launch and market their own line.
"This is the sixth year of the program and it continues to be a vital component for the designers, as it really gets them ready for the runway and gives them the confidence to debut their collections in a public setting. We are very excited about this year's designers as their individual styles are all so different."
"Seven local designers will be debuting at the Bermuda Fashion Festival this year. The local designers selected are Chineza Augustus, Christine Jones, Desiree Riley, Charda Simons, Nicola Lucas, Shantia Seymour and Taijhaun Hollis."
Chineza Augustus, Desiree Riley, Charda Simons, Christine Jones, Nicola Lucas, Shantia Seymour, and Taijhaun Hollis: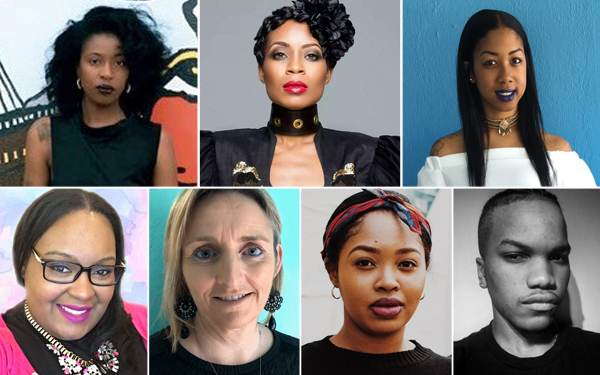 Nicola Lucas, award-winning designer of Aqua Designs, said, "I am excited to be a part of the Bermuda Fashion Festival and extremely honored to be working with a great mentor to bring my designs to the runway. I have designed several of my own fabrics for my resort collection, with comfort and elegance in mind and inspired by Bermuda's natural beauty.
"I believe the Bermuda Fashion Festival is an ideal opportunity to showcase my Bermuda inspired clothing range to a local as well as international audience, and I'm looking forward to premiering this collection at the Local Designer Show."
"With over 20 years of experience in the fashion world – working for French Connection and Nicole Farhi, among others – Nicola launched Aqua Designs after she moved to Bermuda in 1997 and started her business making wedding and evening dresses. After giving birth to her second child, Nicola expanded her designs to include children's clothing and even costumes and clothing for doll's.
"Taijhaun Hollis is a 21-year old model and freelance fashion designer who has been designing for four years. With a unique and different style, he brings edge and creativity to anything he puts together. Taijhaun Hollis Clothing, or THC for short, was born during his first fashion show at the age of 16, that he showcased at CedarBridge Academy.
"The clothing and items he makes are specific designs that reflect his own personal style. Putting his name to his designs lets people know that these designs are who he is as a person and as a designer. "The Bermuda Fashion Festival has given me the opportunity to design alongside other talented individuals, as well as receive essential advice from industry professionals."
"Charda Simons has always had a love for fashion growing up as her great-grandfather owned a tailor shop and her grandmother grew up a seamstress. Charda majored in Fine Art and was exposed to all forms of art from a young age, finding a passion for it.
"Bringing together her love for fine arts and fashion she created "Street Lux", an urban street wear brand all about feeling comfortable, casual and yet sexy at the same time. Street Lux is a representation of her own style and weekend wear. Her style is inspired by a combination of everyday looks spotted during her travels between London and New York."
"I am beyond grateful and excited for this opportunity as being a part of this year's Fashion Festival Mentor Program. This is a new challenge for me, and I am honored to work first hand with someone so successful in this industry. I am ready to put the knowledge that my mentor will share with me during this experience to create a successful collection in hopes of expanding beyond the Bermuda Fashion Festival."
"As a child, Desiree Riley's mother made sure that she and her sisters were well dressed wherever they went. Her love for fashion and design only grew stronger while studying fashion and textile design at the Berkeley Institute. It gave her the foundation she needed to bring her ideas to life. She often went to thrift stores for old clothes to take apart and use to create her own patterns and learn how to construct a garment.
"It was in 2015 when she decided to take design seriously and created her own line 'D'ezir' which is a French derivative of 'desire'. Her line reflects her style, which can be very eclectic; it's all about self-expression. D'ezir has landed the young designer outstanding opportunities as a designer, stylist and model. She has had the privilege of traveling to Atlanta twice to present her collections in the Pitch Black Fashion Week and Giva Style Fashion Show as well as numerous fashion shows in Bermuda.
"The styling and seamstress side of Desiree opened up opportunities in the international fashion world – being the seamstress for Brides Magazine and Lilly Pulitzer, stylist assistant for Anne Cole Swimwear and Style Me Pretty, as well as working with international models, styling them in many of her garments. She has graced the runway for international designers Stello and Michael Costello and local designers Catherine Quin and Amethyst among others. She has traveled to England, New York and Atlanta for runway, photo and video shoots.
"Christine Jones turns every outfit into a fashion statement. Her creative characteristics were first put to work through graphic design. In 2011 she launched her business, CJ Designs, and offered consultant graphic design services. This background has proven to be an asset and foundation for her fashion design.
"For all of Christine's adult life she has been 'plus-sized'. Finding clothes that not only compliment her body but also appealed to her age and sense of style was often a daunting task. A few years ago Christine took her fashion into her own hands. She started making sketches of outfits that she wished she could find. She bought a sewing machine and some fabric and started taking her vision off the page. Christine is excited to launch her line of plus-size fashion, Thirty86.
"Her aim is to give the plus-sized Bermudian woman the freedom to express her style, creativity and beauty in as many ways as she desires. "A few years ago I vaguely said "I want to create a plus size brand and showcase it at the BFF". So becoming one of the local designers is literally a dream come true. Having a mentor is great, not only for guidance and advice for my collection, but assistance with creating a brand and making my mark in the fashion industry."
"Shantia Seymour is a journalist, junior stylist and the blogger behind She's Dressed To A Ti. Although fashion design wasn't her concentration, having a clothing line was always one of her lifelong goals. Making clothing for her dolls turned into interning for local fashion designers and publications as a teenager, which molded the person she is today.
"Her brand, House of Aiyanna, was created merely for self-expression and to pay homage to Bermuda's history. The word Aiyanna means eternal blossom, forever growing which describes the beauty of life. The line is inspired by 70s, 80s, and 90s aesthetics [that were influential before she was even born] with a carefree island life feel. She prides herself in living by the motto "Style Over Trend", urging others to express themselves in their own unique way and she promotes women empowerment."
"Being a part of Bermuda Fashion Festival will be my opportunity to create something meaningful that pays homage to my culture and expresses my love for timeless pieces. House of Aiyanna is based on self-empowerment and being your own form of iconic. I'm excited for this new experience and I can't wait to showcase my creativity to my island home."
"These seven designers will present their collections at the Local Designer Show on Friday, July 13th, during the 2018 Bermuda Fashion Festival."
For more information about the Bermuda Fashion Festival, visit the official website.

Read More About
Category: All, Entertainment, News, Style & Beauty