"The Bermuda Fashion is looking for enthusiastic volunteers saying they "would greatly appreciate anyone that would be willing to lend a hand and volunteer their time to help to make our 10-year anniversary a success."
The organisers said, "Over the past 9 years the Bermuda Fashion Festival has continued to grow. Bermuda has watched the fabulous displays of fashion from Local Retailers, Bermuda and International Designers grace the runway in many locations around the City but few actually get to see what goes one behind the scenes.
"The Bermuda Fashion is looking for enthusiastic volunteers to join us for this world class fashion extravaganza. We are looking for rackers/dressers, social Media influencers, brand ambassadors, administrative assistants, hostesses, ushers, ticketing, backstage and set up and break down crew.
"Community service hours are available for volunteers in high school. If you are interested in volunteering for the Bermuda Fashion Festival, please email info@bermudafashionfestival.com."
Executive Producer and Savvy COO Danilee Trott said, "The Bermuda Fashion Festival would not be the same without all the hard work that our volunteers give every year.
"In our 10th year we are taking things to a new level. More shows, more social events and more entertainment, which means we'll need more hands. We would greatly appreciate anyone that would be willing to lend a hand and volunteer their time to help to make our 10-year anniversary a success."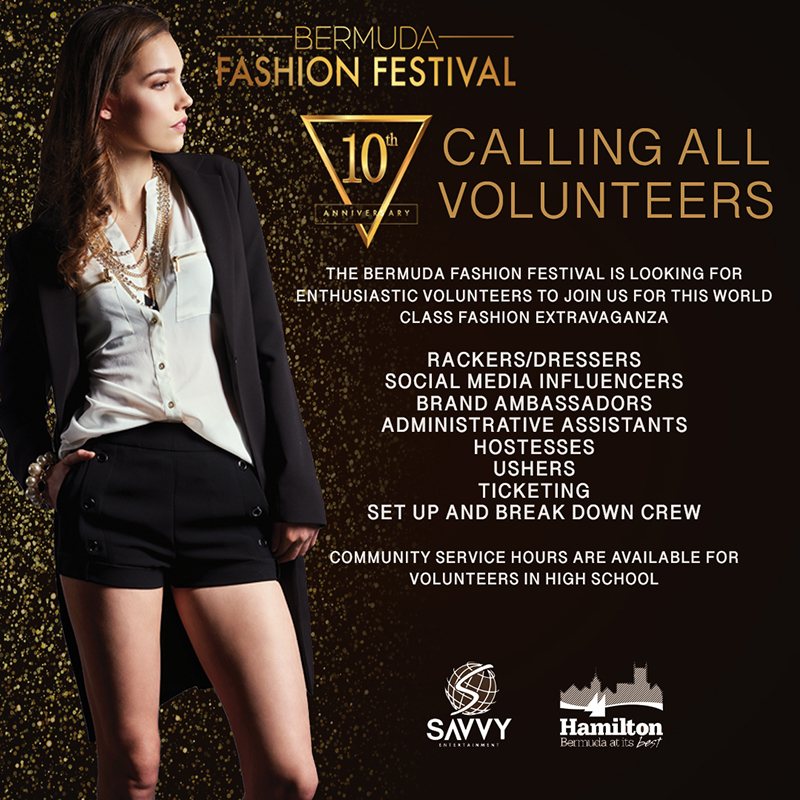 Read More About
Category: All, Entertainment, Style & Beauty