Bermuda's school children are invited to participate in next month's MS Amlin World Triathlon Bermuda Festival Weekend.
The TMR Kids Duathlon is Friday April 27th, the evening before Bermuda hosts the World Triathlon Series, and children will compete on part of the very same race course that the world's top triathletes, including Flora Duffy, will race on the following day.
Bermuda is hosting the ITU governed World Triathlon Series on April 28th, the second stop on the global circuit out of 8 cities, before the grand final in Australia. A weekend of festivities is planned around it from April 26th – 29th.
"The TMR Kids Duathlon is an important part of the weekend of festivities," said Phil Schmidt, Chairman of the Local Organising Committee of World Triathlon Bermuda.
"It's by participating, especially in this environment with world class athletes, that young people become inspired to develop their athletic skills. Flora Duffy, at the age of 9, set her mind to become the World Champion and achieved it."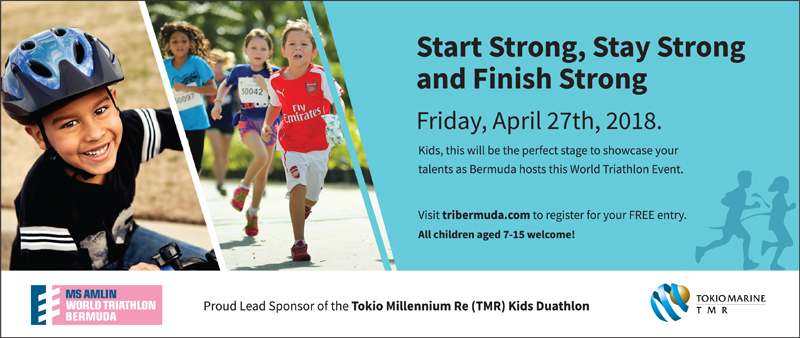 Race registration is free and is now open at www.tribermuda.com. Registration is a requirement for entry.
The TMR Kids Duathlon is open to all children including first time participants, aged 7 – 15 years. The duathlon starts at 7.00pm and is in three sections, run, bike and a second run and unlike triathlon, there is no swimming
It was agreed the race would be a duathlon so that the junior athletes would not be required to swim at night, which "also encourages more children to participate, as running and cycling in Bermuda is more popular than swimming," the organisers said.
Children will race in age groups, with a shorter distance for 7 – 10 year olds. All information is available at www.tribermuda.com. Race organisers are taking information to schools to attract new young participants to the sport.
Free training sessions and practice races will be held at National Sports Centre leading up to the race and they will continue throughout the year, after the April event. Through this program, TMR is supporting the development of young triathletes in Bermuda and encourage all to attend.
Children who don't have a bike are also encouraged to come along, as loaner bikes will be made available. The first session is Sunday March 18th on a walk-in basis, with no registration required and all are welcome. More information about all training sessions is available from Neil De St Croix – email: Neil@northrock.bm
Kathleen Faries, Head of Bermuda's TMR branch said, "We are proud to be the lead sponsor of the TMR Kids Duathlon and the free practice sessions. Being involved in this prestigious event, which will showcase some of Bermuda's best young athletes, is a fantastic opportunity for all of us at TMR to show our continued support of youth sport in Bermuda."
She said, "We are excited to watch Flora shine on her home turf, and we are especially proud to sponsor an event that will encourage and excite young athletes island wide to one day follow in her footsteps".

Read More About