[Part of Women's History Month Series | Written by Don Burgess]
Katura Horton-Perinchief made history without realising it. In 2004 she became the first black woman — in the world — to compete in the Olympics as a diver.
She had a humble start in the sport at the age of seven in Canada, but it wasn't her only focus.
"I ended up doing figure skating, gymnastics, diving and swimming," she told Bernews.
"I was always good at things like gymnastics. As long as it wasn't a ball sport I was good [at it]. As a kid, I did, as most Bermudian kids did, jumped off of boats and bridges.
"I was doing both diving and gymnastics for a long time, but I quit gymnastics when I was 13 because both diving and gymnastics wanted me full-time, so I had to make a decision."
When she went off to the University of Texas after high school, it was because of her book smarts rather than her diving talents.
"I wanted to go to Texas more than I needed the money [from a scholarship] so I struck a deal with my coach that if I could make conference championships my first year at Texas he would fund me and that's what happened. By the time I finished Texas, I was second in the Conference."
She said the Olympics were "everything she thought it would be but it was also a very high-pressure situation."
Katura didn't realise she was making history as the first black female diver at the Athens' Games. "I didn't know that before I got the Olympics until somebody told me."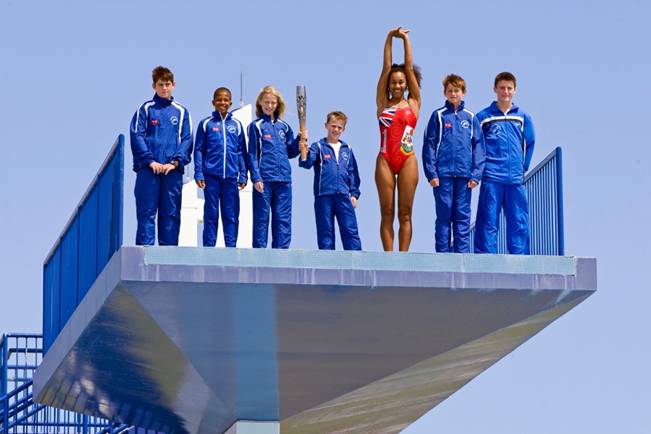 She said it was a blessing growing up in Canada rather than the United States because it wasn't an issue for people to make a big deal out of her race.
"Obviously I was the only one around who looked like me, but I didn't feel like an anomaly like I did when I went to the States."
When she was asked by people if she would compete in the Olympics again, Katura replied, "That's a no, a big no.' It took a lot out of me. It was a lot of sacrifice and dedication."
Before the 2004 Games, Katura had represented Bermuda in the 2002 Commonwealth Games, the 2003 World Championships, the 2003 Pan Am Games and 2004 World Cup. Additionally, she would compete in the 2006 Commonwealth Games.
Just because her competitive diving days are behind her, doesn't mean Katura is done with the sport. In 2014, she started the Star Diving Summer Camp.
"That has been my major contribution to diving. However, I also serve on the Bermuda Olympic Association Executive Board and chair their Standards Committee."
She is also on the Central American and Caribbean region's technical diving committee and is a certified diving judge.
"This is how I have tried to give back to sport outside of athletics."
Katura is the Chef de Mission for the Bermuda team headed to this year's Commonwealth Games. She previously has served as Chef for the Youth Olympic Games in 2014 in Nanjing, China and assistant Chef de Mission at the CAC Games, also in 2014.
She is also part of the International Olympic Committee's Athletes' Career programme. "We do a series of seminars for athletes to help prepare them for life after sport because that can be a really difficult transition for a lot of athletes."
She currently works in Bermuda and is putting her Master's degree in public health and MBA to good use by collecting and analysing cancer statistics for the hospital.
Katura said that while it may appear having a sporty life and doing data research "seem like they are mutually exclusive, but a lot of what I've loved about sport is the ability to inspire, and give back, and change lives."
"The public service part of sport really ties in very well to the public service part of health. I love that, and that's what drives me.
"I didn't see the link early on after my retirement, but now I see that this type of work drives me so even though it just pays the bills it I enjoy it immensely. I love that I am able to assist doctors and the community is better able to manage cancer on the island."
In celebration of Women's History Month and International Women's Day, Bernews is featuring a series of profiles of exceptional Bermudian women throughout the month of March, you can click here to view the ones published so far, and look for additional features throughout the month.

Read More About