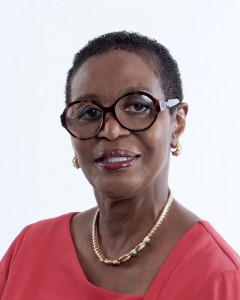 [Part of Women's History Month Series | Written by Robyn Bardgett]
When it comes to inspiring women to enter in the judiciary system, Justice Norma Wade-Miller has been an inspirational force to be reckoned with.
Mrs Wade-Miller, who was awarded an Order of the British Empire in 2016, served over 25 years as a judge in Bermuda, retiring from her post as Senior Puisne Judge in May of 2016; leading in a male dominated field along the way.
The retired Justice, who was the first female appointed as a substantive Magistrate in Bermuda, told Bernews, "Women, all over the world, have made great strides in their careers during the 20th century. This is no less so in Bermuda within the legal profession where men previously dominated.
"It is therefore of some significance that during the early years of my professional life I was blessed to work with and to be supported by Bermuda's first female lawyer; the late Dame Lois Browne-Evans."
She added, "Things have changed considerably in the last 40 years in Bermuda. In the 1970s women made up a small percentage of Bermuda's lawyers. Today in 2018, over 250 females have been called to the bar, accounting for 55 percent of the island's ' practicing financial members'."
Originally hailing from Jamaica, retired Justice Wade-Miller received a Bachelor of Arts in Psychology and Philosophy from the Michigan-based Marygrove College in 1971, where she was awarded a "Distinguished Alumni Award" in 2002.
She was called to the English Bar in 1976 after reading law at the Council of Legal Education and became a member of Lincoln's Inn in London. She served in the High Court in Jamaica before moving to Bermuda and called to the Bermuda Bar in 1977.
Over the years, the former Puisne Judge has made great strides for both females in the legal community, as well as for social justice on the island.
Not a woman keen to rest on her laurels, Mrs Wade-Miller has taken on a range of reforming tasks as Chair of the Judicial Task Force on Alternatives to Incarceration, as a member of the Law Reform Committee, Chair of the Justice System Review Team and Chair of the Law Reform Sub-Committee on Family Law Reform.
Her fight for social justice on the island continues through Project 100, the charity she helped to found in 1985, which has raised funds over the last 30 years to help with the needs of the mentally challenged and learning disabled in Bermuda.
"Women bring varied experiences and understanding to the roles of lawyers and judges," she said. "We therefore should not allow ourselves to be defined by our gender in the course of the work we pursue. To women lawyers in Bermuda today, I offer the universal advice to uphold professionalism and integrity at all times.
"We should place ourselves in the context of a world beyond the shores of Bermuda and not rest on our achievements or the laurels gained in the local environment. To further our success we must continue to be driven to transcend limitations.
"To do so, we must create and seize opportunities for further development. We should not be swayed from our course but learn and grow from new knowledge and experience in order to optimize our individual and collective achievement."
In celebration of Women's History Month and International Women's Day, Bernews is featuring a series of profiles of exceptional Bermudian women throughout the month of March, you can click here to view the ones published so far, and look for additional features throughout the month.

Read More About