[Part of Women's History Month Series | Written by Robyn Bardgett]
She may only weigh 67lbs, but Jessica Lewis is strength personified, as the track paralympian has continued to reach her goals, proving that nothing can hold her back if she sets her mind to it.
The athlete — who is the first Bermudian sprinter to compete in the Paralympics — told Bernews, "Being a female elite athlete who only weighs 67lbs has taught me a lot about the importance of pushing through obstacles in life that are most often put there by other people's attitudes towards me and what they think I am capable of doing.
"There is always a stereotype that women can't be strong or capable of achieving greatness but that is what we need to change by fighting back and showing the world what we are capable of doing."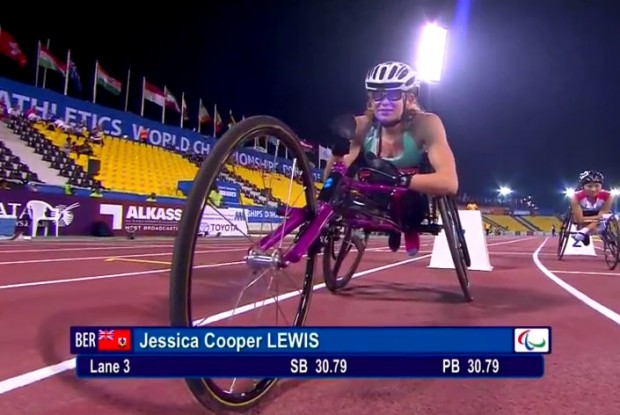 Jessica, who was born with Diastematomyelia, a congenital disorder that split her spine and resulted in her being completely paralyzed from the waist down, has been involved in athletics since she took up swimming when she was two.
It was in 2006 when visiting adaptive sports teams came to Windreach that she was introduced to wheelchair track.
She met Coach Ken Thom and his son, Curtis, who became her biggest supporters and believed in her ability to conquer the world wheelchair track stage.
She has since gone on to compete in two Paralympic Games, won numerous international medals, including the first ever medals won by a Bermudian at the IPC World Championships and Parapan Games, and has even ranked as high as third in the world.
She continues to have her sights set on the next Paralympic Games and continues to reach podium places in the events she competes in.
Along with winning medals and smashing records, Jessica is also studying Therapeutic Recreation to help others to realize their potential through recreational therapy.
She also continues to raise awareness and funds to support the Bermuda Paralympic Association to enable Bermuda's elite para-athletes to compete abroad. While she recently lost her beloved Coach Ken Thom, his son has taken up the position of helping Jessica to continue to reach her goals.
She told Bernews, "I've never let 'dis' be put in front of my 'abilities' just like you should never let your limitations be put in front of your abilities.
"Coach Ken also taught me that there is no such thing as 'can't', it's just that you haven't done it yet. Be strong, be confident and most importantly always believe in yourself."
In celebration of Women's History Month and International Women's Day, Bernews is featuring a series of profiles of exceptional Bermudian women throughout the month of March, you can click here to view the ones published so far, and look for additional features throughout the month.

Read More About