[Part of Women's History Month Series | Written by Robyn Bardgett]
She is on top of the world as one of the world's best triathletes and she credits Bermuda as part of what made her dream a reality.
Flora Duffy started her triathlon career at the early age of seven and the island's mild weather, undulating hills, winding roads and warm water all helped to create the perfect environment to help her to go on to a winning athletic career.
She has represented Bermuda in three Olympics [and she has her sights set on Tokyo in 2020] and has won numerous competitions all over the world, including multiple ITU World Titles and four consecutive Xterra World Championships.
Flora wins the 2016 Xterra World Championship:
-
She has — literally — won major international races all over the world including in Canada, Sweden, Netherlands, Japan, England, Mexico, Italy, Germany, South Africa, Bahamas, Australia, Philippines, United Kingdom, United States and more.
And some she has even done in record setting style, her win at the 2017 ITU World Triathlon Yokohama in Japan saw her record the largest winning margin in WTS history, while her 2017 Xterra World Title win made her the first triathlete to win four consecutive Xterra world titles.
Speaking after winning her first Xterra World Title in 2014, Flora said, "I've dreamed of being a world champion since I was 8-years-old, so to make that dream a reality today is pretty special."
And Flora continues to put the island on the map, and in April she will be representing Bermuda in the 2018 ITU World Triathlon Series, which will take place on her home course, and is set to attract some of the world's top triathletes to Bermuda.
But the Bermudian triathlete will not only have the huge hometown support, she will be the one to beat after Triathlon.org named her the "Best Overall Triathlete" for 2017.
The website's story said, "She has transitioned into one of the best overall triathletes, where she excels in all three disciplines – swim, bike and run. With her six WTS wins in 2017 and her second WTS World Crown, Duffy continued to be on fire in 2017, which only gets us more pumped and excited to see what she can do in 2018."
Flora Duffy was featured on the cover of Triathlon Plus magazine in 2017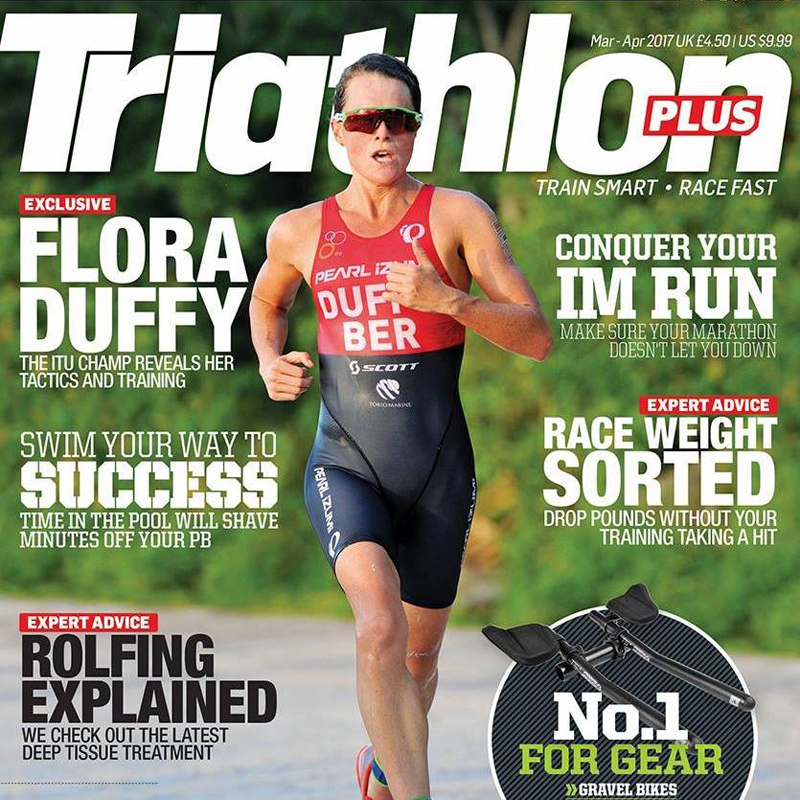 But it has also been the support of the Bermuda community that Flora also credits to her success.
She often returns to Bermuda and her alma mater, Warwick Academy, to speak to young people about her journey and inspires them to reach their goals.
In 2017, Warwick Academy officially renamed the school's pool The Flora Duffy Swimming Facility.
The school said at the time of the renaming that it was a way to recognize the Bermudian athlete's accomplishments and also to show everyone who visits the school that "great sports people start somewhere, even in such a small place as Bermuda."
During the official renaming, Flora told the crowd, "Just after I won my first overseas triathlon, which would make me probably about nine, my parents asked me what my goals were. I said, 'I'm going to compete in the Olympics and become a world champion.'
They laughed and replied, 'Oh. Is that all?' I said, 'No. I also am gonna have a swimming facility named after me.' So, thanks Warwick Academy for completing my wish list." She laughed, adding that she was "just kidding."
Flora at the Warwick Academy pool renaming: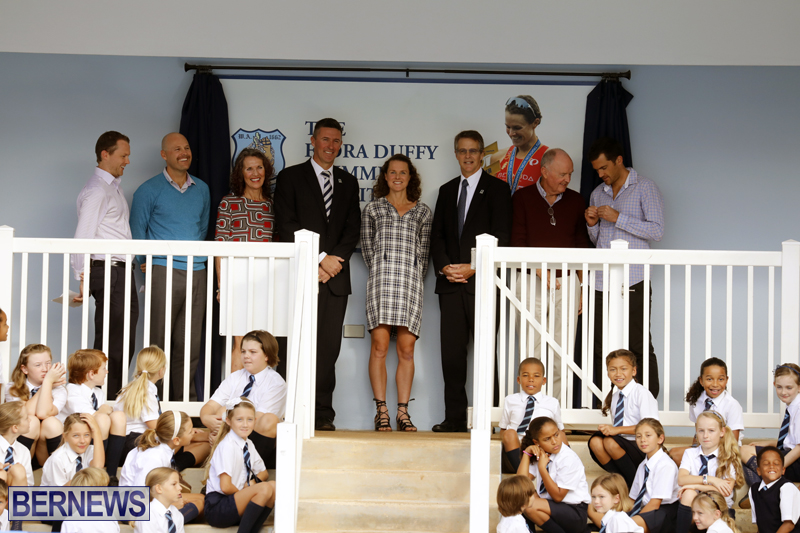 Flora often carries the Bermuda flag over the finish line when she wins races, and after her first World Title back in 2014 she said that she grabbed the flag as becoming the first world champion triathlete from Bermuda gave her "so much Bermudian pride".
"It means a lot to me to do this from Bermuda, we're a small little country and I love to represent them and put them on the map," she said.
Flora has also been honoured by the International Triathlon Union this month as one of the "women that inspire triathlon," with their website saying, "Duffy is the current powerhouse fierce female athlete competing at the elite level. In just a few years time she has gone from appearing in the winner's circle to completely dominating it.
"As the only elite woman competing for the small island country of Bermuda, she won her first World Triathlon Series race in WTS Stockholm in 2016.
"After finishing 8th in the Rio de Janerio Olympic Games she then went on to win her first WTS World Championship in 2016. She then followed up her success in 2017 by winning six WTS races and earning the title of back-to-back World Champion.
"That season put her in the history books as one of two women to warn the most WTS podiums in a single season [7] as well as earning a victory with the largest winningest margin in a women's race with 110 seconds.
"Duffy is a beast on the bike, but she also has made a huge impact in the sport of triathlon on what it means to be a complete three-discipline athlete. She excels in the swim, bike and run and has propelled the sport forward to push competitions to not expect anything less."
In celebration of Women's History Month and International Women's Day, Bernews is featuring a series of profiles of exceptional Bermudian women throughout the month of March, with this profile representing the first of more to be published throughout the month.

Read More About