[Part of Women's History Month Series | Written by Robyn Bardgett]
As one of the first women to win a seat in the House of Parliament, Hilda Aitken [1891 - 1987] set a course to create a place for women in politics.
She won a seat in Smith's during the 1948 election, along with her contemporary, Edna Watson, who won in Paget.
The mother of two had been heavily involved in the Women's Suffrage Society, which had encouraged her to run – four years after they had won the fight to give female property owners the right to vote.
Hilda Aitken's portrait now hangs in the House of Assembly, alongside other pioneering Bermudian women, including Edna Watson and Dame Lois Browne-Evans.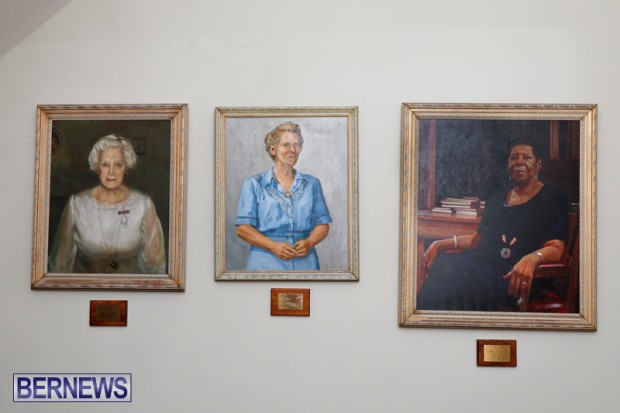 "These were phenomenal women," Deputy Opposition Leader Leah Scott told Bernews. "Hilda Scott, in particular, was very outspoken and it was something that her contemporaries couldn't get used to and I feel like I align with her."
Ms Scott, who along with Opposition Leader Jeanne Atherden, are the first women to hold both an opposition leader and deputy opposition leader position, added, "Hilda Aitken was very moved by the Suffragette movement, and while its not so much the Suffragette movement for me getting into politics, its about wanting to see Bermuda maintain its integrity. Hilda Aitken was determined to do what she thought was right – and she didn't care what people thought."
Seventy years after that historic win by Hilda Aitken, women have made great strides throughout many industries, but most notably are the women who took on the challenge of creating more female representation in politics.
Those female champions include Dame Lois Browne-Evans, who was the first black woman in Parliament in 1963 and the first woman opposition leader in the British Commonwealth in 1968.
Dame Pamela Gordon, who was the first woman appointed Premier by her United Bermuda Party colleagues and Dame Jennifer Smith, who was the first female political party leader to lead her Progressive Labour Party to a general election victory and become Premier.
"Women are very interested in politics, and actually a large percentage of women work behind the scenes in politics," Tinee Furbert, Junior Minister for Disability Affairs told Bernews. "Women are very supportive in politics.
"However, many women know about the possible risks involved with politics and the time commitments. They simply prefer not to be frontline. Women are also developing their careers and/or caregiving for their families and at times it may become difficult to balance."
Ms Furbert, who is also part of the Women's Caucus established by the Progressive Labour Party, said there are currently eight elected women in the House of Assembly out of 36 seats, and four women appointed to serve in the Senate.
"There is an increase of women in politics all over the world but not nearly to the representation of men. Currently, Rwanda leads the world with the most women in their legislature. President Paul Kagame of Rwanda assisted with the country's constitution change, which was passed in 2003 that decreed 30 percent of parliamentary seats be reserved for women…It's an example of gender inclusiveness.
"We must speak more about the woman's role in governing, making laws and policy. Women also need support in politics, and mentoring is an important piece of the puzzle. Making pro-women decrees like what Rwanda has done is also helpful."
In celebration of Women's History Month and International Women's Day, Bernews is featuring a series of profiles of exceptional Bermudian women throughout the month of March, you can click here to view the ones published so far, and look for additional features throughout the month.

Read More About