A BBC documentary titled "Bermuda's Change of Heart" explores the island's laws on same sex marriage, calling the repeal "a radical change of events."
The documentary's description says, "In a radical turn of events – Bermuda has become the first country in the world to repeal same-sex marriage.
"In May 2017, Bermudian lawyer Mark Pettingill and his client Winston Godwin won a case in the Bermuda Supreme Court for marriage equality for all people in the LGBTQ+ community. However, less than a year later – a new government introduced the Domestic Partnership Act – taking away the rights of gay couples to marry, and given them instead the option of civil partnerships.
"Governor John Rankin explained that the decision was made to bring together and please the two irreconcilable groups on either side of the debate. The government says they are preserving marriage as a union between a man and a woman, but also protecting the rights of same-sex couples.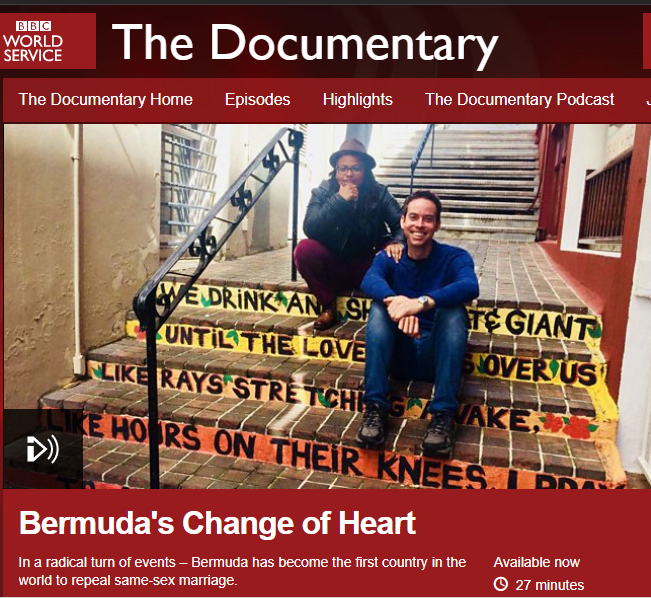 "Bermudian native and spoken word artist Tiffany Paynter explores the toll this debate has taken on an island that remains divided. She investigates how this law was overturned so quickly, focussing on the experience of same-sex couples.
"Tiffany meets with Winston Godwin who initially won the Supreme Court case with his husband Greg De Roche. She also meets lawyer Mark Pettingill who fought their case and is now preparing another legal fight against the Bermudian government, with his client Roderick Ferguson. Tiffany also speaks with a same-sex couple who are now preparing to leave the island, Joe Gibbons and Christopher Vee.
"Bermuda is also an island where there are more churches per square mile than any other country in the world. As a result – there are strong, religious attitudes that feed into this debate around rights for the LGBTQ+ community. Tiffany meets with Adrian Hartnett-Beasley who is the leader of OUT Bermuda, the official charity for LGBTQ+ people on the island, and who is also a gay, married Christian with an adopted son.
"Finally, Tiffany speaks to Linda Mienzer about how a debate on same-sex rights has underlying racial divisions."
You can listen here on BBC's website.

Read More About