Hundreds of young athletes from across the Caribbean are gearing up to descend on Bermuda for a sporting championships in July, with between 300 – 400 competitors expected.
The Caribbean Union of Teachers Students' Track and Field and Swimming Championship [C.U.T. Games] is being hosted by the Island for the first time and has been organized as part of celebrations marking the Bermuda Union of Teachers 100th anniversary.
In the past it has only involved athletics, but swimming has been introduced for the first time when the games come to Bermuda.
Organiser Anthony Wolffe said: "We are expecting between 300 and 400 competitors who range in age from under 9's to under 15's. I am sure it will be a really fun event for everyone.
Bermuda students taking part in the Games in 2016 in the BVI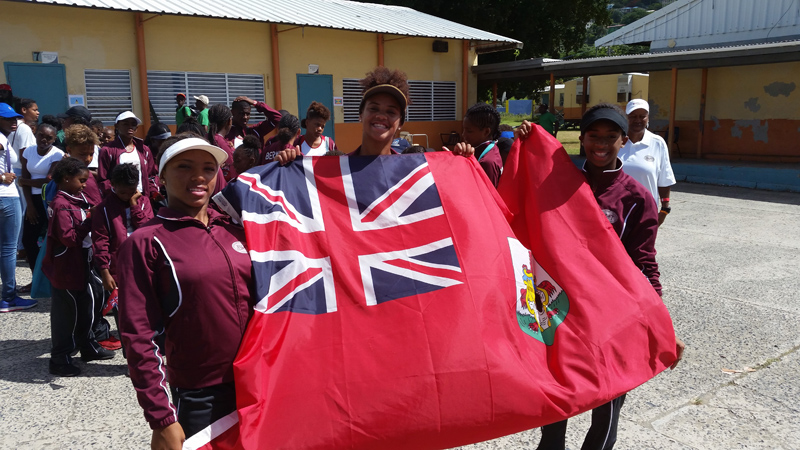 "We very much wanted to host the event because we thought it would be an excellent way to help mark our 100th anniversary. All the competitors are young people and our duty as teachers is to try and give them as many experiences as we can."
Teams will be attending from Anguilla, Antigua & Barbuda, The Bahamas, Barbados, Belize, the British Virgin Islands, The Cayman Islands, Dominica, Grenada, Guadeloupe, Guyana, Haiti, Jamaica, Martinique, Montserrat, Nevis, St. Croix, St. Kitts, St. Lucia, St. Vincent & the Grenadines and Trinidad & Tobago.
The event takes place on July 13 and 14 at the National Sports Centre and the BUT is appealing for sponsorship to help cover the costs of staging the championship.
"This provides an opportunity for our young sportspersons to compete on an international level," added Mr Wolffe. "We hope people will want to get involved and support these young people."
The BUT is holding a series of events in the run-up to its 100th anniversary on February 1, 2019.
As well as the games, there will be a golf tournament, a bowling tournament, sports tournaments as well as a Centenary theatrical production by Patricia Nesbitt at the Earl Cameron Theatre in September and a Women's High Tea.
All the proceeds of the events will go towards a $100,000 fundraising target which will be used for four scholarships.
If anyone wants to sponsor the Championship they should contact Mr Wolffe on CUTgames@but.bm or through the BUT offices, telephone 292-7270.

Read More About