After the game went down to penalties, Devonshire Cougars defeated the Somerset Trojans in the Expansion Knockout Final at the National Sports Center.
Devonshire Cougars starting line up included Kioshi Trott, Cashun Brangman, Damian Simmons, Jahdae Wade, Jinairo Johnson, Juma Mouchette, Lovintz Tota, Moses Steede, Nyeem Simmons, Zekiro White, and Zion Simmons.
Somerset Trojans starting line up included Jade Morrissey, Justin Corday, Richard Quinn, Coolidge Durham, Jadan Ratteray Smith, Ramar Simmons, Makai Joell, Jeze Butterfield, Hewby Butterfield, and Jaellan Greaves.
Premier David Burt and BFA President Mark Wade congratulate the Devonshire Cougars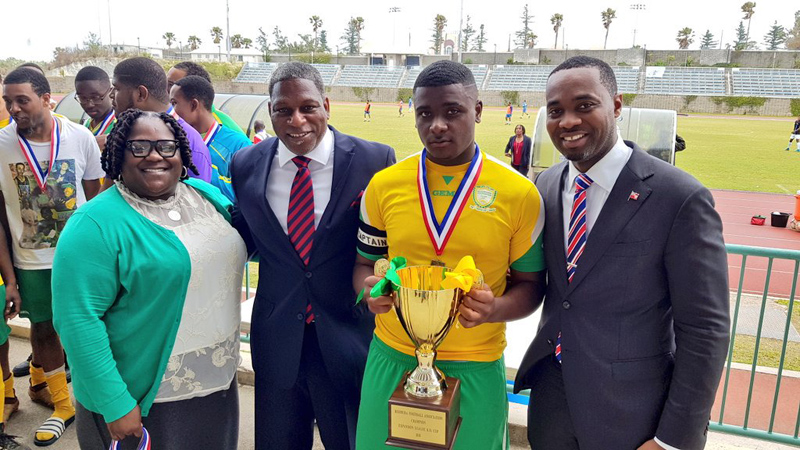 After a scoreless first half, the Somerset Trojans goalkeeper allowed a kick from Devonshire Cougars goalkeeper Kioshi Trott to fall through his fingertips and into the back of the net in the 64th minute. Five minutes later the score was level when Justin Corday's header beat Trott at the far post.
Neither team was able to score for the remainder of the game sending it to penalties. Trott made two saves ,and along with his goal he was named the Man of the Match.
Kicks from the Penalty Mark
Somerset Trojans – Malachi Jones – Saved
Devonshire Cougars – Nyeem Simmons – Missed
Somerset Trojans Jaellan Greaves – Scored
Devonshire Cougars – Jomeko Mallory – Scored
Somerset Trojans – Justin Corday – Scored
Devonshire Cougars – Jahdae Wade – Scored
Somerset Trojans – Jeze Butterfield – Scored
Devonshire Cougars – Lovintz Tota – Scored
Somerset Trojans – Jaz Ratteray Smith – Saved
Devonshire Cougars – Mark Steede – Scored

Read More About