[Written by Don Burgess]
Could electric buses end Bermuda's transportation woes?
Jeff Sousa believes E-buses are better than diesel. So much so, he and Sousa's Landscape Management vice president Mohammed Farooqui made a presentation with Aideen Ratterray Pryse, the permanent secretary for the Ministry of Transport & Regulatory Affairs to discuss the idea of replacing Bermuda's diesel bus fleet with one that would eventually be all electric.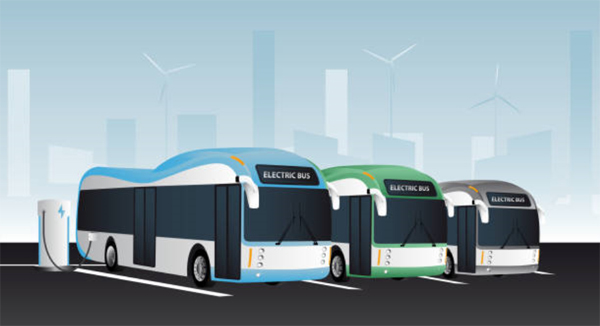 Mr Sousa is well aware some people may discount his proposal as he is a former One Bermuda Alliance MP, "but if they watch the presentation, they will see this is a very achievable, practical thing for Bermuda to have electric buses."
Mr Sousa said this renewable energy source is "a viable alternative for public transportation."
Mr Farooqui went to China to see E-Buses in operation. In December 2017, the city of Shenzhen completed its transformation to an all-electric bus fleet and now has 16,359 of the vehicles on the road and will soon be transitioning its taxi fleet, nearly 17,000 of them, to be all-electric vehicles as well.
Mr Farooqui said he read our current diesel buses costs close to $500,000.
"It really shouldn't be that expensive," he said. "Electric buses are like $300,000 or $320,000. This is a no-brainer. Then there are no fuel costs, and it has wifi, air conditioning and all the safety features."
That would allow Bermuda to replace its ageing bus fleet quicker as more buses could be purchased.
Also, Mr Farooqui said Bermuda's roads could have a magnetic strip underneath them, which would allow for nearly constant charging of the E-Busses.
He said this technology is standard in Asia, especially China and Japan.
If Bermuda didn't do that option, because of its ideal size, there would only need to be three charging stations — Hamilton, Dockyard, and St. George.
Mr Farooqui said the lifespan of the buses is the same, but they break down less because there is no engine and attached components to have problems.
"They are expensive to start off with, they are constantly breaking down, they have high labour costs, and people have to breath in the carbon monoxide from the buses," he said. "This is a win-win."
He added, like Bermuda's current fleet, the E-buses can be customised for the size of Bermuda.
Mr Sousa said, "As we put in the proposal to the permanent secretary of transportation we're only looking at making a fair percentage – I'm talking about a small percentage, less than 10 per cent. We're not looking at fleecing the public.
Also, Mr Sousa said there were other costs savings to be had through the elimination of the use of diesel fuel, reduced operating costs, fewer mechanical parts and higher efficiency.
"Honestly, this is a win-win for everybody. This is a community gift from Jeff Sousa and his team at Sousa's Landscape Management to the people of Bermuda."
"I want the Bermuda public to watch the video with a clear, open mind and how fantastic this would be for Bermuda without putting any prejudice in with the concept.
"It doesn't make any business sense to keep doing the same thing over and over again. We have to advance and I feel Bermuda is in a good place to do this."
The 'E-buses for Bermuda' presentation follows below [PDF here]:

Read More About