[Updating - Live video of the amateur races now playing] The World Triathlon Festival Weekend got underway on Thurday evening [April 26] with the three day event involving an opening ceremony, kids race, amateur race, hangover swim, plus the elite race which will feature some of the world's top professional triathletes from over 25 different countries, including Bermuda, with reigning world champion Flora Duffy set to race on home soil.
The weekend kicked off with a press conference on Thursday, followed by the Opening Ceremony later that evening, and then the TMR Kids Duathlon took place on Front Street on Friday night.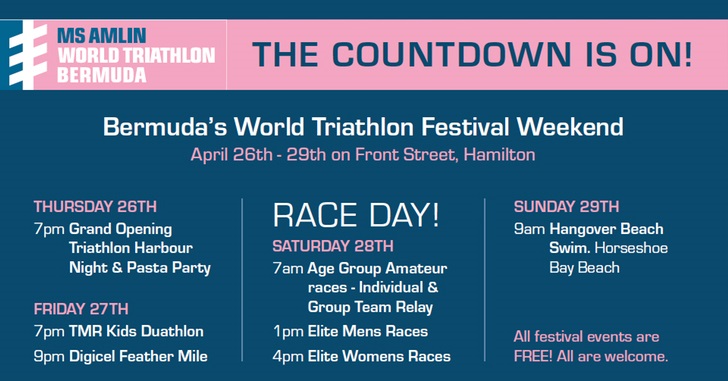 Amateur races are taking place on Saturday morning, followed by the elite races on Saturday afternoon.
There will be over 50 elite men and over 30 elite women in Saturday's race, and nations being represented include the USA, Canada, UK, Ireland, Mexico, Israel, Barbados, Australia, Czech Republic, Spain, Slovakia, Austria, China, Japan, Germany, UAE, Cayman, Denmark, Portugal, Costa Rica, Korea, New Zealand, South Africa and Pakistan.
We will be providing updates over the weekend, and live streams of the local events, such as the Opening Ceremony, kid's race and amateur races, beginning with this morning's press conference. Updates will be intermittent for Thursday and Friday, and then moving to full scale for Saturday!
Links To Helpful Information
Your screen will automatically refresh with the latest updates

Read More About