Tomorrow morning [April 7], Marilyn Steede will set out to complete a 24-hour walk-a-thon for the fifteenth year.
Every year Ms Steede raises funds for a different charity close to her heart. This year she is supporting SCARS [Saving Children and Revealing Secrets], with 100% of the money raised going directly to the charity.
Ms Steede will start her walk tomorrow at 7.00am, departing from the Cathedral on Church Street after a blessing by the Bishop.
"I will proceed to East Broadway, making my way over Trimingham Hill, then as usual – along South Road to St. George's," Ms Steede told Bernews.
Ms Steede completing her walk-a-thon in 2015: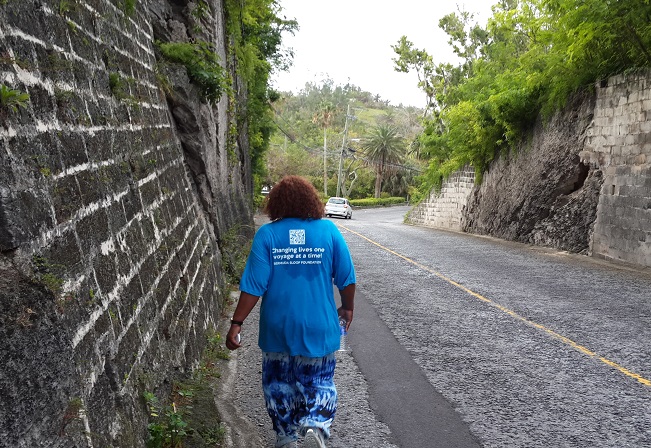 She aims to arrive at St George's town square at approximately noon, where she will then turn around and head west along North Shore to Admiralty House. Her route then takes her along Front Street, over Trimingham Hill and on to South Road.
If all goes to plan, Ms Steede will pass Horseshoe Bay around 6.00 pm and arrive in Dockyard at 10.30 pm. At this point, she will once again turn around and make her way back to St. George's along South Road with the intention of finishing in St. George's at 7.00 am on Sunday morning.
To donate to Ms Steede's 24-hour walk-a-thon in honour of SCARS contact Ms. Steede at 793-2550 or SCARS at 297-2277.
Read More About