[Updated] Early this morning [April 18] Marilyn Steede set off on a 24 hour walk-a-thon to raise money for the Bermuda Sloop Foundation [BSF], planning to walk from Dockyard to St. George's, and then back to Dockyard, finishing tomorrow morning.
A previous statement from the BSF said, "Spirit of Bermuda/ Bermuda Sloop Foundation is fortunate to be the beneficiary of Ms. Marilyn Steede's 12th Annual 24-hour Walk-A-Thon for charity.
Ms Steede receiving a blessing from Pastor Leonard Santucci prior to setting out this morning: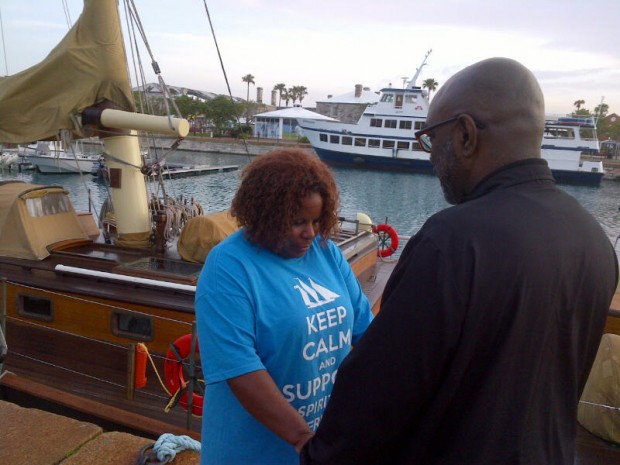 "From 7am Saturday, April 18, 2015 through 7am Sunday, April 19, 2015, Ms Steede will walk from Dockyard to St. George's and back over the 24 hour period. An admirable feat!
"You may make a donation in support of Ms. Steede's 24-Hour Walk-A-Thon by direct deposit to Bermuda Sloop Foundation, HSBC account no. 006 049639 001 or by calling our office with your credit card information: 737-5667."
Ms Steede making her way to St. George's this morning, after which she will walk back to Dockyard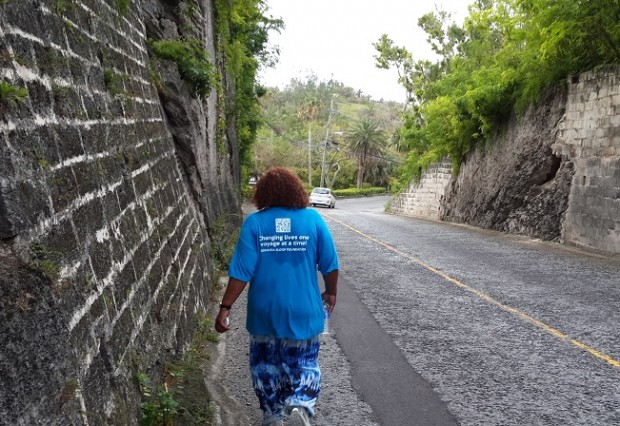 "We are deeply honoured to receive such support from Ms. Steede, and hope you, who also recognize the value to Bermuda's youths of Bermuda Sloop Foundation's experiential education on board Spirit of Bermuda , will join us in supporting Ms. Steede and showing appreciation for her amazing contribution," the BSF added.
Update 5.19pm: We caught up with Ms Steede in the Shelly Bay area, and she seemed in high spirits and extremely energetic, saying she is not tired yet, although she is "soaking wet" due to rain.
She has walked to St George's already, and is now heading back to Dockyard. Ms Steede kept up the pace as we got the audio comment from her, and did not miss a step.
Audio comment from Ms Steede
Update April 19 4.33am: Ms. Steede is still going strong on her 24-hour walk, with motorists passing by displayed their acknowledgement of her charitable walk-a-thon by honking horns, flashing lights, and waving.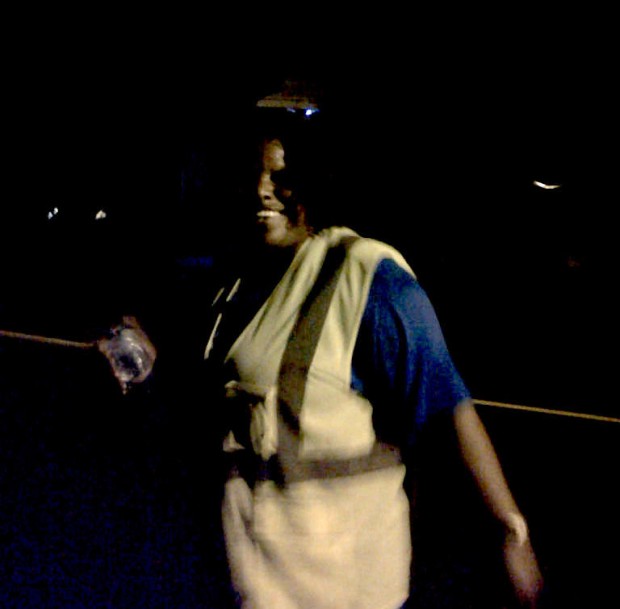 Update 7.18am: Ms. Steede has now finished her 24-hour walk, and said "I just want to go to sleep!". She set out from Dockyard at 7am yesterday, walked to St. George's, then to Spanish Point, then back to Dockyard, and then started heading back to the east again.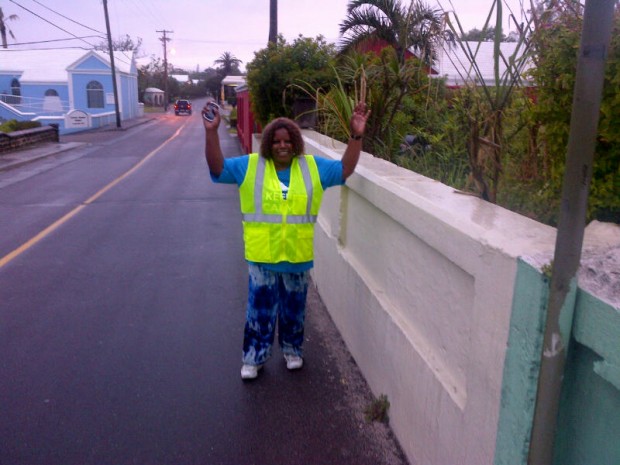 Diana Martin, the CEO of the Bermuda Sloop Foundation, said: "I caught up with her just before 7am and although she was walking a little slower and she was once again drenched, that smile of hers warmed my heart. God Bless you Marilyn Steede!"
Read More About