Preparation is well underway for the Bermuda National Athletics Association's Bermuda Invitational Permit Meet, which takes place on Friday, May 11th starting at 6:00pm.
BNAA President Donna Raynor said, "We are so excited as we will be having male and female para events this year. The three women set to compete are Bermuda's Paralympian Jessica Lewis, she will compete in a T53 race against Canadian opponents lana Dupont and Jess Frotten in a 100 and 200m race, while the three men, which includes Alex Dupont who won the Gold Medal in the T53/54 1500m at the Commonwealth Games, Curtis Thorn and Isaiah Christophe will compete in the 200m and 400m."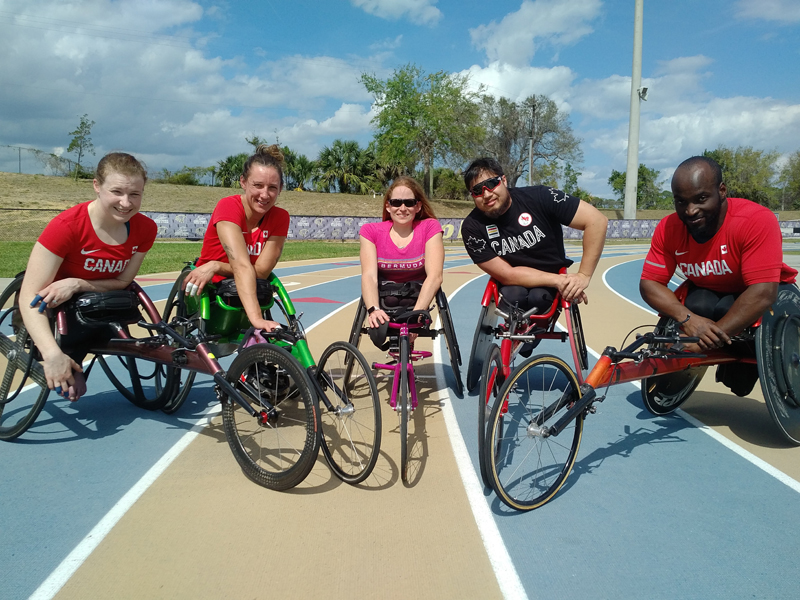 Ms Lewis said, "Racing in front of a home crowd last year was a real highlight of my racing career. I am so excited to be sharing wheelchair track with Bermuda again this year with even more of the incredible athletes I get to train and compete with."
Ms Raynor went on to say, "We are also firming up athletes as we have had several requests from athletes who competed at Commonwealth Games looking to take part.
"We have confirmed so far Lalonde Gordon from Trinidad and Tobago who competed in the 400m and won a Bronze Medal and was on the Bronze Medal Relay Team at the 2012 Olympics and won the Gold Medal at the 2017 World Championships in the 4X400m Relay.
"Renny Quow 400m Open and Gold Medal Relay team from Trinidad and Tobago. Winston George from Guyana who competed for Guyana in the 400m at the 2012 Olympics and the Rio Olympics."
"This year we are looking to include the Men's Shot Put and have three confirmed. This year we will be including the Men's 100m, 110m Hurdles, 200m, 400m, 800m, Long Jump. The Women's 100m, 100m Hurdles, 200m 400m and High Jump of course featuring our own Sakari Famous," continued Ms Raynor.
"Of course Tre Houston will be in the 100m & 200m with Tyrone Smith in the Long Jump along with some of the top jumpers that Smith has been competing against. Unfortunately due to the date, our university students will not be able to compete."
Sprinter Tre Houston said, "It will be great to see the grand stand full of Bermuda flags waving and supporting us".
Ms Raynor went on to say, "We are very excited as this event is really catching on and since we have moved it back to an earlier date we have a lot of interest from top International athletes wanting to compete in this meet. Of course we will have repeat athletes who loved it here and keep coming back and are bringing family and friends with them."
"I even met a few people when I was in Bahamas at Carifta who told me they were coming as spectators to the meet so it is really becoming a known event. This event will be viewed worldwide as it will be live online," continued Ms Raynor.
"We are looking for athletes coming from Jamaica, USA, IVB, Canada, Bahamas, Barbados, Nigeria, Puerto Rico, Costa Rica, Haiti, BVI, Cayman, Guyana, Dominica, Trinidad & Tobago."
"We should have all athletes confirmed by April 27th and be able to provide a full slate of athletes for all of the events."

Read More About