The Butterfield Bermuda Grand Prix is set to be held from April 20 through April 22, with the three days of cycling action to include a time trial, a road race, and the Hamilton criterium.
The time trial will be held at King's Square in St. George's on Friday [Apr 20] from 6.00pm to 8.00pm, while the road race will be held in Southside, St. David's on Saturday [Apr 21] from 7.30am to 10.00am, and the Hamilton criterium will be held on Front Street on Sunday [Apr 22] from 9.00am to 12.00pm.
Last year's Butterfield Grand Prix Hamilton criterium
BBA President Peter Dunne said, "The Butterfield BGP is this weekend and the racing will be as exciting as ever. All of our top riders are on the island and ready to contest for the titles.
"We also have a few overseas guests who will help make the racing even more exciting. One visitor is Jabari Whiteman of Trinidad & Tobago. Jabari is still a junior [18 years old] and a friend to our top juniors from Youth Commonwealth Games and prior editions of the Junior Caribbean Cycling Championships.
"Jabari also traveled and raced with our juniors at the 2017 Green Mountain Stage Race so he knows out guys and is looking forward to racing in Bermuda. Keith Johnson, a former resident of Bermuda and a highly competitive Masters racer will be racing this year and should keep the races fast.
"As usual, the first stage is on Friday evening in St. George and then Saturday morning is an early start in St. David's. Sunday morning is the conclusion in Hamilton."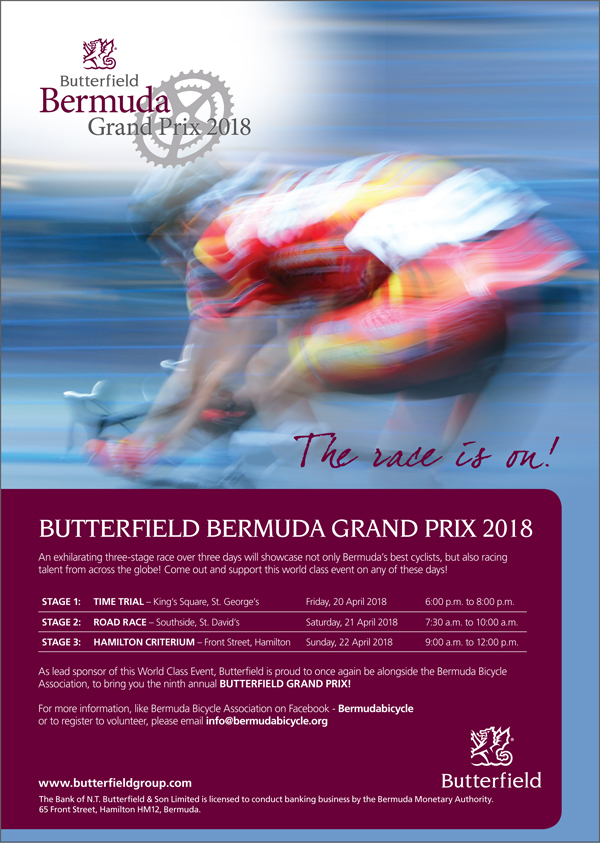 Read More About