In the third in a series of profiles of the young men competing in this year's Alpha Beautillion, we spotlight Aaron Ratteray from the Bermuda Institute.
On October 14, 1999, Aaron Ratteray was born to Andrea and Neil Ratteray. He did not come into this world alone, and was blessed to be born the older sibling to his fraternal twin brother, Micah Ratteray. He also has an older sister, Tenneil Ratteray. Aaron resonates with the motto that states: "It is better to fail in originality than to succeed in imitation." – Herman Melville.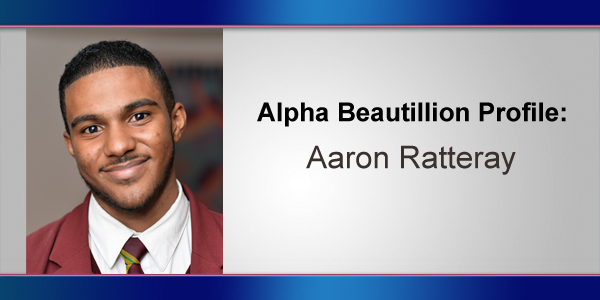 He is currently a senior at Bermuda Institute where he holds the positions of Head Boy, Class Vice President, and Prefect. In 2017, Aaron participated in the KPMG challenge, winning $4,000 for his school.
This year, Aaron was nominated for three teen service awards in the areas of Academics, Performing Arts, and Leadership and was nominated as the best male role model at Bermuda Institute by his teachers and fellow students.
During his tenure at Bermuda Institute, Aaron has remained on the Principal's List and is a member of the National Honor Society. After graduating in June 2018, he plans to attend Oakwood University in Huntsville, Alabama, where he will major in Information Technology, with a minor in Music.
Taking after his father, Aaron has interest in computers and is currently employed in an internship with the government division for Cybersecurity, where he was given the responsibility of planning a digital citizenship conference that touched on the issues of cyberbullying, sexting, and vanity amongst Bermuda's youth. He was the Chair of the steering committee who met to discuss such issues and how they can be solved.
Music changed Aaron's life from the age of eleven. It was at this age that he discovered a piano sitting in his garage. He used YouTube to search for tutorials and has now been playing the piano for the last seven years.
He recognizes that his talent has been given by God, and that he has a responsibility to use it as God directs. His musical journey has brought him many opportunities. He has played at churches all around the island, is currently an assistant music director and pianist for Hamilton SDA Church and has played for local gospel groups such as Last Call.
As a result of Aaron's dedication to music, you can find him in his free time writing and rearranging songs, and expanding his musical vocabulary.
Aaron has donated his time and talent to participate in various community service projects, which includes playing for rest homes, benefit concerts, and various other community events. Aaron believes that music is a universal gift that he has been blessed to impart, and he hopes to one day open a music school in Bermuda using a technology-based curriculum.
As a young person in Bermuda, Aaron often sees the need to change the mindset of those around him.
Because of this, Aaron's encouragement to Bermuda's youth is, "You have the power to effect change within your community. So take every opportunity to serve as leaders and become positive role models to your peers and those coming behind you. Paying it forward is critical to the growth of one's community."

The Alpha Beautillion is a "Rite of Passage" Ceremony where top high school male students demonstrate their oratorical ability, talent, and community service activities as they compete for scholarships, with a bursary prize of $5,000 awarded to the top male and smaller monetary awards given to all other participants.
The 17th Annual Alpha Beautillion will be held on Sunday June 3rd at the Ruth Seaton James Auditorium, with regular tickets costing $25 and patron tickets costing $50.
Tickets are available at bdatix.bm, and for more information please email beautillion@bermudaalpha.bm. For all our coverage of the Alpha Beautillion click here.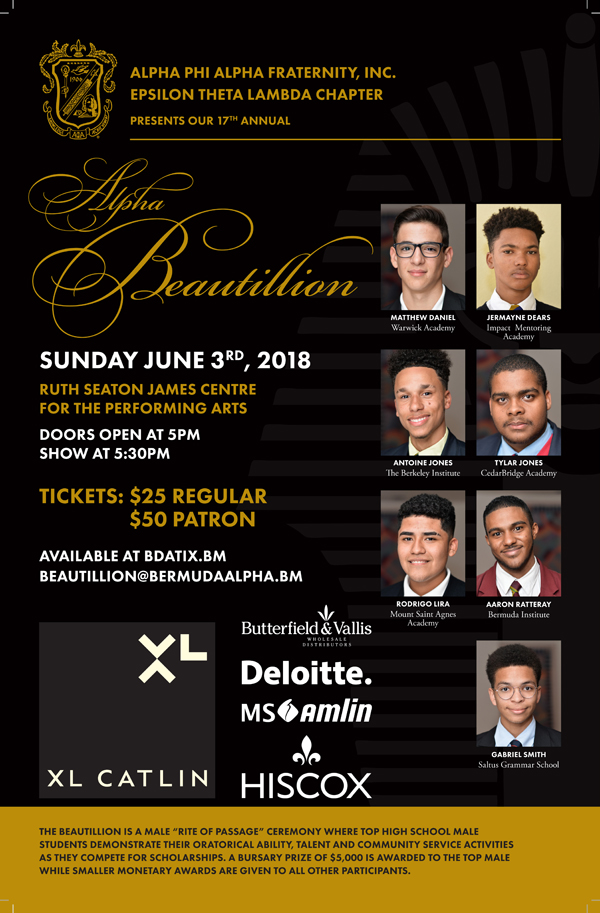 Read More About