In the seventh, and final in a series of profiles of the young men competing in this year's Alpha Beautillion, we spotlight Tylar Jones from the CedarBridge Academy.
Tylar Jones was born on June 19, 2000 to Andrea Jones and Alan Oliver. As an only child he lived the majority of his life in Paget, attending school that family members before him have left, this includes Playmates High, Gilbert Institute, and Sandy's Secondary Middle School. Tylar now is enrolled at CedarBridge Academy where he is completing his final year.
Tylar now has created quite the profile for himself, being a committed paid student for M.E.F. at Lido complex and Mickeys Bar and Bistro both in Paget on Elbow Beach.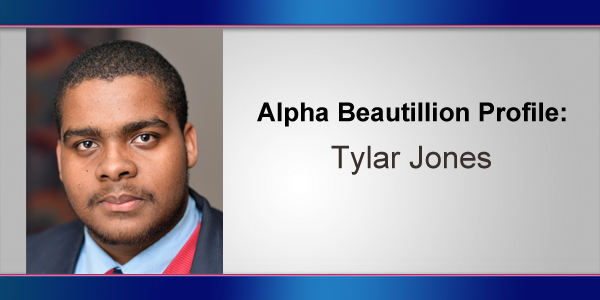 Tylar has always showed excellent work ethic in all classes where he maintains a grade point average of 2.9 to 3.0 over the course his four years at CedarBridge.
His strongest class is concert band where he has taken a liking to music and the performing arts. His interest in performing spiked after his former band mate Jordan Simmons-Trott was nominated by CedarBridge Academy to partake in the "right of passage program" the Alpha Beautillion. And this is when the Brothers in Music was formed.
Though the band has lost two members since the 2015 Alpha Beautillion, Tylar and his band mates, Jesaiah Talbot, Trezeke' Crofton, Nicholas Davis, Shaqcoy Fox, Taye Fishington, and Anderson Jno-Baptiste have kept the band alive and they have been able to represent themselves very well in many events and are even self managing. Tylar's role in this is that is lead saxophone and the spokesperson for the band. If you have any inquires about the band just visit Brothers in Music on Facebook or send an email via brothersinmusicband@gmail.com.
Tylar has not come this far by himself, but it is that through the help of his friends, family and musical coaches Max Mabury, and Tiffany Fox that he has been able to have such profound musical abilities and plans to hone those skills and use them to aid him in his everyday life.
"It's all about establishing and maintaining a connection," says Tylar. "Because one can only go so far without assistance, but it is when one goes to the lengths to push themselves and others to the limit of their fullest potential that they may achieve true greatness."
After high school Tylar plans to further his knowledge in music by playing with the Somerset Brigade Band and the Royal Bermuda Regiment Band while expanding his knowledge in hospitality [his primary career choice] by continuing to work with the M.E.F Group.

The Alpha Beautillion is a "Rite of Passage" Ceremony where top high school male students demonstrate their oratorical ability, talent, and community service activities as they compete for scholarships, with a bursary prize of $5,000 awarded to the top male and smaller monetary awards given to all other participants.
The 17th annual Alpha Beautillion will be held on Sunday June 3rd at the Ruth Seaton James Auditorium, with regular tickets costing $25 and patron tickets costing $50.
Tickets are available at bdatix.bm, and for more information please email beautillion@bermudaalpha.bm. For all our coverage of the Alpha Beautillion click here.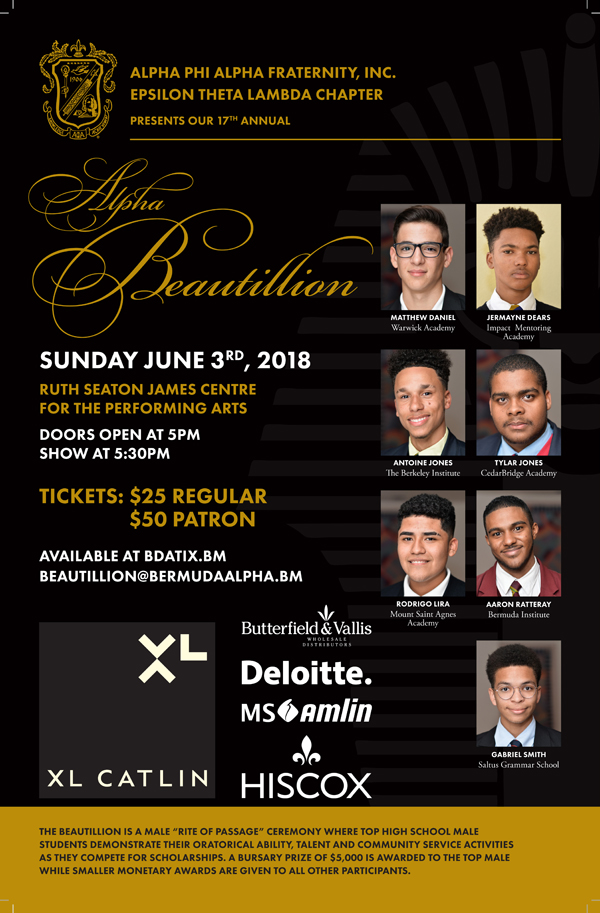 Read More About