In the first in a series of profiles of the young men competing in this year's Alpha Beautillion, we spotlight Antoine Jones from the Berkeley Institute.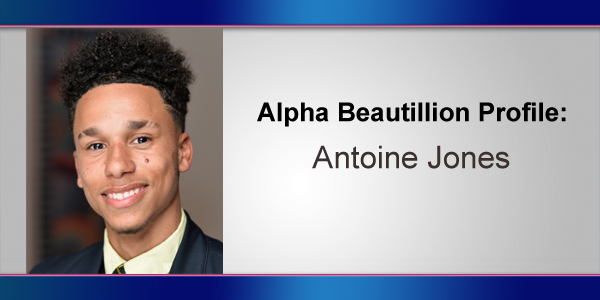 "The journey of a thousand miles begins with one step." Lao Tzu
"The two most important days in your life are the day you are born and the day you find out why." Mark Twain
These quotes above are two forms of motivation that Antoine uses to help him when he's searching for an extra push in life.
Antoine Jones is a Leader at heart and is known for being outspoken, empowering and very caring. Antoine was born on July 28th 2000, which he describes as one of the best birthdays as every four years it falls on the first day of Cup Match. Antoine is the youngest of three siblings.
Antoine Jones is no stranger to social media and the challenges it presents for young people. Being bullied throughout his childhood, he found himself isolated. This was enough to help him find his own spark, turning anger, melancholy & tension into positivity, innovation, confidence & charisma.
With a new outlook of himself, he envisioned younger generations having the same views, using Social media as a tool to inspire children and adults. This then led him to be recognized as the youngest Most Fascinating Person in Bermuda.
Antoine Jones demonstrates being a leader as somebody who is true to themselves while displaying leadership qualities whether its being the first one to read in class, organizing an entire leadership conference or a simple act when nobody is watching.
Antoine's first leadership position was in Primary School at Francis Patton Primary where he was awarded the title of a prefect. As he transitioned into Whitney Institute he would greet the teachers every morning over his ritual grilled cheese and bacon sandwich. Nevertheless, these early morning talks would pay off as he was then awarded the title of Head Boy in M3 having maintained a steady Honor Roll
In S1 Antoine took on the role as year level prefect and after a chance meeting he co-created the youth television show "In The Know with Antoine Jones". This marked the path for him to soon become an advocate for the youth in Bermuda. T
hroughout this journey, Antoine has inspired youth by traveling to local schools speaking as a career role model. He has been invited to be the keynote speaker at both of his alma maters, Francis Patton & Whitney Institute.
In a short span of time, Antoine has continued on a path of leadership. He is currently the Deputy Head Boy, a Member of the Prefect Council, Principal's List recipient and The President of the Student Council where he received over 150 votes from his peers.
Antoine continues "In The Know With Antoine Jones" which has enabled him to travel abroad, meet dignitaries and most importantly do what he loves which is to inspire people.
His advice to everyone is to "Embrace your true personality, and be you!

The Alpha Beautillion is a "Rite of Passage" Ceremony where top high school male students demonstrate their oratorical ability, talent, and community service activities as they compete for scholarships, with a bursary prize of $5,000 awarded to the top male and smaller monetary awards given to all other participants.
The 17th Annual Alpha Beautillion will be held on Sunday June 3rd at the Ruth Seaton James Auditorium, with regular tickets costing $25 and patron tickets costing $50.
Tickets are available at bdatix.bm, and for more information please email beautillion@bermudaalpha.bm. For all our coverage of the Alpha Beautillion click here.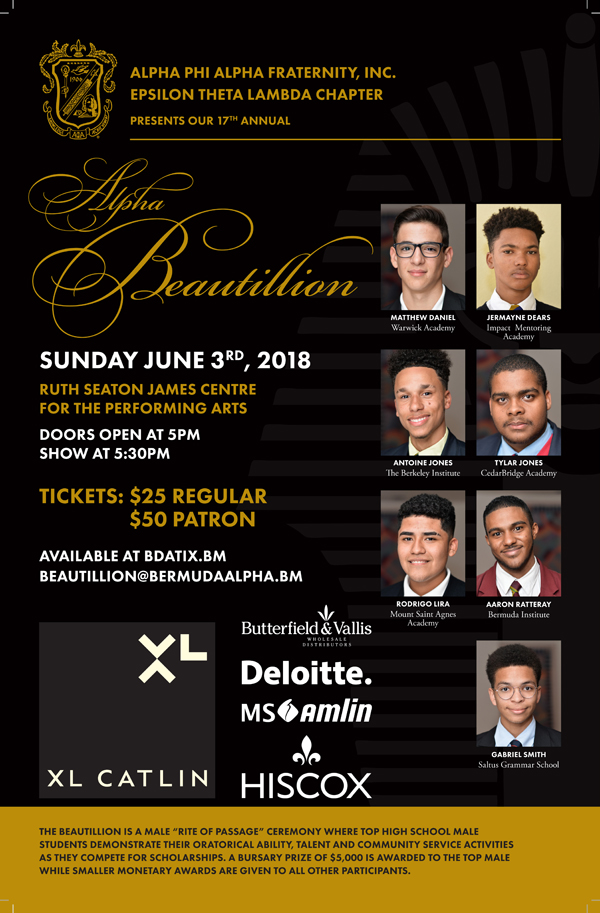 Read More About