JetBlue unveiled a fleet of JetBlue-branded electric Twizy cars at today's [May 25] Bermuda Day parade, becoming the first airline to brand the vehicles.
A spokesperson said, "The unique JetBlue "livery," in hues as vibrant as Bermuda's world-famous waters and vistas, celebrates the airline's commitment to Bermuda in a car that is an adventurous and eco-friendly way to explore Bermuda's 21 miles. The JetBlue Twizy vehicle campaign is a partnership between JetBlue, the Bermuda Tourism Authority and Current Vehicles, which offers the Twizys for rent in Bermuda.
"JetBlue is the first airline to brand Twizys, which were introduced in Bermuda just over a year ago by Current Vehicles, and have quickly gained favor with visitors. They are the first mini cars approved for rental on the island. Electric charging stations continuously popping up throughout Bermuda are making it an even more convenient vehicle option for visitors. A total of six JetBlue-branded Twizys will be available for rent.""
Giselle Cortes of JetBlue, Minister Roban, Piers Carr and Kevin Dallas: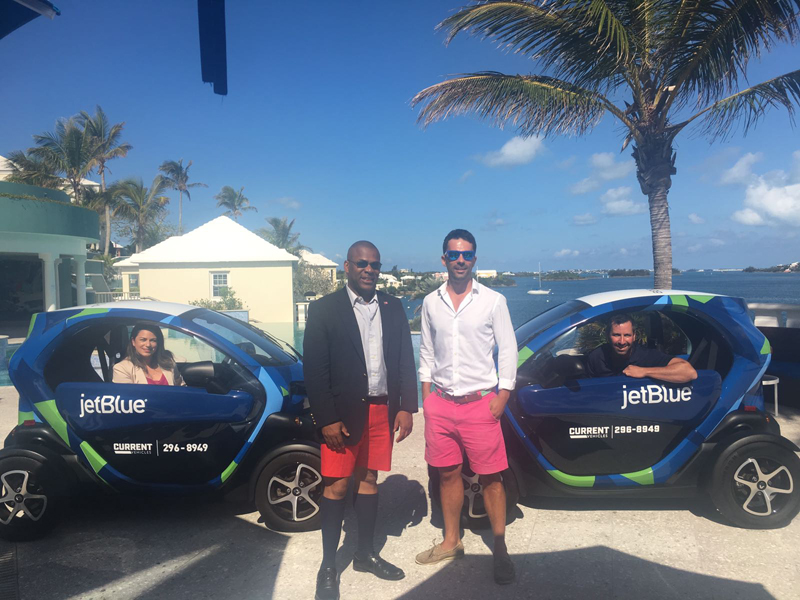 "This fun and exciting partnership is a way for JetBlue to celebrate its commitment to Bermuda with visitors and residents alike, while for its riders, it's a way to discover Bermuda in an eco-friendly and stylish way," said Giselle Cortes, director of international airports and commercial for JetBlue.
"I'd like to thank the Bermuda Tourism Authority, the Ministry of Transport & Regulatory Affairsand Current Vehicles for their support in making this partnership happen. That it takes flight on Bermuda Day is especially meaningful for JetBlue."
"JetBlue in the past year has increased its service from the U.S. to Bermuda, offering year round daily service from New York's John F. Kennedy International Airport [JFK] to Bermuda's L.F. Wade International Airport [BDA] and a seasonal second daily flight from JFK. From Boston's Logan International Airport [BOS], JetBlue offers a year-round daily flight.
"The airline has partnered with the Bermuda Tourism Authority to help raise awareness of the destination among U.S. travelers through a number of initiatives, helping increase the number of visitors to theisland. The Twizy campaign is an extension of this partnership."
"Since mini cars entered the visitor experience out hereabout a year ago the excitement has been off the charts. We've lost count of how many times a 'Hello Bermudaful' Twizy has captured the imagination of a travel writer or shown up in the social media timeline of a visitor," said Kevin Dallas, Bermuda Tourism Authority CEO.
"We expect the same media buzz to surround the new JetBlue-branded Twizy campaign and we're grateful to our partners at JetBlue, the Ministry of Transport & Regulatory Affairs and Current Vehicles. They all worked hard to secure what I'm sure will be a marketing win for travel to Bermuda."
"This is a wonderful and very fitting partnership. JetBlue has made getting to Bermuda more accessible since launching their daily, year-round service from the US," said Piers Carr, Founder and CEO of Current Vehicles.
"While Current Vehicles has made the island itself more accessible, by giving visitors the ability to safely explore Bermuda in a fully-electric, zero-emission vehicle at their own convenience. We are grateful to our partners at JetBlue, The Bermuda Tourism Authority and the Ministry of Transport & Regulatory Affairs for making this happen."
"JetBlue is proud to support those iconic events in Bermuda that are part of the island's cultural calendar. Aside from sponsoring the Twizys and Bermuda Day festivities, JetBlue also sponsors JetBlue Marina Nights at the Hamilton Princess Hotel, as well as the Bermuda Fashion Festival.
"JetBlue's schedule to and from Bermuda is operated on JetBlue's Airbus A320 aircraft featuring the airline's award-winning service with comfortable seating; complimentary and unlimited name-brand snacks; more than 100 channels of free SIRIUSXM radio programming and 36 channels of free, live DIRECTV programming on personal seatback televisions; free Fly-Fi high-speed wireless Internet, and the most legroom in coach."

Read More About