Groupama Team France held an event today [April 20] to mark the official keys handover for Renault Twizys vehicles, with the America's Cup team saying that "today is a major first for the French brand as it moves into the archipelago of Bermuda by placing ten Renault Twizys at the disposal of Groupama Team France."
Groupama Team France with the Renault Twizys: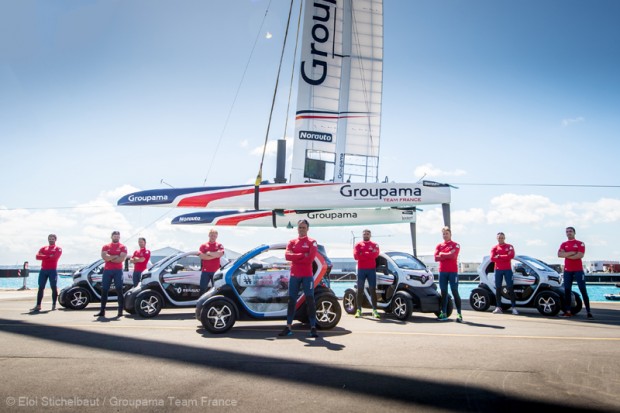 "French manufacturer Renault, has been making cars since 1898, so it will be ideally placed to assist the French challenge with getting around the archipelago," the team said.
"Renault is also keen to demonstrate that Twizy is the perfect choice as a sustainable method of transport throughout the islands in general."
"Renault is taking on the role of supplier to the French team competing in the 35th edition of the America's Cup.
"Though the French brand has already been involved in past sailing sponsorship operations, this is its first time in the innovative and highly technological zero emissions vehicle category."

Juan Carlos Duque and Groupama Team France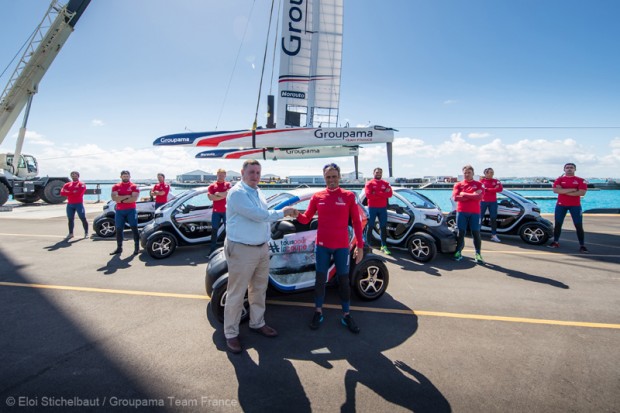 "Twizy is easy and enjoyable to drive, very safe, totally silent and with no emissions in use. Its large openings enable unrestricted views across the fabulous landscapes that colour the archipelago,"said Juan Duque Restrepo, Director of Importing Countries in the Americas.
"In short, it's the perfect vehicle and is in complete harmony with the enchanting backdrop of Bermuda"
Louis Viat, Head of Logistics at Groupama Team France, "The Renault Twizy is the best possible alternative to public transport and hiring out scooters, whilst providing an independent, safe and efficient mobility solution for getting around Bermuda.
"We are very proud to be the first to use this solution in the archipelago, as well as promoting the positive impact of electric vehicles aimed at protecting the surrounding nature".
Richard Davidge, Renault Importer, Minister Jeanne Atherden, Franck Cammas, Skipper Groupama Team France and Juan Carlos Duque, Director Importing Countries of Renault Americas Region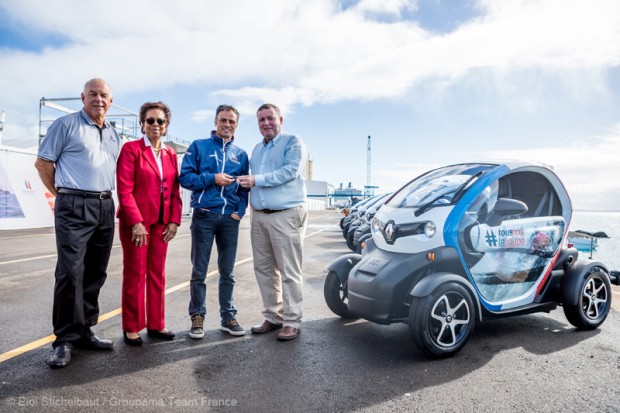 Olivier Murguet, Director of Operations in the Americas, "Renault is proud to launch its electric vehicle in Bermuda during the America's Cup. Like these fabulous catamarans, Renault Twizy comprises a zero emissions mobility solution."
Earlier today, Minister of Tourism, Transport & Municipalities Michael Fahy noted that the Motor Car [Minicar] Regulations 2017 came into effect today, with the Minister saying the "introduction of minicars marks a new era in Bermuda's transportation history".
Photos from this morning's handover:

Read More About
Category: All, Cars/Bikes, News, Photos