The Women's Resource Centre [WRC] is 'Calling All Men' to attend "an interactive learning experience designed for men who want to learn more about movements such as #MeToo, #HeforShe, and #TimesUp, and for those who want to understand what Sexual Harassment really means."
A spokesperson said, "Movements such as #MeToo and #TimesUp have caused a wave of social change in the world. These movements have encouraged women to let their voice be heard, companies have changed and implemented policies, and victims have shared their stories in solidarity. However, aside from the few men who have spoken against the accusers, men haven't spoken up much or at all. Could it be due to lack of understanding and education around the topic.
"Unfortunately, lines have begun to blur and men are now unsure of what is appropriate and inappropriate. The truth is that Men and women have two very different experiences in the world; and issues that are relevant to women are not the same as men."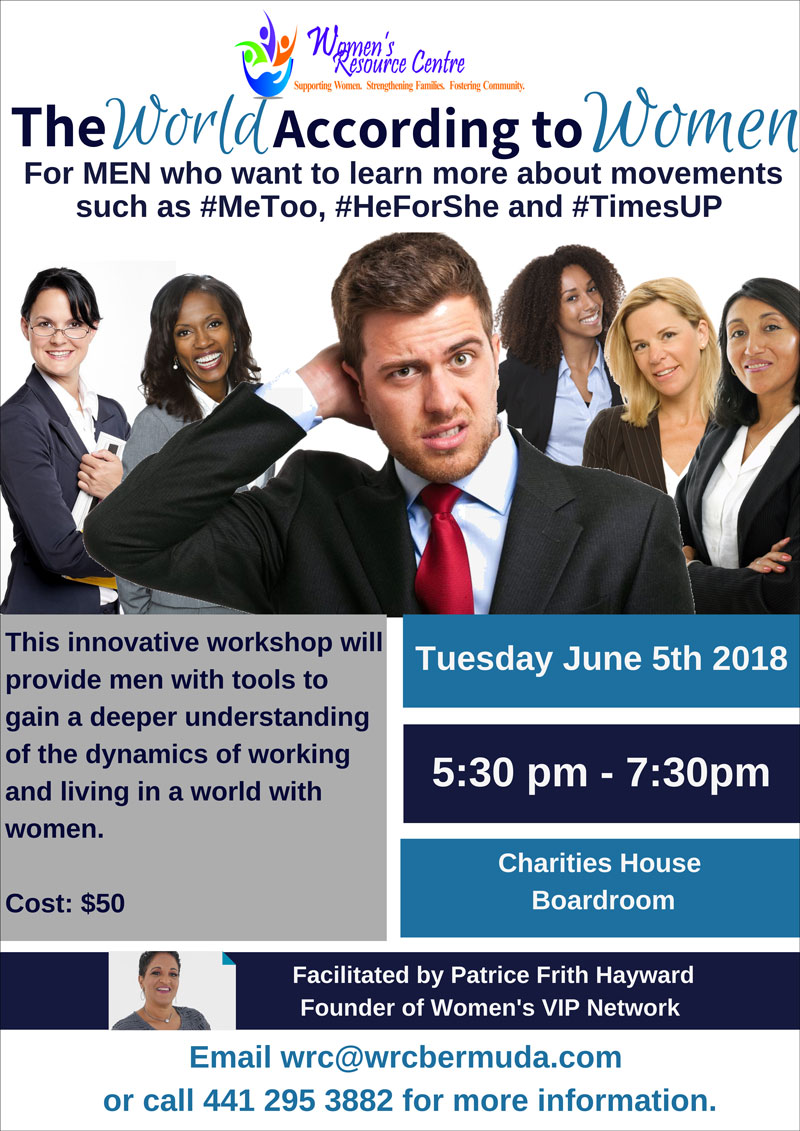 "The Women's Resource Centre recognizes that great strides have been made thus far, but we still have a long way to go. 'We want to be sure that men have 'a seat at the table' and learn how to exercise their power, to support women and the idea that they should be safe from sexual harassment and gender inequality. It is important that men understand that they are partners in this', states Executive Director, Elaine Butterfield.
"To further the conversation, the workshop for men, 'The World According to Women,' will be held on Tuesday, June 5th from 5:30 – 7:30 pm at Charities House Boardroom on Point Finger Road. The workshop, facilitated by Patrice Frith Hayward, Executive Director of Women's VIP Network.
To find out more about the workshop or to register, contact the WRC office via telephone 295 3882 or email dburchall@wrcbermuda.com."
Read More About
Category: All