The public is invited to attend a forum titled "Independence For Bermuda: Now, Or Never?" which will take place on Thursday [Aug 22] at 6.00pm at the Dr. E Gordon Hall at the BIU Headquarters.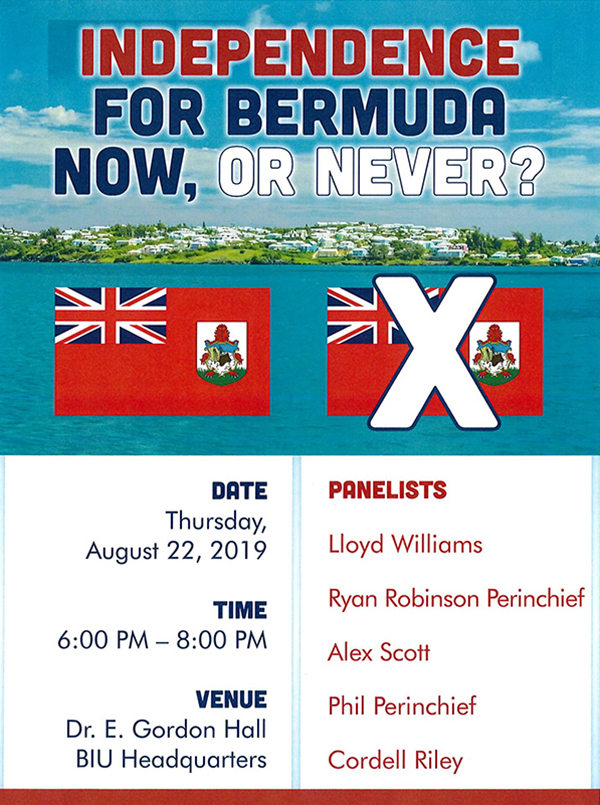 A spokesperson said, "Panelists who will address the topic are as follows:
"Phil Perinchief
"Phil has been a political activist, opinion writer and fierce advocate of and for independence and Self-Determination since 1969. He was the Coordinator of the Bermuda Independence Commission [BIC]. A practicing lawyer, Phil holds advanced Masters degrees is various disciplines including International Affairs and Diplomacy, Political Science, Economics and Statistics.
"Ryan Robinson Perinchief
"A graduate of the Berkeley Institute, Ryan recently received First Class Honours from Durham University with a Bachelor of Laws while at the same time receiving a Letter of Commendation from the Durham Law School along with the Advanced Issues in Public Law Award, for achieving the second highest marks in the module course. Ryan is the Founder and Director of the Future Leaders Programme, which provides students with opportunities through study, service, mentorship and empowerment to develop the knowledge, experience and leadership skills they need to make a positive change in the community.
"Cordell W. Riley
"Cordell has been the Institutional and Research Coordinator for the Bermuda College since 2014. Prior to that, he was the Managing Director of Profiles of Bermuda, a company he founded in 1998. Previously a government statistician, Cordell has authored numerous articles in social statistics, tourism, and racial justice and has spoken at numerous local and international conferences. Now Vice President of Citizens Uprooting Racism in Bermuda [CURB], Cordell was formally the President of the organization. In 2011 he was part of a Bermuda delegation to South Africa that met with a member of the legal team that wrote its post-apartheid constitution.
"W. Alex Scott, CBE, JP
"Former Premier of Bermuda, Alex has had a long distinguished political career. His tenure ushered in an era of community awareness, unity, and transparence of government. He was a member of the Pitt Royal Commission which concluded their report in the 1977 Disturbances by observing '… we consider it our duty to declare our conclusion that only with independence can national unity be forged and pride in being Bermudian fully develop. We call upon the people of Bermuda to act boldly in fashioning their future'. Consequently, as Premier of Bermuda he initiated the 'Creation of the Bermuda Independence Commission and its Terms of Reference'.
"Lloyd F. Williams
"A Bermudian who now resides in St. Kitts and Nevis, Lloyd is a professional musician and hydroponic farmer in Nevis where he and his wife have resided since 1993. Lloyd has been involved in a number f youth awareness and educational project in the Federation of St. Kitts and Nevis. He is currently in Bermuda as a relief caregiver for his 103-year old mother. As a Bermudian living in a small independent nation, the organisers felt that Lloyd's personal experience would be helpful to Bermudians.
"Local healthcare executive and small business owner, Scott Pearman will serve as moderator for the forum. Scott has had a long term interest in the community through his involvement with various government and school boards.
"Organisers of the forum include community activists LaVerne Furbert and Raynel Todd."
Read More About
Category: All