In celebration of their 40th anniversary, Big Brothers Big Sisters of Bermuda will be presenting its fourth biennial "How much would you pay to see me…?" fundraiser on Wednesday, June 13th.
A spokesperson said, "Local celebrities and community members have volunteered to raise funds for the charity by doing outrageous 'dares' live on stage at the Bermuda Heroes Weekend themed Harbour Night on Wednesday, June 13.
"Each participant has accepted hilarious, stomach-churning or bizarre dares with the aim of raising a minimum of $1,500 for Big Brothers Big Sisters of Bermuda. The participants will encourage members of the community to make pledges to see them do their dares and generate funding for the charitable organisation.
"In the 2016 Edition we witnessed the men of CHUBB running down Front Street in a high heel race; Star runner, Ashley Estwanik eating a live "organic" cockroach; Bishop Nick Dill dancing the Whip & Nae Nae while being baptized with water balloons; and the Presidents of Somerset and St. Georges Cricket Clubs swapping team colours! This year the sky is the limit!
"Some of the dares for 2018 are: A doctor getting waxed LIVE on stage by his wife! A handsome gentleman doing an entertaining ballet dance to soca music while wearing a tutu! A Big Sister eating a stomach churning plateful of "gizzards"! A Member of Parliament kissing a pig from Wadson's Farm; A Principal getting into a boxing match with the BELCO Bird! A non-singer fulfilling her dreams of being live in concert with back-up singers and dancers. There are 14 outrageous dares in total."
The contestants are:
1. Kyle James – Founder of Find Your Grind & Big Brother
2. Dr. JJ Soares – Hamilton Medical Centre
3. Carly Lodge – Cultural Guru
4. Thundee – Vibe 103
5. Gaynete [Edwards] Jones – Best-selling author + Serial Entrepreneur
6. Tinee Furbert, JP, MP – JP, MP Junior Minister of Disability Affairs/Philanthropist
7. Wild Apache & Declan Harris – Promoters
8. Nicole Tovey – Fitness Competitor & Lawyer
9. Kuane Smith – DJ
10. Brittany De Frias – Superstar Big Sister
11. Lindsay Simmons – Philanthropist
12. Principal Charles Joynes – Principal of Northlands Primary School
13. Yvonne DeCosta – Rockstar
14. BBBS Extended Family – Participating in memory of Martin Humphrey & Vicki Benevides
Patrina O'Connor-Paynter, Managing Director of BBBS says "As a charity we are always looking for new and innovative ways to raise funds. This fundraiser is a lot of fun while also helping us to continue servicing the youth of Bermuda.
"We encourage everyone to log on to bdatix and make a donation towards a dare. Our contestants are amazing and we are looking forward to a great show. We would like to thank BHW and the Bermuda Chamber of Commerce for their support of this event."
Positive Image Dental are also raising funds for the charity by offering a mouth makeover to someone in need. They are aiming to raise $5,000 by performing this gesture. You can also nominate someone for this makeover by emailing bbbs@bbbs.bm
People interested in making a donation towards one of the contestants or towards the mouth makeover for a lucky individual can visit the donations section of bdatix.bm and click on the "How Much Would You Pay To See Me…?" logo or by go here for the direct link. For more information contact the BBBS office on 232-2802 or via email bbbs@bbbs.bm.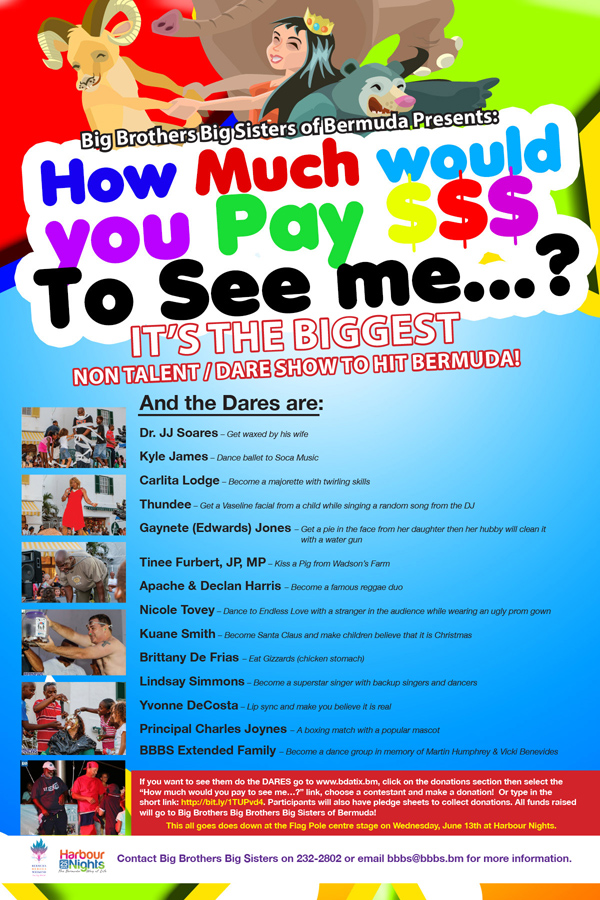 Read More About
Category: All, Entertainment, News