The Bermuda Economic Development Corporation has joined forces with the Institute of Internal Auditors [Bermuda Chapter] Ltd. [IIA] to host a 'Transforming Your Business Financials, One Step at a Time' seminar at the Cathedral Hall on Church Street, Hamilton on Tuesday, July 3rd, 2018 from 5.30pm until 8pm.
Special guest speakers will be Nicole Valadao, CA, CPA, CIA, and Stacy Ashby, CPA, CIA, CFSA, the respective President and Vice President of the IIA Bermuda Chapter.
Both Ms. Valadao, the Head of Internal Audit at RenaissanceRe, and Ms. Ashby, the Head of Internal Audit at BF&M Limited, will discuss ways to streamline an organisation's processes and implement/improve internal controls to manage/mitigate key risks. There will also be an opportunity to interact with, and learn from, other business owners who can share best practices and current challenges.
William Spriggs, BEDC's Director of Economic and Co-operative Development, said: "This partnership is one BEDC was extremely excited about creating with the IIA, as its body has a membership of rich accounting and financial service provider resources.
"It just made sense that we would collaborate with them and invite them to share their intellectual capital with small and medium business owners Island-wide. This is hopefully the first of many financial service seminars that we can offer together and we are excited that the first one is on the topic of 'Transforming Your Business Financials, One Step at a Time'."
Nicole Valadao, President of the IIA Bermuda Chapter, said "We are very excited to meet with business owners to provide insights into how to improve their business processes and ultimately improved operations and results. In today's business environment, finding ways to do more with less is imperative and as Internal Auditors we are often asked to identify efficiencies to do just that."
The Pre-registration fee is $25 for BEDC members and $35 for non-members, with the cost increasing to $40 for those who wish to pay at the door. Reserve your spot by e-mailing info@bedc.bm or phoning 292-5570.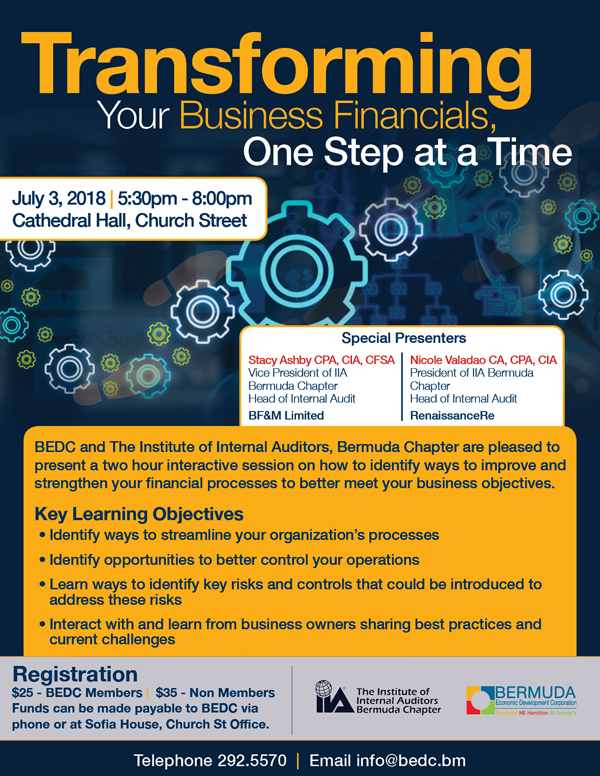 Read More About