Keep Bermuda Beautiful [KBB] is calling for the public to submit pieces of artwork composed of plastics found on Bermuda's beaches.
KBB's annual Trash Art Show, entitled A Drop in the Ocean, will be displayed at the Bermuda Society of Arts in the Edinburgh Gallery and Studio A from June 29 through to July 24 and is open to the public.
The show aims to raise awareness about plastic pollution in our ocean and the damage it can cause to marine life. More than 10 million metric tonnes of trash enter the ocean every year – 80 per cent of that flows into the ocean from land-based sources. It is predicted that by the year 2050, there will be as many pounds of plastic in the ocean as pounds of fish.
"Sick Emoji" by Stefan Smith gets his point across using the popular electronic messaging, and will be part of this year's exhibition for the KBB Trash Art Show which opens on Friday June 29 at BSoA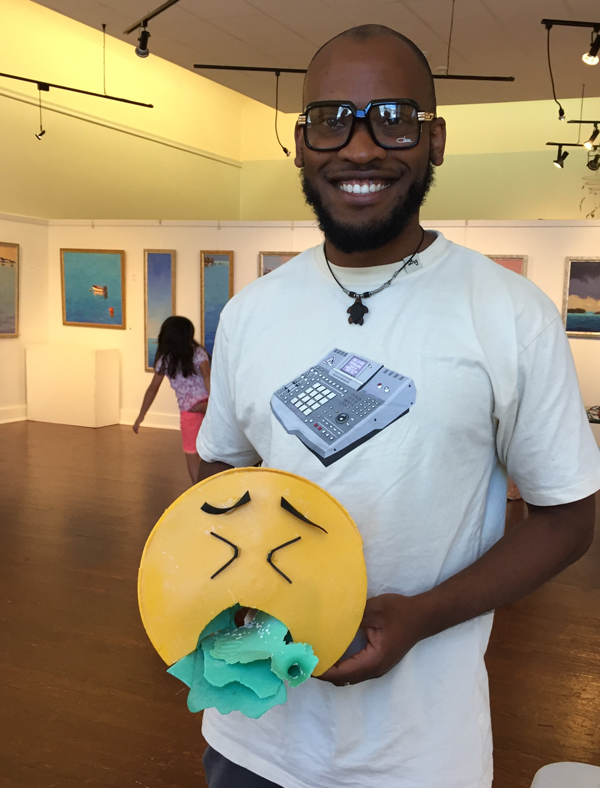 The public is encouraged to collect colourful pieces of plastic off of Bermuda's beaches to include in their work. Glue, epoxy and wire can all be used to help construct the piece and entries can include photographs.
Previous pieces of artwork have included King Nepture, a sea dragon, mermaids, turtles, whales and fish. Entrants are required to make sure that the plastic included in their piece is clean and free of algae and is ready to hang.
Amy Shillingford, President of Keep Bermuda Beautiful, said: "It is an honour to partner once again with the Bermuda Society of Arts for our 7th Annual Trash Art Show.
"Seahorse" by Melanie Whaley is enchanting but when you look closely you see the mosaic pieces are microplastics, pen tops and bottle caps.  The proceeds of all art sold will go to benefit KBB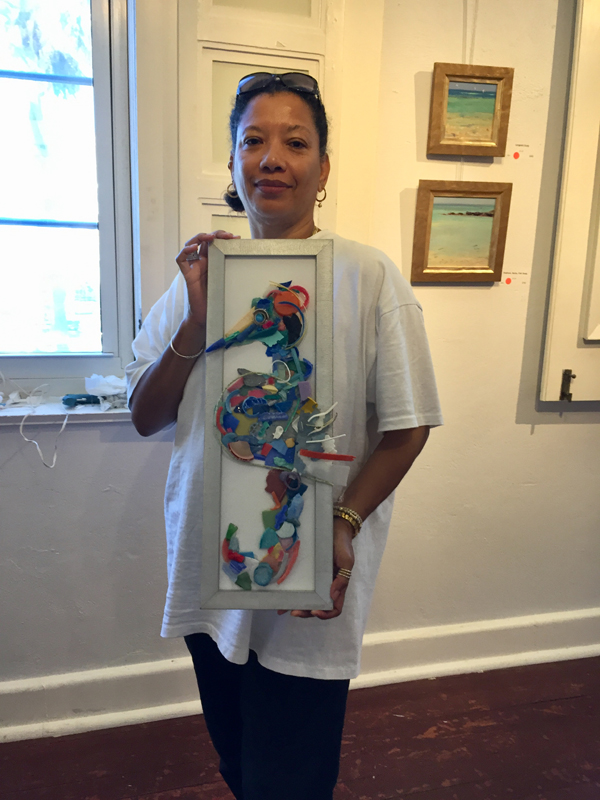 "We are excited to launch the 2018 Show and to see what imaginative art pieces people are able to create with re-used beach plastics. We welcome the public to come and check out the inspiring pieces and reflect on the impact of plastic pollution on our oceans."
The public is invited to attend the opening night reception which will be held Friday, June 29 from 5pm until 7pm and to enjoy drinks and nibbles.
Art pieces should be dropped off at the Bermuda Society of Arts by 4pm on Wednesday, June 27 and entrants will need to complete the required entry form.

Read More About
Category: All, Entertainment, Environment