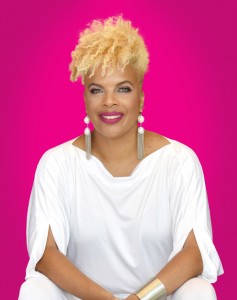 Kids in Control Systems [KICS] is getting set to host a one-day conference for parents on Saturday, September 1 at the Bermuda Underwater Exploration Institute.
A spokesperson said, "Tackling the many challenges facing today's parents is at the heart of Kids in Control Systems [KICS] by iAspirations Limited since its launch in May 2014. The company is expanding its efforts by hosting its inaugural one-day conference for parents on Saturday, September 1, 2018 at the Bermuda Underwater Exploration Institute."
"Parenting in 2018 is no joke," shared President of iAspirations Limited, Ms. Angela Young [pictured].
"Today's parents are faced with a litany of challenges and the most compelling of all of them is how to develop a well-rounded child who is prepared and equipped to handle the demands of this ever-changing world."
Ms. Young started hosting Facebook Live chats in November 2017. These grew in popularity from a monthly to a bi-monthly event on Sunday evenings for 90 minutes.
The topics ranged from "Helicopter Parenting" to "Social Media 101 for Parents" and most recently, "Clinical Depression Amongst Teens". The format is unscripted in order for Ms. Young and her guests to answer questions raised from her live audience."
"It allows the show to be more authentic and organic," explained Ms. Young. "And, as a bonus, I can stay connected to my growing clientele."
"The theme for the upcoming conference is "Developing The Whole Child". Ms. Young has assembled an array of 25 guest panelists comprising of clinical psychologists, a psychiatrist, other industry experts as well as senior executives."
Ms. Young said, "My style is different, and I am very transparent with my clients whereby my delivery is funny and honest. Many of our guest panelists are also parents and they have agreed to share their stories—the 'ups and downs' of parenting. We have never had a conference such as this whereby real parents will be sharing their real stories."
"KICS Live—The Conference will focus on the top five topics facing parents today: Raising a BOSS, Decoding Gen-Z, Co-Parenting for Your Child's Success, Boys 2 Men and Daddy's Girl. Due to the sensitivity of these topics, the conference is geared towards adults only. Doors open at 9:00 am and the first panel discussion will kick off at 10:00 am through to 5:30 pm.
"In addition to the live panel discussions, there will be a KICS Resource Exhibit featuring some of Bermuda's youth-focused organizations. Here, parents will be able to learn about the various programs available to help develop their child's leadership skills. Prospective exhibitors are encouraged to contact Ms. Young via email at info@kicssystems.com to request a registration package.
"There is an early bird ticket special of $40.00 which expires on July 15, 2018. Thereafter, the ticket prices are as follows: $55 for general tickets and $85 for patron tickets. Ticket prices include: continental breakfast, light lunch, refreshments, and door prizes. Tickets are sold exclusively on the company's website."
For a full list of the schedule and guest panelists, please visit www.kicssystems.com
"We would also like to extend a special thank you to our sponsors: Auto Star, Fort Knox and Hott107.5FM for helping us to bring this conference to fruition," stated Ms. Young.
Read More About
Category: All