An new business venture is set to open in Dockyard – guaranteeing a lot of ups and down for customers.
FryDays Bermuda is launching the Island's first trampoline park in the Sail Loft – a space refurbished by the West End Development Corporation [WEDCO].
Business Partner Mstira Weeks at FryDays said: "The business of Trampoline Parks is one of the fastest growing forms of family entertainment in the US, Canada and the UK.
Partners Vic Ball and Mstira Weeks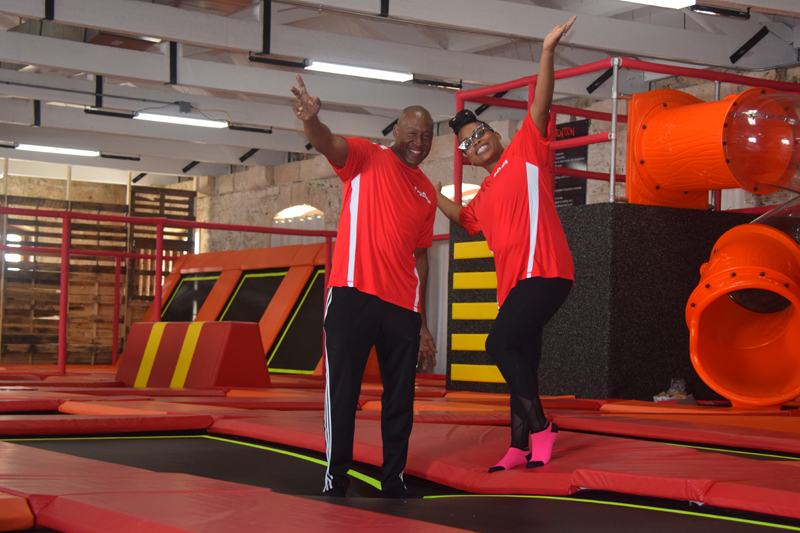 "It will have lots of bounce and jump space, basketball hoops for dunking, dodge-ball, joust, a slide and a foam pit. In addition, the venue will boast a new selection of arcade games, mini bowling, plenty of seating and a private party room.
"The mini bowling aka Canon Ball has been designed and custom built to play off Dockyard as an old fort. It is an exciting feature and we encourage participation. It is a must see for visitors and locals alike."
"We will also be hosting corporate events, tournaments, exercise classes and Glow Night Parties at the trampoline park. It really is going to be a lot of fun for everyone."
FryDays Restaurant, the home of the waffle fry, launched in April 2016 in the Bermudiana Arcade as a boutique restaurant specializing in different types of French fries, toppings, seasonings and sauces.
In July 2017 the FryDays PlayTimeZone, an indoor play gym with arcade games for children, opened next to the restaurant.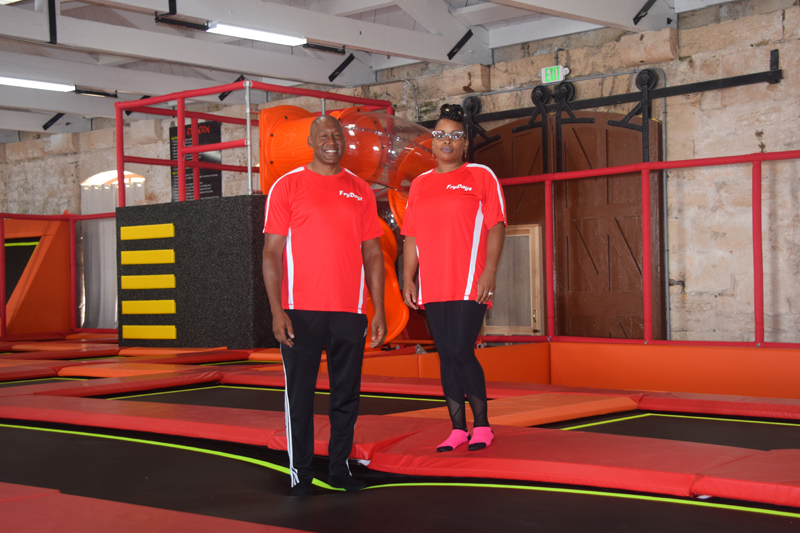 Business Partner Vic Ball added: "Dockyard had many options after the America's Cup, with quite a few functional buildings that have high ceilings. The Sail Loft is a beautiful open space that we will transform into a family entertainment business for children, teenagers and adults."
"Dockyard has a lot of history and is an area where tourists and locals come to enjoy themselves. So a trampoline park in Dockyard is the perfect fit for us."
"We have all heard the statement that there is nothing to do in Bermuda. FryDays plans to change that narrative by creating businesses that provide clean fun and entertainment for the whole family."
Joanna Cranfield, WEDCO's Business Development Manager, said the Park would be another great attraction for everyone who comes to Dockyard.
"It is a fantastic idea and I'm sure it will be a huge success. We are very pleased that FryDays is using the Sail Loft which we renovated and which is now housing a local, growing business."
It is scheduled that the Trampoline Park will open this month and will be open during the summer months from 11am to 9pm [Sun – Thurs] and weekends [Fri – Sat] from 11am to 11pm.
Read More About