This Saturday [Sept 10], FryDay's restaurant in Hamilton is inviting the public to compete for the title of FryDay's Fry Eating Champion at the restaurant's first annual Back to School Event and French Fry Eating Contest.
The family-friendly event will include free face painting, carnival games, and a magic show in an initiative which is partly sponsored by Dunkley's and is being held in conjunction with Big Brothers Big Sister of Bermuda in an effort to "promote the benefits and importance of mentoring" as the school years begins.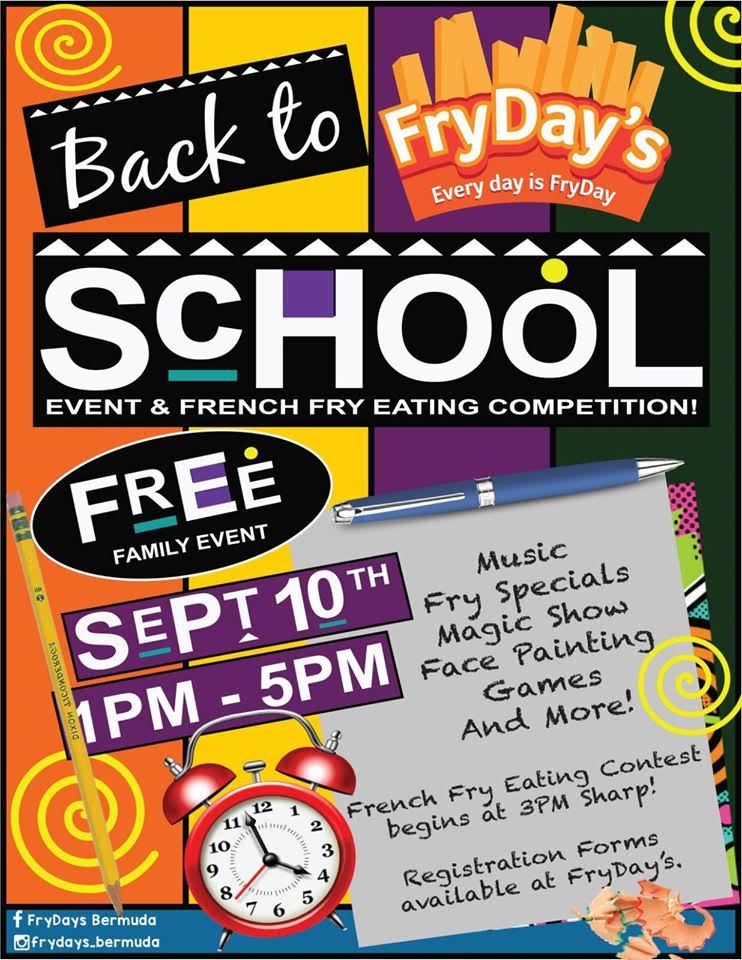 A spokesperson said, "Think you've got guts? Kicking off at 3.00pm, FryDay's Fry eating challengers will devour the acclaimed fries to see how many pounds of fries they can eat in five minutes. The registration fee for the event is $20 per person and includes a donation to Big Brothers, Big Sisters.
"The grand prize winner for the will receive free French Fries for one month, their picture on the Wall of fame, a t-shirt and of course bragging rights. Registration forms can be picked up at FryDay's and emailed to manager.frydays@gmail.com. Additionally, persons can register on-site starting at 1.30pm.
"The FryDay's Fry Eating Contest is open to all participants ages 18 and older. On-site registration and check-in begins at 1:30pm. FryDay's is encouraging local businesses to participate by sponsoring a staff member to participate in the event, all in the spirit of good clean fun."
"Individuals can also sponsor someone to participate. Registration forms are available now at FryDay's and will also be available the day of the event.
"FryDay's will also be debuting their new mascot at the event and the community has the opportunity to name him. Event goers can submit a name and take photos with the new mascot in the hopes that their name will be selected by a panel of judges. The individual with the winning name will win a prize and have their photo with the mascot displayed in the restaurant.
"The restaurant hopes to promote family fun and a community spirit at this inaugural event and looks forward to many more community events in the future. Saturday's event kicks off at 1.00pm at the Bermudiana Arcade location in Hamilton."
FryDay's owner Mstira Weeks said, "We at FryDay's are super excited for the Back to School Event and French Fry Eating Contest. We are elated to kick-start Bermuda's competitive eating scene with many more events to come. We are thankful for the support we have received from our neighbor businesses within the Bermudiana Arcade in planning this event as well."
For more information or to register for the French Fry Eating Contest, interested persons can contact FryDay's at 232-3297 or visit the website.
The full FryDay's Competitive Eating Rules & Waiver follow below [PDF here]:

Read More About
Category: All, Entertainment